Matt Lucas and David Walliams provide a guide to some of the characters who appear in Come Fly With Me...
Buster and Mickey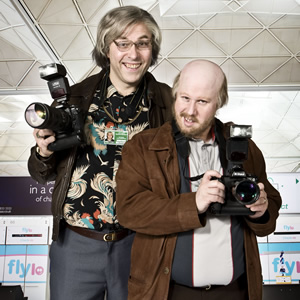 Buster and Mickey are the airport's in-house press photographers. Along with his close friend, Buster, Mickey tries, and often fails, to snap photos of world-famous people and celebrities as they pass through the airport.
David: "In airports you often get paparazzi photographers hanging around to get pictures of someone like Victoria Beckham getting off a plane, so we play those two and they're slightly sleazy and again there's a bit of a storyline and one of them gets into trouble."
Matt: "They're kind of cheeky characters; they're quite opinionated; and they're not very reverential of the celebrities they come into contact with. It's rare that the pair of us play straight white males! They work together. They often come in pairs those kinds of people. There was a pair in the BBC Airport shows. One was a journalist and the other a photographer but ours are both photographers. They know the airport inside and out. They often say in the mockumentary 'he's gone round the back but we know that'. They always get tip-offs and things like that."
Melody and Keeley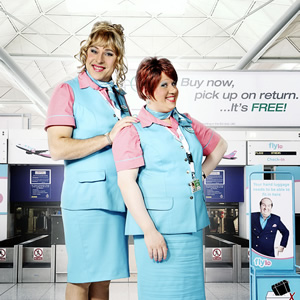 Keeley is a check-in girl for the low-cost airline FlyLo, and works alongside her best friend, Melody. However, when their manager Helen announces that she will soon take maternity leave, their friendship is put under strain...
David: "We play two girls who work on the check-in desk and we wanted them to give bad service but with a smile. The character that I play has aspirations to be a model, which you kind of find out across the series, and she slightly looks down on Keeley because she thinks she's slightly less attractive than Melody and is quite mean to her."
Matt: "It becomes apparent that their manager is leaving and she will be replaced by one of the two of them, so they become more and more competitive with each other as only one of them can get the job."
Jackie and Simon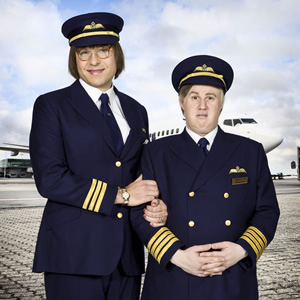 Simon is a pilot with Great British Air. He and co-pilot Jackie are Britain's first husband-and-wife flying team. However, the couple are experiencing some marital issues following Simon's indiscretion with an air hostess some years ago. Jackie now accompanies her husband on all his flights to keep a close and somewhat obsessive eye on him.
Matt: "Jackie and Simon are husband-and-wife pilots. Simon was a pilot who had been married to Jackie for a number of years and had a one-night stand with a stewardess. Jackie was looking through Simon's phone and found out, so she gave up her job as a dental hygienist and retrained to become a pilot so that she could accompany him on all flights. She remains very suspicious of his behaviour and continually berates him for his adultery, even though it was a one-off incident. He says, 'I told you it was a one-night stand'. She calls it an affair and says, 'You did it again in the morning. That to me is an affair!' So she often appeals for sympathy from the female viewers, she sort of allies herself."
Moses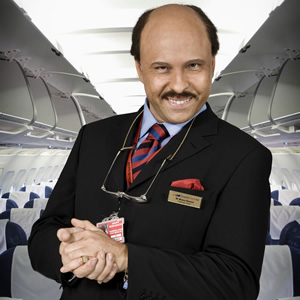 Moses is the executive passenger liaison officer for Great British Air who has a great delight in being on camera. Despite his debatable skills in dealing with his customers, he is in charge of taking care of first class, business class and VIP passengers.
David: "Moses is the executive passenger liaison for Great British Air which means he looks after business class and first-class passengers. He's a bit of a busy body round the airport and if there's anyone well known he'll make it his duty to greet them and take them through to the gate whether they want him to or not. I think what's interesting doing this as opposed to Little Britain is that characters can be a bit more expansive because you can throw them into lots of different situations - someone like Moses deals with a lady whose dog has died and he meets famous people, so you can do lots of different things with the characters. Moses thinks the whole documentary is about him but it's about life in an airport."
ML: "We watched a lot of Airline and Airport and there were different people that slightly were the springboard. They were very nice whereas Moses is quite devious and vain. What they did have though is a great relationship with the camera and subsequently the viewers."
Ian Foot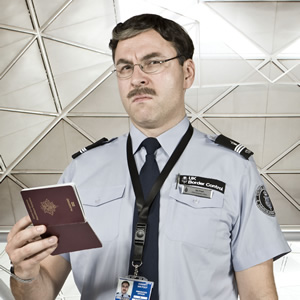 Ian is the chief immigration officer. Regardless of his ignorance of both maps and geography, he is extremely suspicious of any foreign visitors to the country and will use any excuse to stop them entering the UK.
David: He's the chief immigration officer and basically he's got an agenda, he doesn't want to let anyone into the country, even Scottish people trying to get through. You get a sense that he's quite a lonely figure and he deals with people with what he suspects are stolen passports and he basically wants to keep everyone out of the country if he can."
Matt: "He's one of the first characters we wrote. He's a pedant - he'll eat a sandwich with a knife and fork. I have a scene with Ian Foot where I play a character called Taaj and the two characters meet each other. Ian interviews Taaj for security purposes."
Penny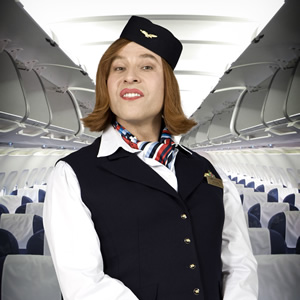 Penny is the head stewardess for Great British Air. She has strong opinions about those travelling in economy.
David: "We wanted to have someone who works with first-class passengers so Penny works for Great British Air and is a terrible snob and doesn't really want anyone to be in her cabin. So anyone she suspects is slightly lower class she wants to expel."
Precious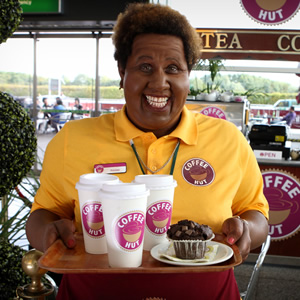 Precious has worked at the airport's coffee kiosk for many years. However, her commitment to her job is debatable, as she is never short of excuses to shut up shop.
Matt: "Precious Little is a lady who works at the coffee kiosk. A jolly West Indian lady, middle-aged, who enjoys gospel music and she's a Christian and is seemingly never able to open her kiosk, she's always missing a vital ingredient - the coffee's gone missing, or the water isn't working, or the cups have gone missing. And then there's something mysterious going on - I'm not going to tell you any more! But that was a big make-up job, a big broad performance. It was fun to do."
Tommy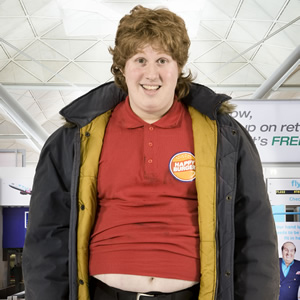 Tommy has always wanted to work in the aviation industry and dreams of some day becoming a pilot. He hopes to work his way to the top and has started his career at the airport by working in Happy Burger.
Matt: "Tommy is a young Scottish guy who dreams of being a pilot one day but he doesn't really have any qualifications to speak of so he's decided to get a job at the airport and work his way up. He works at a burger bar-style place, Happy Burger, airside, and he hopes to be spotted there and become a pilot."
David: "We follow his dream of becoming a pilot and the ups and downs of that. He goes to have an interview at pilot training school."
Matt: "He meets a pilot as well. This is his dream. You'll have to wait and see what happens..."
Taaj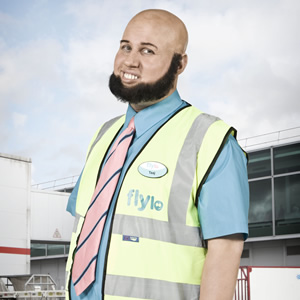 Taaj works in the airport as one of FlyLo's roving ground staff. However, his ambitions lie elsewhere.
Fearghal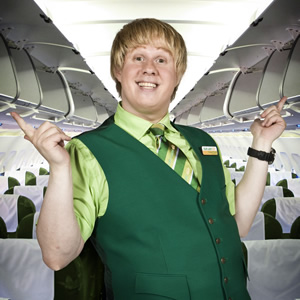 Fearghal is one of a whole family of "flyers" - and proud to be an air steward for low-cost Irish airline, Our Lady Air.
Omar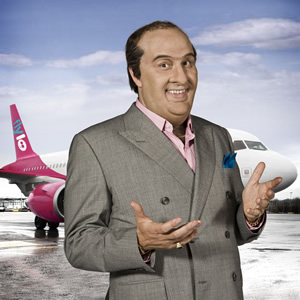 Omar is the owner of the nation's "eighth favourite low-cost airline" FlyLo, whose unscrupulous habit of cutting corners means he is under constant criticism from the press.
Terry and John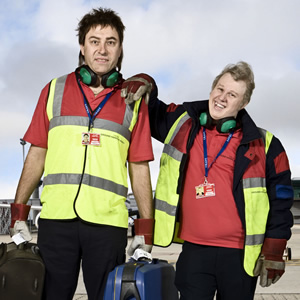 John is a baggage handler at the airport and works alongside his son, Terry. The pair show no shame in their attempts to send bags to the wrong location, or to steal their contents.
Judith and Peter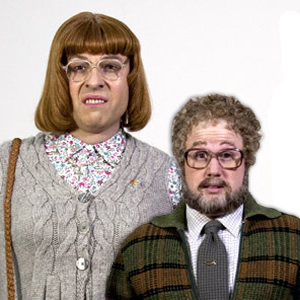 Judith is a complaining holiday-maker and, along with her husband, Peter, has encountered several unpleasant experiences abroad on FlyLo excursions.
Matt: "They had a bad holiday where they booked to stay in a hotel and they arrived and it hadn't been built. They booked it through FlyLo - they don't just do flights, they also do holidays. And they came back and they complained - they had the holiday from hell and were given a special offer on another holiday and then that was a disaster, so then they went on a cruise. Every time they get given another holiday, that's always a disaster when they come back, so we often see them ranting and raving and complaining about their holidays. They seem to be about the unluckiest people in the country, I would say!"
David: "With passengers it's hard to think that you can see them more than once but we created a running joke with them. After the last holiday they had another one as recompense for the awful one and then they have another terrible one. They're all terrible holidays. We tried to just create situations where really incredible, awful things happen to them, like on a boat and everybody on board gets dysentery... quite crazy things happen to them."
Roberts and Stewart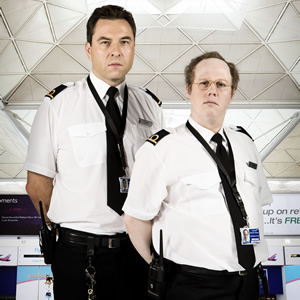 Customs Officers Roberts and Stewart are always on the look out for people trying to bring banned items into the UK via their luggage. They have an unorthodox way of determining whether they have discovered drugs.
Other Characters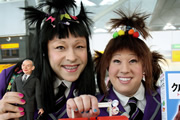 Asuka and Nanako (Episode 1)
Asuka and Nanako are Japanese schoolgirls and avid fans of Martin Clunes. They have travelled from Toyko especially to meet him after reading on Twitter that his plane is due to touch down at the airport.
Hetty Wolf (Episode 1)
Ninety-two-year-old Hetty has never flown before in her life and is subsequently taken special care of by Great British Air passenger liaison officer Moses Beacon, who is only too happy to help.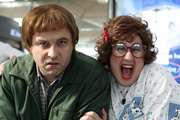 Sue and Geoff (Episode 1)
Obsessive Disney fanatic Sue is a passenger flying with her partner, Geoff, to Florida where they are planning to get married - a prospect at which Sue is far more excited than he is...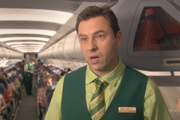 Lee (Episode 2)
Twenty-year-old Lee is a newly qualified steward who works alongside Fearghal for the low-cost Irish airline, Our Lady Air - and makes quite an impression on him.