Stewart Lee to publish new book, Content Provider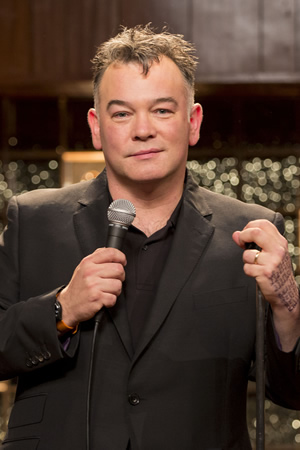 Stewart Lee is to publish a new book.
Content Provider will feature a selection of the comedian's newspaper columns and articles, with added annotations and footnotes. The book will also contain some new material.
This will be Stewart Lee's fourth book. His first, the novel The Perfect Fool, was published in 2001 with How I Escaped My Certain Fate arriving in 2010. The follow-up, If You Prefer A Milder Comedian Please Ask For One, was published in 2012.
Content Provider will be released in August 2016 by Faber, the company the comedian has worked with to make his two previous books.
Publishing director Hannah Griffiths told trade magazine The Bookseller: "We are incredibly proud to have signed this new book from Stew, who continues his reign as the most thought-provoking and intelligent stand-up at work today. More recently, through his writing in The Observer, he has emerged as one of a handful of must-read, counter-cultural voices in the media. This book will collect his writing on politics, the BBC, hypocrisy, the environment, the death of culture, music and the truth about the comedy world and will be a major title for Faber next year."
Content Provider will now be published before TV Comedian, Lee's long-delayed book about the state of stand-up comedy. Speaking to Mustard Magazine earlier this year, the stand-up admitted "that book won't happen for a long time", with the release date on Amazon now pushed back until 2017.
He explained: "Well, I'd imagined that I'd only get two series of Comedy Vehicle, and then I was going to do this book about writing stand-up for telly: what telly has done to stand-up, people who do stadiums and stuff. But a few things happened; first of all they commissioned more series, so there isn't an end of the book yet, it hasn't got a shape to it.
"Secondly, the business of comedy and that's changing so fast at the moment, so if I'd written the book a year or two ago it would already be sort of irrelevant. Because now you've got things like [comedy agency] Avalon trying to buy BBC Three - which is unbelievable, like some science fiction film where business controls media - so you'd have to include that.
"And thirdly, on a practical level, my wife started working a lot more, and my kid was in nursery. The amount of child care hours I'd have to pay for to have time to write the book would cost two or three times what I'd get to write it. One of the things I said after I left Avalon was that I'm not going to lose money on things any more. I don't mind working for free, but I'm not gonna run up debt. So those are all things that have delayed it, but I will do the book eventually."
Series 4 of Stewart Lee's Comedy Vehicle is set to be recorded on the 8th, 9th and 10th December 2015 at the Mildmay Club, the Newington Green venue at which all the previous episodes have also been recorded. The series will be shown on BBC Two in 2016.
Stewart Lee's previous columns for The Observer can be read via The Guardian website