DVD Review: Ross Noble - Nonsensory Overload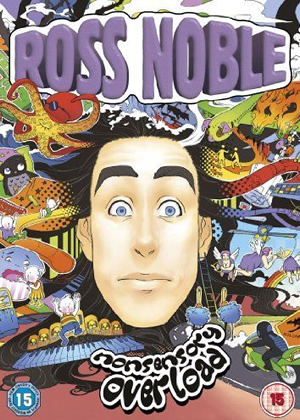 The very first stand-up comedian that I ever went to see was Ross Noble in his Noodlemeister tour, at the Billingham Forum in Teesside - the only venue in Britain to combine a theatre, a swimming pool and an ice rink.
It is as if the town council decided to get all of its civic amenities in the same building. I am surprised that they did not put in the police station, the fire station, the hospital, the library, the job centre, the golf course and all the council houses in the Forum too. Actually it would just be easier to build a set of walls around Billingham and erect a gigantic roof over the entire town. Of course this will have some problems. The golf course would get no light and all the grass would die. However, I thought about that. Above the golf course, just put in a massive skylight to let the sun in.
You may be wondering what the hell I am talking about. Well, it seems only fitting to begin a Ross Noble review with a surreal tangent of spurious worth. Now, what was I on about? Oh yes, the DVD...
Nonsensory Overload is the eighth and latest commercial release from the Cramlington comic. Like all of Noble's DVD releases, there is much to entertain and bewilder. The main reason why there is a lot is simply because Noble's DVDs are always packed with extras, and in Randomist he is probably the only stand-up comedian to release a show that spans 4 discs. Sadly it seems to have waned these days: Nonsensory Overload only has three.
The main show is over two hours long, including his usual Q&A encore. Slightly annoyingly for us Brits, the main feature was recorded in Noble's former adopted home of Australia and as a result there are some cultural references that people may not get (Keith Urban?). However, the show, from the capital city of Canberra, sees Noble discuss topics of vital importance, such as the relationship between people with tattoos and Stargates, the more sexual way of making tea, and how tilting your head at an angle of 45 degrees can help you understand most things.
He also talks about his own run-in with the Australian tabloid the Herald Sun and about how he supposedly offended someone with cerebral palsy. For those wondering, the Herald Sun is published by News Corporation, so that might explain.
The main thing that recurs in Noble's routines over this collection is his "human baby child - I've got one of the girl ones." Noble's fatherhood has given him much more material to play with, especially considering how is three-year-old daughter, Elf, seems to share her father's fondness for doing and saying the most bizarre things imaginable.
Amongst the vast number of extras on the discs include an interview conducted by New Zealand stand-up Tony Martin, and additional performances from the Hay Festival, the Hammersmith Apollo, Laughs In The Park and other selected highlights from his Australian tour.
People who are already fans of Noble will of course love this selection. Indeed they will probably just love his inflatable backdrop for the show as it features references to some of his earlier DVDs. The stage is decorated with muffins with faces on the top of them (Sonic Waffle), an owl in pyjamas (Randomist) and kids who have bums for faces (Fizzy Logic). Indeed, newcomers to Noble's work may be best advised to start with an older show rather than jumping into Nonsensory Overload.
There are also a number of gifts left on the stage during the piss break (Noble's own term for the interval - see Things). Now, I know that this something which gets some reviewers frustrated. Indeed, a reviewer from another comedy-related website has been vocal in his dislike of this now customary practice for some time. However, he is wrong. For starters, they show just how approachable Noble is in comparison to other comedians. They also provide further opportunity for Noble to show his great comic skill in improvisation.
Nonsensory Overload is full of the usual "random bollocks" that Noble's fans have come to know and love. These people will no doubt be in adoration of this latest outing. As for those of you who are not Noble fans, I would advise you to watch the show while tilting your head at an angle of 45 degrees. Alternatively tilt the screen you are watching it on. If it is a big screen it is best that you prop it up at one angle, while making sure it is stable on the other, or else it could fall over. If someone else is with you, you can just get them to hold the screen at one corner. If you are an outdoors sort of person, take a portable DVD player and watch it while standing on a steep hill slope.
Did I just go off on another tangent?