DVD Review: Harry Hill's Cream Of TV Burp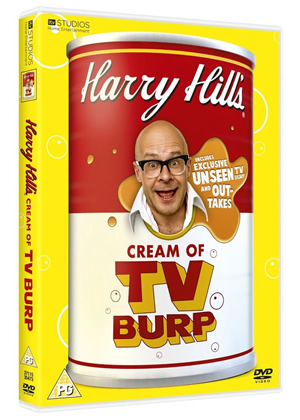 We can probably agree that the 21st century has thus far been a poor one for ITV comedy. With one notable exception. For suddenly, when nobody was looking, Harry Hill, previously best known for surreal Channel 4 1990s cult humour, did exactly what Vic & Bob did before him with Shooting Stars. He became a mainstream success, somehow without losing his surrealist credentials. What were the chances of that happening?
Sadly, we probably won't get any more TV Burp (at least not with Harry on), but this compilation is unlikely to be the last. Happily, it is also mercifully free of the tiresome "Wagbo" and "knitted character" running jokes that sometimes blighted the later series.
There are indeed quite a few genuinely hilarious moments here. The most inventive bits include a brilliant spoof of EastEnders starring an all insect cast, Harry being menaced by an ultra-aggressive tortoise and the usual cameos and "appearances" by Harry on shows such as Downton Abbey as well as a Hitler-themed edition of Harry's 'other' show, You've Been Framed.
Many of the clips - Simon King impersonating a cuckoo on Springwatch, or girl band The Saturdays being menaced on Ghost Hunting With... - are so silly in their own right that Harry scarcely need intervene. But this remains a classic of early 21st century TV comedy.
Farewell, TV Burp! You will be missed...