Eric Idle show 'What About Dick?' now on download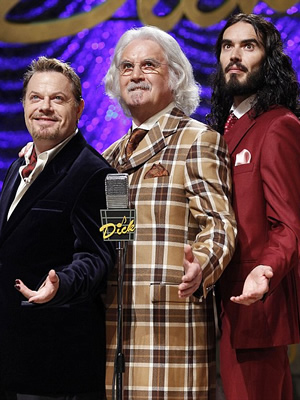 Eric Idle's latest comedy project is now available to download.
What About Dick? saw the Monty Python star bring together a celebrated ensemble in a never-to-be-repeated event at the Orpheum Theatre in Los Angeles earlier this year. Although filmed in America, the cast were all born in the UK and the humour is quite British.
The cast, a stellar line-up of British comedy talent (notably only those famous in the US), included Eddie Izzard, Billy Connolly and Russell Brand (pictured).
Idle calls What About Dick? a "hybrid" show. He explains: "It's got elements of a musical - we have songs. It's got elements of a play, but it's not a play that you have to take completely seriously because it's sort of a send up. It has bits of stand-up and improv and these hilarious comedians are playing multiple roles and doing impersonations".
Described by the Monty Python star as "Oscar Wilde on acid, or like Downton Abbey, only even funnier", What About Dick? is full of lyrical quips and a good dose of double entendre, with Idle narrating.
The press release for the show warns: "it is as hilarious as it is peculiar - just don't ask anyone, including the cast, to describe the story line". Here's our attempt though:
Set in the early 1900s, What About Dick? tells the story of the decline of the British Empire as seen through the eyes of a piano (Idle). It focuses on young Dick (Russell Brand), an Oxford student of philosophy and gynaecology, who is living in Kensington with his emotionally-stunted cousin, Emma (Jane Leeves, best known as Daphne from Frasier), her kleptomaniac sister Helena (Peep Show's Sophie Winkleman) and their dipsomaniac Aunt Maggie (Tracey Ullman).
The story also somehow features the Reverend Whoopsie (Tim Curry); incomprehensible Scottish sleuth Inspector McGuffin (Billy Connolly); and his colleague, Sergeant Ken Russell (Jim Piddock, (Best in Show, Austin Powers); who are on the case of the Houndsditch Mutilator, plus Deepak Obi Ben Kingsley (Eddie Izzard) - the inventor of the vibrator.
Here's the trailer:
This 'sheer and utter madness' is now available to download exclusively from whataboutdick.com
Being an online distribution, there's naturally plenty of chances to interact with the show too if you're interested. You can become a fan on Facebook, follow @WhatAboutDick on Twitter, or join the show on Google+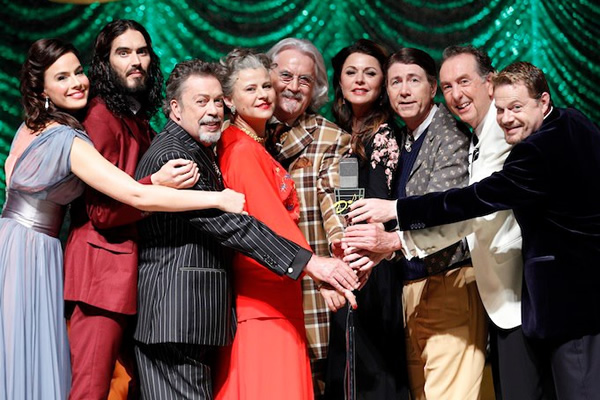 A launch event takes place in London tonight (Tuesday 13th November 2012) to celebrate the show's release. The Sir Richard Steele Pub in Chalk Farm (near Camden) is being transformed into The Dick Steele with food (spotted dick, naturally). Due to capacity restrictions it's invite only, but anyone called Dick will be admitted on proof of ID!