British Forces radio orders Damn The Torpedoes! sketch series
British Forces radio orders Damn The Torpedoes! sketch series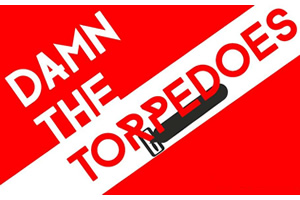 BFBS Radio, the station that broadcasts to British military around the world, has ordered a series of new sketch show Damn The Torpedoes!.
The commission follows the success of a pilot episode broadcast in April.
Damn The Torpedoes! is a military-themed comedy show which aims to extract humour from topics linked to the Army, Navy and Air Force. The pilot episode included sketches such as a salesman trying to flog six inch warships, Action Man trying to obtain a discharge on medical grounds, a landlady inspected Camp Bastion, and fighter jet pilots bickering about their call signs.
Four new episodes of the show are now being written, with the first due to be recorded and broadcast in August. The second episode will make its debut in September and the third in October. The episodes, including the pilot, will then be repeated on Fridays in November and December, ahead of the last episode in the series which will be a Christmas special broadcast on Friday 19th December.
The pilot episode starred Alex Lowe, Alex Perkins, Debbie Arnold, Lewis Macleod, Rachel Esposti, Stephen Hope Wynne and Suzanne Bonetti and was written by many of the writers involved in the topical sketch show podcast Live From Kirrin Island.
The majority of the cast and crew are expected to return for the series with some additional writers invited to join the project too, including an individual from the Army who responded to BFBS's call out for ideas and has since proved to be a sharp writer.
The station confirmed: "The British Forces Broadcasting Service has commissioned a full series of Damn The Torpedoes! from the team behind Live From Kirrin Island.
Following the pilot episode of the military-themed comedy sketch being well received on Forces Radio, Kirrin Productions will make four episodes for broadcast later in the year, including a Christmas special, and will involve the military audience in the writing of the show. It is expected the cast from the pilot episode will also star in the first series."
Damn The Torpedoes! is produced by Alison Pritchard and script-edited by Dan Sweryt, Stephen Mawhinney and Stu Cooper. Simon Midgeley is the Military Consultant, with Richard Hatch (the son of famous BBC producer and executive Sir David Hatch) as Executive Producer for BFBS.
Speaking on behalf of the production team, Dan Sweryt says: "Since the launch of Kirrin Island, we've been on an excellent adventure. Like Ted and Ralph! This commission is a great opportunity to continue to work with brilliant writers, a stellar cast and for a really good cause."
Aside from Damn The Torpedoes!, a new episode of Live From Kirrin Island is due to be recorded shortly. The aim is that the podcast will continue, albeit less frequently, so it can act as a training ground for writers.
The first new episode of Damn The Torpedoes! is expected to be broadcast on BFBS on Friday 29th August 2014.
Share this page