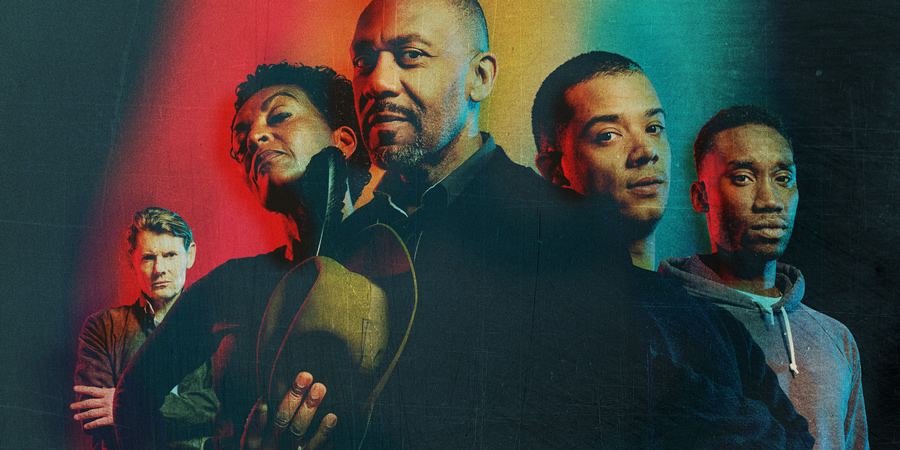 Another comedy also has this name.
Genre

Comedy Drama

Broadcast

Channel

Episodes

Starring

Lenny Henry, Jacob Anderson, Nathan Stewart-Jarrett, Joseph Marcell, Cecilia Noble, Angela Wynter, Adjoa Andoh, Pippa Bennett-Warner and others

Writers

Director

Producer
Returning to the territory Neil Gaiman explored in American Gods, Anansi Boys is a kaleidoscopic journey deep into mythology.
When Fat Charlie's dad named something, it stuck. Like calling Fat Charlie "Fat Charlie." Even now, twenty years later, Charlie Nancy can't shake that name, one of the many embarrassing "gifts" his father bestowed - before he dropped dead on a karaoke stage and ruined Fat Charlie's life.
Mr. Nancy left Fat Charlie things. Things like the tall, good-looking stranger who appears on Charlie's doorstep, who appears to be the brother he never knew. A brother as different from Charlie as night is from day, a brother who's going to show Charlie how to lighten up and have a little fun ... just like Dear Old Dad. And all of a sudden, life starts getting very interesting for Fat Charlie.
Because, you see, Charlie's dad wasn't just any dad. He was Anansi, a trickster god, the spider-god. Anansi is the spirit of rebellion, able to overturn the social order, create wealth out of thin air, and baffle the devil. Some said he could cheat even Death himself.
Production company

Laugh track

None
Broadcast details
First broadcast

Monday 25th December 2017 on BBC Radio 4 at 11:30pm

Last new broadcast

Saturday 30th December 2017 on BBC Radio 4 at 2:30pm

Last repeat

Saturday 2nd January 2021 at 3:00pm