Over the last five years, Mischief Theatre have made a name for themselves by creating hit comedy stage shows. They started with The Play That Goes Wrong, then swiftly added Peter Pan Goes Wrong and The Comedy About A Bank Robbery to their list of productions.
Their latest launch is Groan Ups, a play which follows five people from their school days through to adulthood. It's running in the West End until 1st December and, much like their previous shows, has picked up some great reviews.
Henry Lewis, Jonathan Sayer and Henry Shields are the three writers behind all of Mischief's shows, and also co-star in the productions. Let's find out more from them about how one goes about creating a hit stage show...
How did Groan Ups come about?
We started writing it in Autumn 2018. We wanted to do something character-based and we loved the idea of playing different ages and looking at how people change or don't change over time.
We workshopped it for three weeks in December 2018, and then did some rewrites before rehearsals began in August 2019.
How does the writing work, between the three of you?
We always work together, sitting in a room with a laptop. We take turns typing while the other two knock ideas around.
We definitely go through lots of drafts, and we workshop everything. We keep making changes, even once the show is open.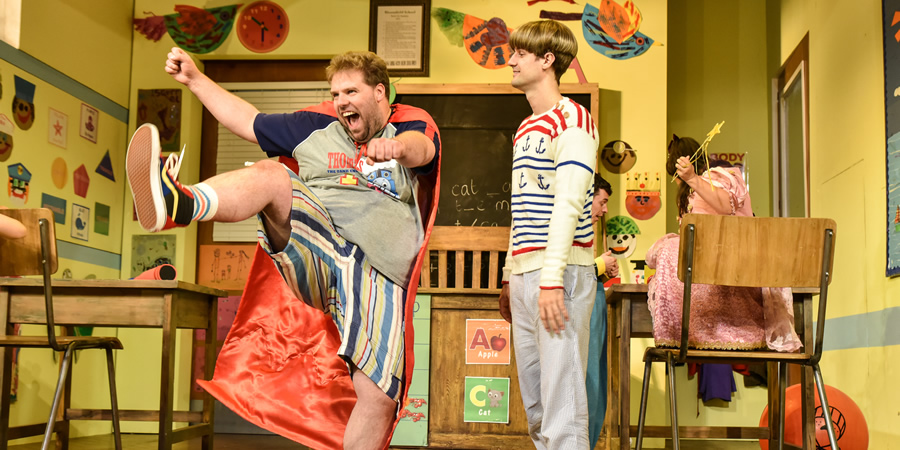 Writing jokes is quite a vulnerable process... how do you decide what makes the final cut?
You can't be precious about jokes. If they're funny then great; if there's one that doesn't quite land then it's inevitably a cut.
We make the decisions as a three but when we preview work to audiences it's usually fairly obvious what they like and what they don't!
Whilst the primary aim of Groan Ups is to be laugh-out-loud funny, we note you've put a bit of pathos into the final section...
We wanted to tell a story, and focus on the characters. We also liked the idea that the play could be really funny but also touching, so we didn't shy away from that. Growing up is an emotional business and so it would have been a mistake not to allow the more emotional side of that to breathe.
The set plays an important role in the comedy, and even gives us some laughs itself. Do you just write whatever, and then hope that your set design team will be able to deliver your vision, or does it happen the other way around?
We often talk to designers/engineers while we're writing to make sure what we write is physically possible! But we always start with big ambitious ideas and then, if we need to scale them down or realise them slightly differently, we do.
You also appear in the show of course. How do you keep your performance fresh every night?
The audience helps hugely, their response is never quite the same so that makes each show completely unique.
It's really fun to do a long run as well, because the whole ensemble just get better and better at doing the show, the timing and rhythms gets tighter and - if you approach it in the right way - you can layer in even more detail into a performance over time. All that, and regular notes from the director keeps it fresh.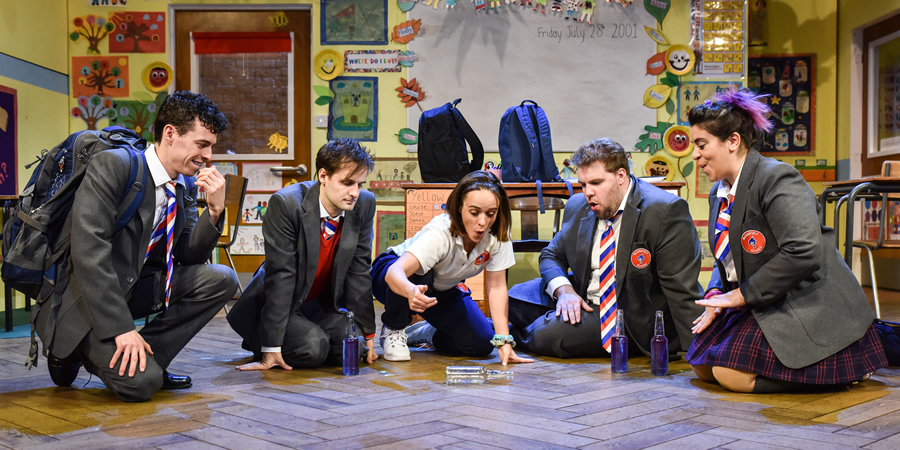 What's an average day in your life like whilst the play is running?
Well, it depends. It's a busy year for Mischief, there's lots going on, so quite often a day is spent working on a few different things.
We might have a conference call or a meeting in the morning on something else... perhaps with Mischief Screen (our TV arm) or a production or branding meeting for an upcoming show.
We might meet to do some writing, or pop in to check on another show in rehearsal. It depends what's happening that week, but it's very rare that the show is the only thing happening that day.
Income wise, you presumably could have comfortably just continued to star in The Play That Goes Wrong without needing to take on new challenges. Is creating new projects important to you?
Absolutely, we think it's really important to create new work, to keep learning and moving the company forward and we're so lucky to have the opportunities to do so.
Plus, it's lovely to be able to offer audiences different things, that's certainly what Groan Ups is... it's the same fun you get at any other Mischief show but with a few surprises and that's really exciting.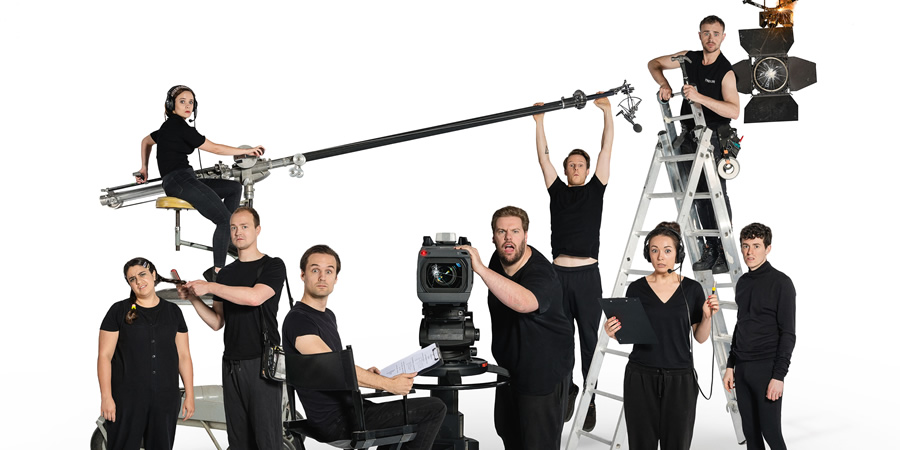 Talking of projects, Magic Goes Wrong is coming up next, and you're also set to launch your BBC TV series The Goes Wrong Show. Has it been a struggle to keep a work-life balance?
This year has been full on, but we do still have time to have a personal life. Jon managed to plan a wonderful wedding this year on top of everything else and Henry [Lewis] and his partner somehow found time to move house!
It's certainly important to make time to rest and socialise when you're busy with work. We're incredibly luck also to be working with our best friends, so that certainly helps keep that balance!
What are your ultimate career goals?
To continue to build Mischief, to make more people laugh and laugh harder than they ever have before.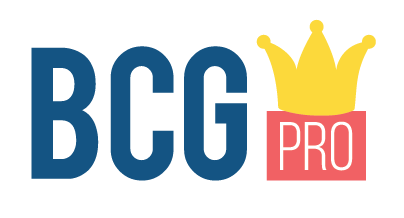 Enjoyed reading? This article is provided as part of
BCG Pro
. For much more like this, including premium articles, resources, tools and services,
find out more and subscribe
.