Chapter 70

Stone Clearing With Richard Herring: Chapter 70
Chapter Seventy - Tractor Trampled Beetf. It's 8am on 29th July 2020 and Rich is on the brink of leaving you all for a life with a Hollywood fuperftar, but might as well get one stone clear in before that happens. The farmer has been sabotaging his own crop and the stone Stasi are quiet, maybe too quiet, but Rich is not put off and manages to clear over 20 more stones in the 30+ minutes of this lesson. May be a break for the holiday next week or a fummertime fpecial. Who knows? What's the big TV job? If only there was some way to find out.
Published: 29th July 2020. Length: 36 minutes. Size: 34.6mb
Next Stone Clearing episode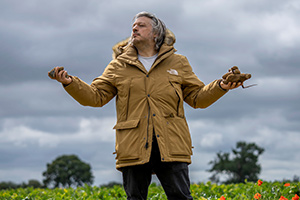 Date: 12th August 2020 Length: 20 mins Size: 32.6mb
Chapter 71 - Hydrate. It's just after 8.30am on 12th August 2020 and Richard is back from his holidays, but it's already boiling hot and he fears he will die...