Chris Evans (Not That One) Trophy 2017

Me1 vs Me2 Snooker with Richard Herring: Chris Evans (Not That One) Trophy 2017
Me1 Vs Me 2 Snooker Special - Chris Evans (Not That One) Trophy 2017 - Who Sunk The Pink? It's an exciting day for self-playing snooker, as finally the sport is played in what was once a bastion of two player snooker, the Reading Hexagon.
500 people crammed into the venue to watch Richard Herring do stand-up and at least 100 of them stayed to watch the main event, the snooker, played under a tight time frame, during the interval. Herring was tired and unimaginative, but thankfully he could let the snooker do the talking, in this fascinating, but controversial frame on a much too small snooker board in which one of the players nearly lost his manhood or his trousers. It is all as embarrassing as it sounds. But that is part of the appeal. Onwards to the time when this is how Herring makes his living and becomes a self-playing snooker billionaire.
Come and see Richard on tour. There is chance of a rematch at St Albans area on the 12th May. If these prove popular enough we may tour just the snooker at some point. (Photo by Dave Dogfaceboy). WARNING Sound quality is terrible. Audiophiles will get what's coming to them.
Published: 28th April 2017. Length: 23 minutes. Size: 43mb
Next Me1 vs Me2 Snooker episodes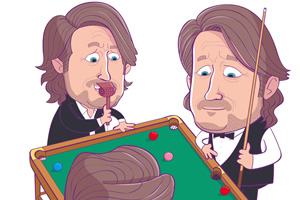 Date: 19th May 2017 Length: 26 mins Size: 48.5mb
Chris Evans (Not That One) Trophy 2017 REPLAY - I Hate St Alban. After the missing pink controversy in the original CE(NTO) Trophy 2017, the National Self-Playing Snooker Convention has...