RHLSTP 142 - Brendon Burns & Craig Quartermaine

Richard Herring's Leicester Square Theatre Podcast: RHLSTP 142 - Brendon Burns & Craig Quartermaine
RHLSTP #142: Brendon Burns and Craig Quartermaine - Race Off. Richard contemplates the now trickier commute to work that he has thanks to being forced to move to the country because he is 50, before introducing veteran comedian Brendon Burns and a man with only one credit, Craig Quartermaine. It's a more contemplative RHLSTP than usual, as the two Australians discuss the racial issues that many of their countrymen refuse to confront and how comedy can deal with questions of race (especially if a loud and mouthy bloke is teamed up with a quieter and indigenous one). Find out how this unlikely pair got together, how they reluctantly formed a double act, what makes a double act work and the awkwardness that both comedians revel in and have to cope with in their daily life and from people who have seen their show. It's a fascinating insight into guilt, embarrassment and the horrors of imperialism and how difficult it is to confront these harsh truths. Luckily it's funny too. Though sometimes uncomfortably so.
See Race Off at the Gilded Balloon at the Edinburgh Fringe, see Richard's show Oh Frig I'm 50 at Pleasance 1 and RHEFP at the New Town Theatre
Published: 3rd August 2017. Length: 72 minutes. Size: 99.6mb
Video
Next RHLSTP Episodes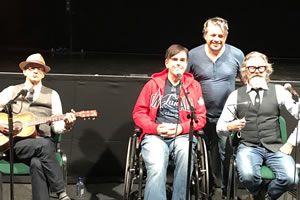 Date: 5th August 2017 Length: 65 mins Size: 118mb
RHEFP 2017 #1: The Doug Anthony All Stars - The Boy Who Cried Batman. The King has returned and he's at the spooky New Theatre Grand Hall where the Masons...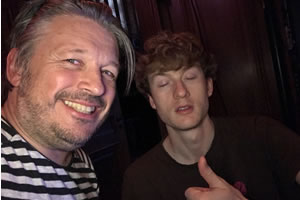 Date: 12th August 2017 Length: 60 mins Size: 110mb
RHEFP 2017 #2: James Acaster - Three Nights in Peterborough. Richard is so close to becoming the Radio Times Comedy Champion that he can almost taste it, which will just...
Richard Herring's Leicester Square Theatre Podcast - All Episodes