Series 4, Episode 3

The John Dredge Nothing To Do With Anything Show: Series 4, Episode 3
Nah den, in this week's 'programme' there's an exclusive Spot the Spatula competition (weather permitting), and we take a detailed look at the sporting world of sport, although it is rather difficult in this light. There are sessions from The Thwarted Postmen and Nancarrow's Not Normal, and children's favourite Basil the Cylinder nearly has another exciting adventure. But who's Binky when he's at home? Find out tonight, before the xylophones get you.
Published: 13th July 2015. Length: 23 minutes. Size: 32.2mb
Next John Dredge episodes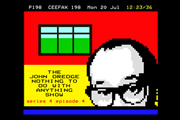 Date: 20th July 2015 Length: 27 mins Size: 37.5mb
This week's barmy bonanza of bits and pieces brings you the BBC Mallard Orchestra direct from the lake, like, and there's a rather unusual visitor for both Terry and, indeed,...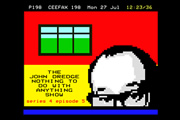 Date: 27th July 2015 Length: 28 mins Size: 38.0mb
In this week's barnstorming brouhaha of balderdash, agricultural singer/songwriter Farmer Collins goes more beserker than ever before. There's an exclusive wait as part of our detective serial which I've forgotten...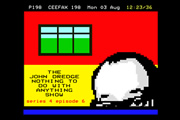 Date: 3rd August 2015 Length: 30 mins Size: 41.1mb
In the last but also final programme of the series there are gannets for all the family, but it's the raspberries you need to watch out for. Tyne and also...
The John Dredge Nothing To Do With Anything Show - All Episodes