Series 4, Episode 4

The John Dredge Nothing To Do With Anything Show: Series 4, Episode 4
This week's barmy bonanza of bits and pieces brings you the BBC Mallard Orchestra direct from the lake, like, and there's a rather unusual visitor for both Terry and, indeed, June. We present an extremely dangerous space adventure complete with ice lollies, but who is Barry Morse? And can you think of a link? (Please note: Eeeee is pronounced eeeeeeeeeeeeeeee. Thank you.)
Published: 20th July 2015. Length: 27 minutes. Size: 37.5mb
Next John Dredge episodes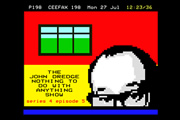 Date: 27th July 2015 Length: 28 mins Size: 38.0mb
In this week's barnstorming brouhaha of balderdash, agricultural singer/songwriter Farmer Collins goes more beserker than ever before. There's an exclusive wait as part of our detective serial which I've forgotten...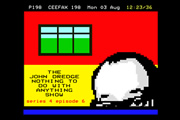 Date: 3rd August 2015 Length: 30 mins Size: 41.1mb
In the last but also final programme of the series there are gannets for all the family, but it's the raspberries you need to watch out for. Tyne and also...
The John Dredge Nothing To Do With Anything Show - All Episodes