Series 4, Episode 5

The John Dredge Nothing To Do With Anything Show: Series 4, Episode 5
In this week's barnstorming brouhaha of balderdash, agricultural singer/songwriter Farmer Collins goes more beserker than ever before. There's an exclusive wait as part of our detective serial which I've forgotten the title of, and Kojak tries to get out of Birmingham in his own inimitable style. Despite this, Leighton Buzzard shines forth once again, but do bring a puncture-repair kit just in case.
Published: 27th July 2015. Length: 28 minutes. Size: 38.0mb
Next John Dredge episodes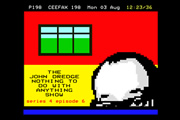 Date: 3rd August 2015 Length: 30 mins Size: 41.1mb
In the last but also final programme of the series there are gannets for all the family, but it's the raspberries you need to watch out for. Tyne and also...
The John Dredge Nothing To Do With Anything Show - All Episodes