Episode 383 - Thanyia Moore

The Comedian's Comedian Podcast with Stuart Goldsmith: Episode 383 - Thanyia Moore
A consummate compere, wielding her natural warmth and blunt honesty to devastating effect, Thanyia Moore has pulled off something extraordinary - a slot on Mock The Week before she debuts her first hour. We discuss her lack of love for writing, and the inverse pressure of a post-TV debut, as well as her secret game-plan for comedy and beyond. We also talk about whether the change in UK comedy industry booking policy as a response to Black Lives Matter is meaningful or temporary; spotting accidentally radicalised language in reviews; and how to tell when you've just done some good acting...
Download episode
(right click, select save link)
Published: 8th October 2021. Length: 84 minutes.
Next ComComPod episode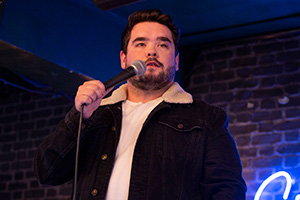 Date: 15th October 2021 Length: 85 mins
Adam Rowe is a killer. Huge punchlines, banging material that draws screams and whoops from his crowd, and a laser-like focus on achieving his ambitions. But what does his urge...
The Comedian's Comedian Podcast with Stuart Goldsmith - All Episodes