Dad's Army star Clive Dunn dies aged 92
Dad's Army star Clive Dunn dies aged 92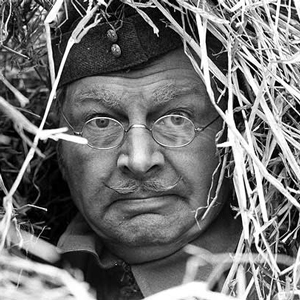 Clive Dunn OBE, best known for playing butcher Lance Corporal Jack Jones in Dad's Army, has died at the age of 92.
It is understood that he died of complications following an operation earlier in the week.
Dunn was born in Covent Garden in 1920, and was first seen on screen in the 1930s, with roles including appearing alongside Will Hay in the 1935 film Boys Will Be Boys.
During the Second World War, Dunn served with the 4th Queen's Own Hussars and was imprisoned in POW and labour camps in Austria, before returning to showbusiness with time on the music hall and theatre circuit, and appearing on television from the 1950s with top-name comics including Dick Emery and Tony Hancock.
At a Sevenoaks public school in the 1930s, Dunn briefly flirted with fascism, joining the British Union of Fascists, headed by Sir Oswald Mosley, as "it seemed patriotic". His later experience during the war turned him to ardent socialism, something that reportedly caused conflict with fellow Dad's Army star and committed Conservative Arthur Lowe.
In the early 1960s, Dunn appeared in three series of Bootsie And Snudge as gentlemens' club butler Henry Johnson, impressing himself upon the public in the guise of a doddering, elderly gentleman.
Dad's Army began in 1968, and despite playing perhaps the eldest character, Dunn was one of the youngest members of the cast at just 48.
He was also well known for playing the titular role in Yorkshire Television's 1973 - 1975 sitcom My Old Man, 1979 to 1984 childrens' comedy serial Grandad, and for the 1971 number one hit single of the same name.
Other comedy roles included Funny Thing This Wireless!, It's A Square World, The Dickie Henderson Half Hour, Happy Holidays, Judgement Day For Elijah Jones and two self titled children's sketch specials, Clive Dunn, in 1954 and 1957 respectively.
Dunn had lived in Portugal since the mid 1980s with his wife, Priscilla. They have two daughters, Polly and Jessica.
Below is a video featuring footage from Dad's Army, and an interview with Dunn:
The following video shows Dunn performing the hit single Grandad on Top of the Pops.
Share this page