Fendi Noel Fielding fashion
Noel Fielding's designs for fashion label Fendi unveiled
Noel Fielding's artwork features in a new menswear collection from Italian fashion house Fendi
Fielding has likened the experience to a "mad dream"
Designer Silvia Venturini Fendi paid tribute to Fielding, saying his creativity "escapes definition"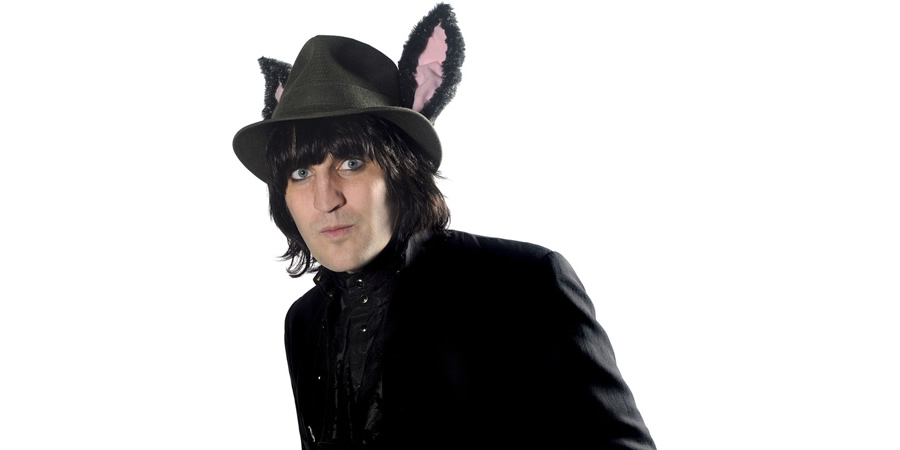 Noel Fielding has become a fashion designer.
The Mighty Boosh star is renowned for his quirky sense of style hosting The Great British Bake Off and now luxury Italian fashion house Fendi have incorporated some of the comic's "multicolored [sic], stream of multi-consciousness" artwork into their winter "New Normal" menswear collection, an experience he likened to a "mad dream".
"A dream seeing my scribbles come to life today on the @Fendi runway," Fielding posted on Instagram during the label's runway show on Saturday. "x congrats to @silviaventurinifendi for her magical collection, and all the team for such a beautiful show."
Among those who have modelled one of Fielding's designs on a sweatshirt was The Mandalorian and Game Of Thrones star Pedro Pascal:
Designer Silvia Venturini Fendi paid tribute to Fielding, remarking that after lockdown, "we find ourselves more open to everything, even if we are confined. We had to change our habits so much, and we've demonstrated how flexible we are, and how open we are to what is happening. To me, Noel Fielding represents this.
"He's a multi-faceted man: an actor, a comedian, but also an artist, a musician, a writer. Today, you have to be a multi-tasker, someone who escapes definition."
Asked specifically about whether she knew GBBO, the Italian designer added: "Yes, yes, a little! I like his sense of irony, a fantasy man. Surreal. The way he dresses is so free," she said. "And I think, in the future, when we come out of this, we'll all want to be more individualistic in our way of dressing. He is already that: an art installation."
Rebranded as The Great British Baking Show on Netflix, the show, which Fielding co-hosts with Matt Lucas, has been one of the streaming giant's biggest international hits, ranked 25th overall in analysis by business magazine Forbes.
Meanwhile, Fielding has once again teased the possibility of reviving the Boosh with double act partner Julian Barratt, beginning the year by posting "There really wasn't enough Boosh this decade! let's try and rectify that in the next one ;) x" on social media.
The BBC Three series ran from 2004 to 2007, having previously been a live show and a radio comedy. They duo last toured in 2009 but have always kept the possibility of a return alive, including frequent talk of a potential feature film.
---
For updates, click the button below.
Share this page