Kunt Boris song
Kunt's Boris song in Christmas chart race despite Radio 1 censorship
Controversial comedian Kunt's song Boris Johnson Is A F****** C*** is in the running for Christmas No. 1
The expletive-laden song has so far peaked at #2 in the iTunes and Amazon charts, and #19 in the official chart
Radio 1 opted not to play the song in yesterday's chart update, or even name it on air
Update: The single came 5th.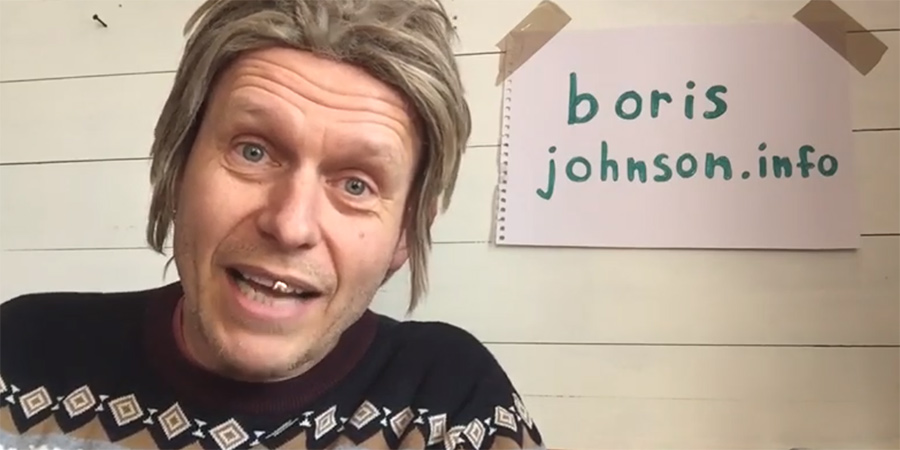 Controversial comedian Kunt is in the chart race for Christmas Number 1 with his song Boris Johnson Is A F****** C***.
However, due to the explicit lyrics in the track, it was neither named nor played in yesterday's edition of The Official Chart: First Look On Radio 1, hosted by Vick Hope and Katie Thistleton.
The presenters explained: "Now at 19 we've got a track about Boris Johnson that has so many bad words in it we can't play it on daytime Radio 1."
However, among the multiple versions of the song available to buy, is a "Safe-For-Work Sausage Roll Remix", which replaces the offending words with "Sausage Roll". A reference to LadBaby, the current favourite for the coveted Christmas chart spot.
Kunt is attempting to be the Christmas number one with his 56-second-long song, which was originally released with his band The Kunts on the album Kunts Punk In Your Face in July.
An uncensored version of the track is available to watch on YouTube
Known for his foul-mouthed music, in 2011 Künt & The Gang were joint winners of the increasingly prestigious Malcolm Hardee Award for "Cunning Stunt" at the Edinburgh Fringe for issuing penis-shaped promotional stickers that were intended to be stuck on other comedians' posters. It led to complaints from other performers and venues about their posters being vandalised by Kunt's fans.
The comedian - who has never revealed his real name - has secured the URL borisjohnson.info to promote the single.
Four different versions of the song are available to buy and stream on iTunes, Amazon and Spotify: the expletive-laden single edit; the safe-for-work remix; the original album edit; and an acoustic version.
So far, the original has peaked at number 2 in both the iTunes and Amazon charts, as well as being the third fastest-selling single of the week according to the UK Official Charts website.
'Sausage roll-obsessed' YouTuber LadBaby is currently on course to his third festive number one in a row, with Don't Stop Me Eatin', a cover of Journey's Don't Stop Believing.
However, Kunt has now received support from sources including Charlie Brooker, Stewart Lee and former Christmas chart toppers Rage Against The Machine.
In the Amazon charts, the four different versions of the song have occupied the number 2, 3, 4 and 5 spots, while the album peaked at number 8 before dropping to 9. Meanwhile, on iTunes the single has slipped to third place after another version of Don't Stop Me Eatin' was released, with LadBaby performing in duet with former Boyzone star Ronan Keating.
Kunt has posted several videos featuring the song, as well as videos about the best way to get his song up the charts.
The final results will be announced on BBC Radio 1's Official Chart, again presented by Thistleton, at 2pm on Christmas Day.
---
For updates, click the button below.
A new Christmas single from Künt and the Gang, released via the webpage borisjohnson.info, which is campaigning to be the 2020 Christmas No. 1. 2020 has been fucking terrible. But we can finish on a high...
Visit YouTube to see the music video
First released: Friday 18th December 2020
It looks like you're in the US? Fear not! Almost everything can still be ordered.
Amazon UK
deliver internationally,
Amazon.com
carries many items separately, or you can look out for US/Canadian flags on our product listings for direct links.
If ordering from a UK store, please note that you are in Region 1 (DVD)/Region A (Blu-ray), whilst the UK is in Region 2/B, respectively. This means that many - but by no means all - may fail to play. Look for products marked "Region free", "All regions", "Region 0" or "Multi-region". Blu-rays may also be marked "Region A/B/C", "Region free", or variations thereof. You may also check whether your DVD/Blu-ray player supports multi-region playback (also referred to as "region free"), or whether it can be set to do so. There should, of course, be no problems with books, CDs, or other physical items.
More advice & help on importing
Share this page