Guz Khan talks about making the transition from teaching to comedy, and what we can expect from his Comedy Feeds pilot Man Like Mobeen...
Hi Guz. For those that may not be aware of how you came into comedy, could you explain how launched yourself via YouTube?
So, I was sat marking books in my classroom thinking 'if I have to do one more tick I'm going to start selling weed again...' (JOKE!)
Seriously, I've always been told by friends that I had the ability to make people laugh - a lot. Throughout my life, I've always used humour to address difficult issues and diffuse tricky situations. I made a couple of YouTube videos online about certain social issues which bothered me and the rest is history!
You quit your teaching job last year. Was that a scary step to take?
I'm a father of three young thundercats, so providing for them is my main priority. I've always been the kind of person that is willing to take risks but that's because I believe that everything that happens is destined to. We just have to take a step towards it. Obviously my Mum still thinks I'm a massive joke for quitting teaching - and not a good joke. Actually when I say joke, I mean 'dickhead'.
Do you miss being a teacher?
First of all, let me say, I miss the kids every day. I was a huge part of their lives and vice versa. I won teacher of the year at the school I taught at three years on the bounce, and I'll be honest, that's not because I was the best teacher from a curriculum perspective! But I was someone who could hold their interest for an entire lesson and longer, and I got them discussing and thinking about what they were being taught.
I cared about them you know, like a massive brown mentor/dad/brother. And of course, I had them in hysterics on a daily basis, but if I'm honest, they had me laughing even more! Ah man, I still miss them all loads! But both the kids and their parents know where I am if they ever need anything, they taught me so much.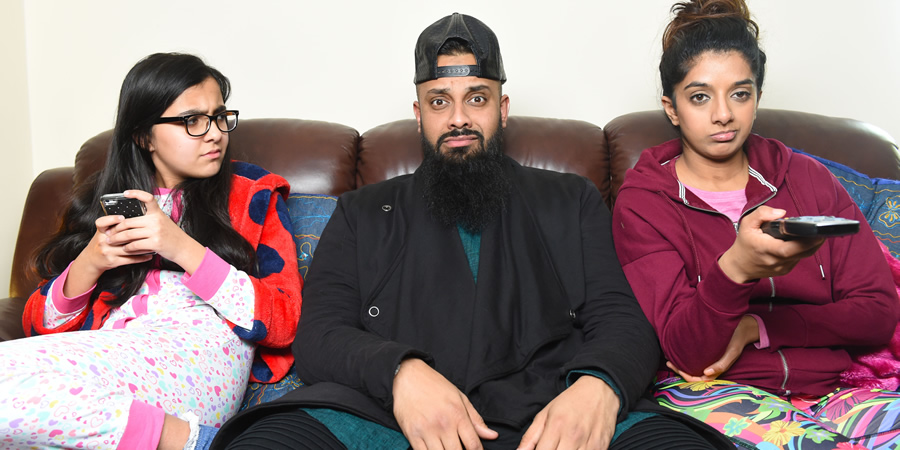 So what is Man Like Mobeen about?
Man Like Mobeen is the story of a man who chose a lifestyle which can land you in prison for a lengthy period of time. But having seen the error of his ways, he finds that his faith in Islam can help him become a better person. He is responsible for two younger sisters and is juggling leaving his old lifestyle and all the associated people behind.
He is a guy that everyone can relate too. Often when someone wants to change their circumstances, the people who can drag you down the most are those closest to you. Sometimes people don't want to see you better yourself, for fear of leaving them behind. Quite serious that isn't it... Not at all my life at any stage...!
So how did this BBC Three Comedy Feeds pilot come about?
It's a question I've never really been able to answer properly. One thing I know for sure is that a dude called Waqas Saeed, who works on the BBC Asian Network, saw a video of mine online. The BBC Asian Network then roped me into doing stand-up for their marquee comedy nights. It was only the second time I'd done stand-up... ever! I was blessed though, as it was a smash on stage. My mates Man Dem were in the crowd saying "You sharing this money when you start making it man!"
This cemented me a spot on the Ramadan comedy shorts, which is where I met a number of people who are super talented and have become comedy partners of mine. Mob Dar and Gill Isles were at Baby Cow Productions at the time. I immediately hit it off with them, and we spent most of our time talking about normal stuff, tip-tops, family life, getting arrested, selling weed (I need to stop saying that)...
They told me that I'd need an agent because I was a real talent... I laughed and went back to planning lessons. My comedy short became the most watched and Gill Isles (the mastermind behind Car Share and Rovers) put me and Andy Milligan together. We have been a comedy crew ever since.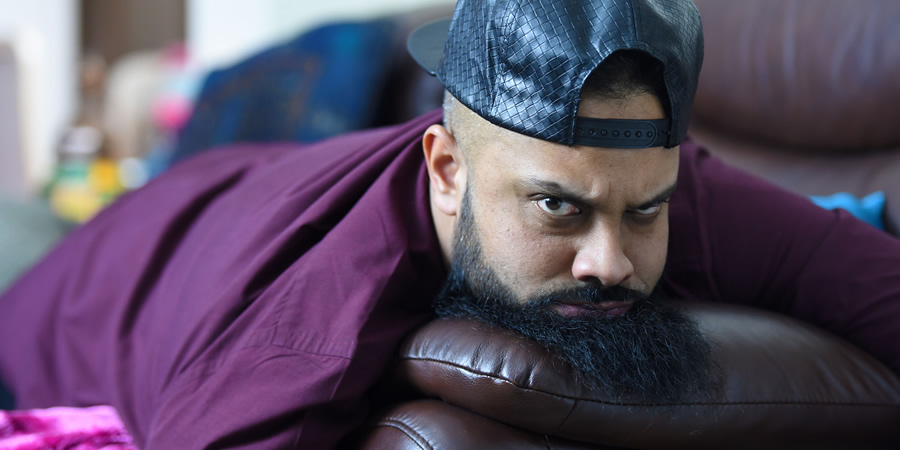 How have you found the process of writing with Andy?
A-Man, A-Man! That's Andy's name by the way... Urrrm, I mean he's a decent joke writer, if you like that Ant & Dec kind of jazz.
Andy is a not just a writing partner, but also a friend. We see the world in a similar way, the same social and political issues bother us, and so I'm blessed to have a writing partner like him. He also used to smoke a lot of weed, so he was able to into those experiences into the show (JOKE!).
You filmed it in and around Birmingham. Was the location important to you?
It was super, super monumentally important! When you tell a story about a person from a specific place, how can that be done with authenticity somewhere else?
Small Heath and the surrounding areas in Birmingham have come under so much unfair scrutiny in the last few years. Whether that be from national news outlets, or massive global news corporations like Fox News. To have a character who addresses misconceptions (and Mobeen does something in the first 15 seconds that no other comedy character has dared to do) but also tells the truth about the reality of some people's lifestyle choices in these areas was fundamental.
Mobeen has found faith. Faith also featured in your last iPlayer special. Is it a topic you feel should be represented better in comedy?
I mean for me, Islam changed my life beyond comprehension. It gave me structure and rules which enable me to try and be a better person. I know faith, in many forms, has done this for people I know in an amazing way.
In the media, it feels like faith is portrayed as a divisive entity, and I believe this is the reason for the world's problems. I think faith, when people believe in it wholeheartedly, can draw people together and build a better society.
I'm a dodgy bloke though, so I struggle with faith all the time. I also think we should laugh at how badly people, not religion, make their own assertions and subsequent cockups. The film Four Lions was a brilliant example of this.
Presumably you'd be up for making a full series of the show if given the chance? What could we expect?
We did this short based on the fact that we were thinking long term, we believe that a series is a must! So send all emails of support to BBC Three. We've already written a couple of additional scripts and have ideas conceptualised for a series.
What can you expect? To be entertained like never before mate. I think Mobeen and 79 year-old Cyril could release a grime mixtape off the back of this.
You seem to have lots of projects on the go right now. What's up next for you?
Alhumdulillah, we are busy right now for sure!
Borderline on Channel 5 is wrapping soon and I've had great feedback on my character - Mo Khan - that I played in it so hopefully it'll get a second series [It has just been confirmed Borderline is returning].
I'm appearing in a new show called Zapped with James Buckely, which is out in the autumn also.
I've been commissioned a Sky Halloween comedy short with Me And You Productions which is shaping up to be absolute hilarity, it's due out in time for Halloween.
I made the funniest 'laugh factory' stand-up competition, I've done a few movie cameos and I'm also building and writing new projects. It's a good time to be Guz Khan right now son!
Man Like Mobeen is available on the BBC iPlayer. Watch