David Tennant and Michael Sheen talk about starring in Good Omens, the TV adaptation of the fantasy novel by Terry Pratchett and Neil Gaiman. It tells the story of an angel (Aziraphale, played by Sheen) and a demon (Crowley, portrayed by Tennant) who have to work together to try to stop the world ending.
What first appealed to you about Good Omens?
David: It's such a brilliant idea. Terry and Neil have created a world which is entirely fantastical, but which comes from something we recognise, something we identify with. The idea behind Good Omens connects with life as we understand it. We are talking about ludicrous flights of fantasy rooted in perfect sense and with impeccable internal logic. These stories all make clockwork sense - that's why they appeal so much. Terry and Neil are licenced fools. They are speaking truth to power, and they get away with it by being so funny.
Neil and Terry use humour so well. Through that, we get to see humanity at one remove. It makes humanity look all the more preposterous, yet lovable at the same time. We can see why Crowley and Aziraphale don't want to surrender this life. Yes, it's mad and violent, but it is still better than heavenly order or hellish chaos.
Michael: I have been a huge fan of Neil's work for years. I first read Good Omens at drama school when someone in my year introduced me to comic books, and Neil's work in particular. I read all the classic comic books - Sandman, Hellblazer, Watchmen and Swamp Thing. I loved them. I had always assumed that comic books were about superheroes and wasn't that interested in them. But this stuff was brilliant. It was great storytelling; it was dark, gritty and fantastical. It really rang my bell. So I'm absolutely delighted to be involved in the TV version of Good Omens.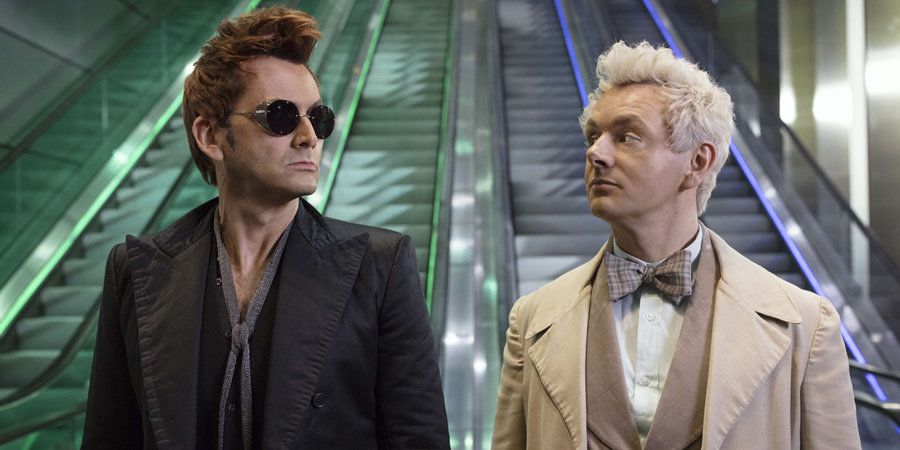 What is so alluring about the relationship between Crowley and Aziraphale?
David: What makes their relationship so appealing and why we root for them both is that they have clearly come to depend on each other. They're best friends. Each is the only one the other one has. They have been thrown together and have developed a reliance and a need for each other, which is very touching. They have a perspective on the world, have witnessed every decision that humanity has made and can see what they stand to lose.
Michael: They both begin to realise they are rather more fond of the human race than they should be. When Aziraphale and Crowley start to appreciate each other's positions, that compromises them, but it also draws them together. It is something that is particular to them. Over hundreds of years, we see that bond developing. They're on opposite sides, but they're actually very similar. They're both supernatural, but both very appreciative of humanity.
Do they come to that realisation at the same time?
Michael: No. Much later than Crowley, Aziraphale starts to see the contradictions in the position of each team. Part of being a demon is being cynical about everything from the beginning, so Crowley realises it much more quickly. Aziraphale, on the other hand, brings an innocence and an openness to things. He's not exactly naive, but he possesses this innate goodness.
Has it been fun to play?
Michael: Definitely. What I love about it is the idea that these two characters are special and magical. They can do miracles, but at the same time, they are very much of this world. There is also something Odd Couple-ish about them, which is great.
What do you love about the script for Good Omens?
Michael: There is a lot more humour in Good Omens than the stuff Neil has done on his own. The subject is very serious, but it is dealt with in a comic way. In revisiting it for TV, Neil has balanced it out more. There is more potential for darker notes, but it's still very much a comedy. This script is a triangulation of the young Neil, Terry and the older Neil.
David: Signs pointing towards the sets say: 'BBC Comedy Production'. That keeps tripping me up, which is great. This doesn't feel like a BBC comedy production - much as I love those programmes. BBC comedies are among my favourite shows. This doesn't feel like the same department that produced The Good Life and Mrs Brown's Boys. Good Omens feels like a hybrid. It's at least a comedy drama or a comedy drama fantasy. You can keep adding adjectives until it finally makes sense.
Has it been useful to have Neil around as the showrunner?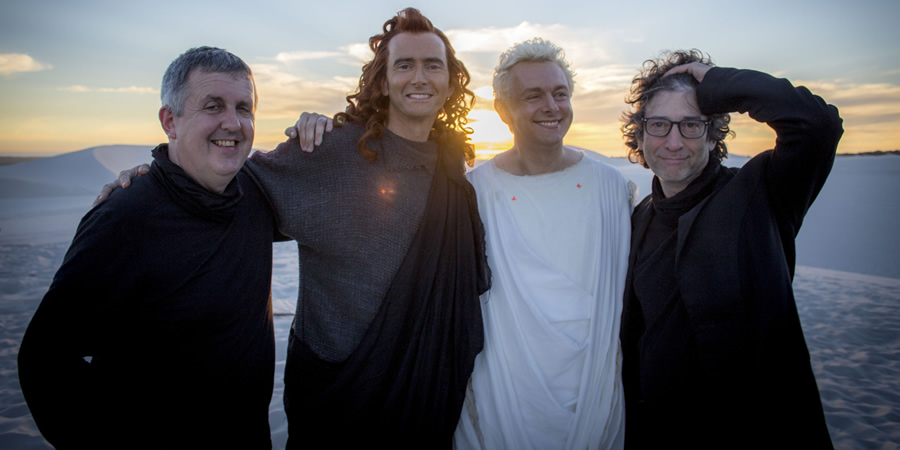 David: Definitely. If he thinks an idea is good, he's happy to consider it, rather than being stuck in a notion of what something should be. He embraces the fact that making drama is a collaborative experience. If you have a query or you're not entirely sure about the intention behind a line, you can get a definitive answer very quickly. It's been a lovely experience.
Does the fans' passion for the book make it harder to bring Good Omens to life on screen?
Michael: Yes. It makes it difficult to adapt that world and make it exist on TV because people have very particular ideas about what it is for them. Good Omens is such a widely loved book. A lot of people have a very fond relationship with the book and have developed a strong sense of who the characters are and what they should look like.
Do you think sci-fi and fantasy have been unfairly sneered at by critics?
Michael: Yes. But by writing about things that come out of the here and now from left field, sci-fi dislocates our critical faculties and opens us up to seeing the world more clearly than some other forms. It is a great way of getting into our consciousness and sneaking up on us. It has real power.
Authors such as Neil and Alan Moore and Grant Morrison have produced some of the best writing of the last 50 years. Just because it happens to be in comic book form, people tend not to give it the attention it deserves. Maybe that's good because it appeals to a passionate audience and doesn't have to deal with mainstream critics gobbing off about things!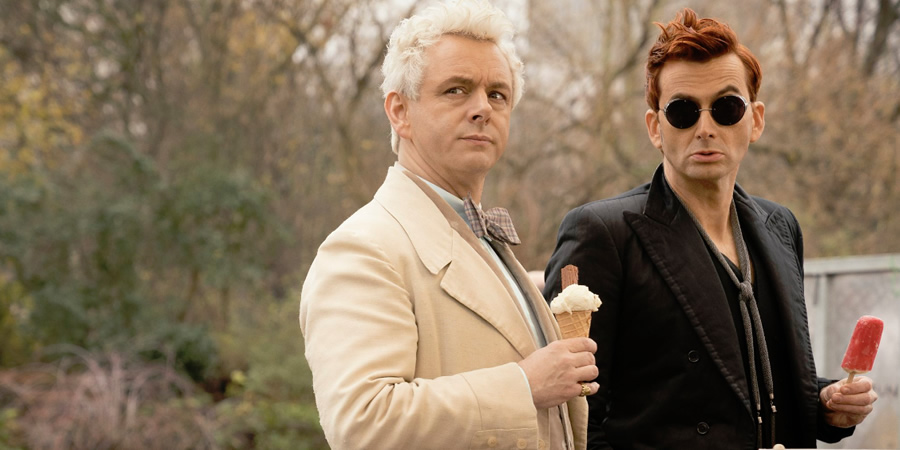 David: As people's access to different types of shows expands exponentially, people are more willing to try new things and less stuck on genres than they used to. There are so many shows to keep up with that something which feels fresh and finds a new way of telling a story will have a chance of pushing through. Look at Game Of Thrones or Westworld.
Is this a good time to be making this drama about the end of the world?
David: The world appears to be going mad. It almost seems entertaining - until you think: "Hang on, this is real people's lives." And then it seems horrifyingly sinister. We keep paddling along, hoping for the best, but fearing the worst. Actually, that could be the catchline for the show! I hope we finish it before the world finishes itself! What with everything going on, we need some release valves. Good Omens sees the end of the world as a comedy rather than the tragedy it will be. It seems quite apposite to be doing it now.