Lee Evans to star in new stage show
Lee Evans to star in new stage show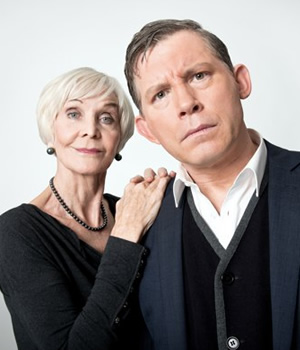 Stand-up comedian and actor Lee Evans is to star in a new comic play about a family of gangsters.
Barking In Essex - based on a script written by Clive Exton, the late acclaimed writer of hit TV shows including 10 Rillington Place and Jeeves & Wooster - will open in London's Wyndham's Theatre in September 2013.
The play centres around the Packers, a family of gangsters from Essex. It observes as they try to cover their tracks before the head of the family - Algie Packer, Essex's most notorious gangster - gets out of jail after a seven year stretch to return home and "collect what is rightfully his" - £3,672,000 in untraceable notes. Notes they no longer have.
Lee Evans - who has lived in Essex most of his life - will take on the role of hapless, dim witted Darnley, described as "the village idiot of the criminal underworld", with Sheila Hancock as Emmie, his mother, who is described as "the family's Rottweiler with a hairdo."
The write-up for Barking In Essex concludes: "WARNING! This play contains people from Essex and some (rather) bad language."
Lee Evans is not new to stage roles. In March 2004, he made his West End acting debut alongside Michael Gambon in Samuel Beckett's seminal play Endgame. This was followed in 2005 by his appearance in Mel Brooks' musical The Producers at the Theatre Royal Drury Lane, for which, in the role of Leo Bloom, he was nominated for an Olivier Award. Evans returned to the West End stage in 2007 to play hitman Gus in the Harold Pinter play The Dumb Waiter.
Barking In Essex will open at Wyndham's Theatre, which is located close to Leicester Square in London, on 6th September 2013. Tickets are already on sale, with Evans's agents Off The Kerb offering a deal where top price tickets are reduced to £40 and second price tickets reduced to £25 on performances before the 19th September, if booked before 24th December 2012. Tickets
Share this page