Doctor Brown wins Edinburgh Comedy Award 2012
Doctor Brown wins Edinburgh Comedy Award 2012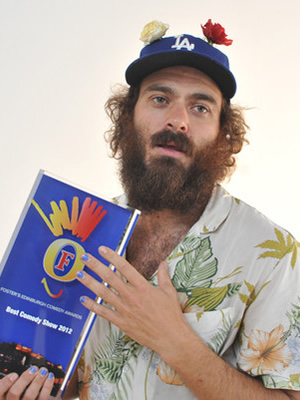 American comic Phil Burgers, who performs in character as silent mime act Dr Brown, has won the prestigious Edinburgh Comedy Award for Best Show.
His performance, Doctor Brown - Befrdfgth, was widely praised as being one of the most exciting things at this year's Edinburgh Festival. Burgers' act is hard to describe but involves absurd visual humour and extreme contact with the audience. At one point Dr Brown climbs into the rows of seats and interacts intimately with a number of those watching. Burgers was awarded a cash prize of £10,000 alongside the prestigious title.
As our listing shows, Befrdfgth - which also won the top prize at the Melbourne Comedy Festival earlier in the year - has picked up universally positive coverage, with every review either 4 or 5 stars.
Edinburgh Comedy Awards boss Nica Burns said: "Doctor Brown's show starts with fun pranks and then takes the audience on a roller coaster from inspired lunacy to pulling your heart strings. He can express emotion with a gesture, a look or an eyebrow. A breathtakingly brilliant clown with enormous charisma in a fantastic show."
Burgers beat fellow nominees James Acaster, Tony Law, Josie Long, Claudia O'Doherty and sketch group Pappy's to claim the prize. Accepting the award, he thanked all his "lovers, friends and supporters."
The Edinburgh Fringe Festival ends this weekend. In the autumn, from 30th October to 10th November 2012, Burgers will perform Befrdfgth at the Soho Theatre in London.
The comedian has recently been working with Channel 4, and filmed two sketch show episodes for the network's Comedy Blaps online pilots strand earlier in the summer. The two short episodes feature the character of Dr Brown, alongside some of Burgers' other creations, including some characters who do talk. Watch
In the Best Newcomer category Daniel Simonsen (pictured) was named the winner ahead of David Trent, Ben Target, Joe Lycett and Sam Fletcher, taking the £5,000 cash prize in the process.
Burns commented: "Norwegian Daniel Simonsen relocated to London to pursue his dream of being a stand-up. He wowed the judges with his dry witty take on the day to day battle with life. Sharing a house, cleaning rotas, finding a new family in South America, fitting in."
Meanwhile, the special Foster's Panel Prize this year went to a mime act too. The judges awarded it to The Boy With Tape On His Face, aka New Zealander Sam Wills.
More Tape, the name of this year's show by Wills, has picked up an impressive number of five star reviews over the month (Listing).
The organisers say: "Sam's work has been developed totally at the Edinburgh Fringe. He came as a street performer in 2007, met his wife who was singing opera on the street as he was trying to put his body through a tennis racquet. He came indoors for his first full show in 2010 winning a Foster's Best Newcomer nomination and this year he has graduated to selling out one of the largest Fringe venues, the Pleasance Grand. He is an outstanding comedian who proves that punchlines don't need words. His show is packed full of gags - all visual. Sam shows us that silence can be hilarious. He is a star!"
Wills is currently working on developing ideas with the BBC, and filmed a sketch show pilot called The Tape Face Tapes for the corporation's Feed My Funny online pilots season earlier in the year. Below is a clip from this show:
Nica Burns, a successful theatre producer, established the prestigious Edinburgh Comedy Awards in 1981 to recognise the best comedy shows at the Edinburgh Fringe Festival. For many years they were known as the Perrier Awards, being funded by the popular mineral water brand, but in their latest incarnation are sponsored by Foster's lager. Previous winners include Al Murray, Lee Evans, Frank Skinner, The League of Gentlemen and Russell Kane.
She added: "What an extraordinary year for physical comedy with two out of the three comedy awards being won by shows without words. Both Doctor Brown and The Boy With Tape On His Face bring physical comedy to new levels wowing audiences who enjoy joining in the fun and laughter."
It should be noted that not every act that performs at the Fringe is eligible to win an award - alongside various other stipulations, the rules state that any comedian who is considered to have 'star status' (this is defined as any act who has starred in a television comedy or light entertainment series on terrestrial television, or regularly fills a 500-plus seat venue) may not be shortlisted. Of more than 1,400 shows under the 'comedy' banner in British Comedy Guide's Edinburgh listings, a total of 536 were eligible for this year's three award categories.
This year the judging panel comprised of Lindsay Hughes (Baby Cow Productions), Ben Boyer (Sky), Oscar Cainer (competition winner), Bruce Dessau (Evening Standard), Lyndsay Fenner (BBC Radio), Paul MacInnes (The Guardian), Dominic Maxwell (The Times), Sophie Stubbs (competition winner), Emma Watkins (competition winner) and Ben Williams (Time Out).
Meanwhile, last night saw the madcap Malcolm Hardee Awards Show give its gongs "representing the true anarchic spirit of the Edinburgh Fringe". Irish hip-hop comedy duo The Rubberbandits picked up the award for Comic Originality, whilst the Cunning Stunt title - for best publicity stunt of a Fringe show - went to Stuart Goldsmith. South African Trevor Noah was named the Act Most Likely To Make A Million Quid. Full Story
There have been over 1,400 different comedy shows at this year's Edinburgh Fringe Festival. The British Comedy Guide has full listings for all. For more, see our Edinburgh Fringe Coverage
Share this page