Poster Awards winners 2019
Comedy Poster Awards 2019 winners announced
The marketing artwork for the Edinburgh Fringe shows starring Jessica Fostekew and Sofie Hagen have won prizes in the Comedy Poster Awards.
Panel Award
The poster for Jessica Fostekew's Hench was declared winner of the Panel Award. It was photographed by Idil Sukan and designed by Chris Lince.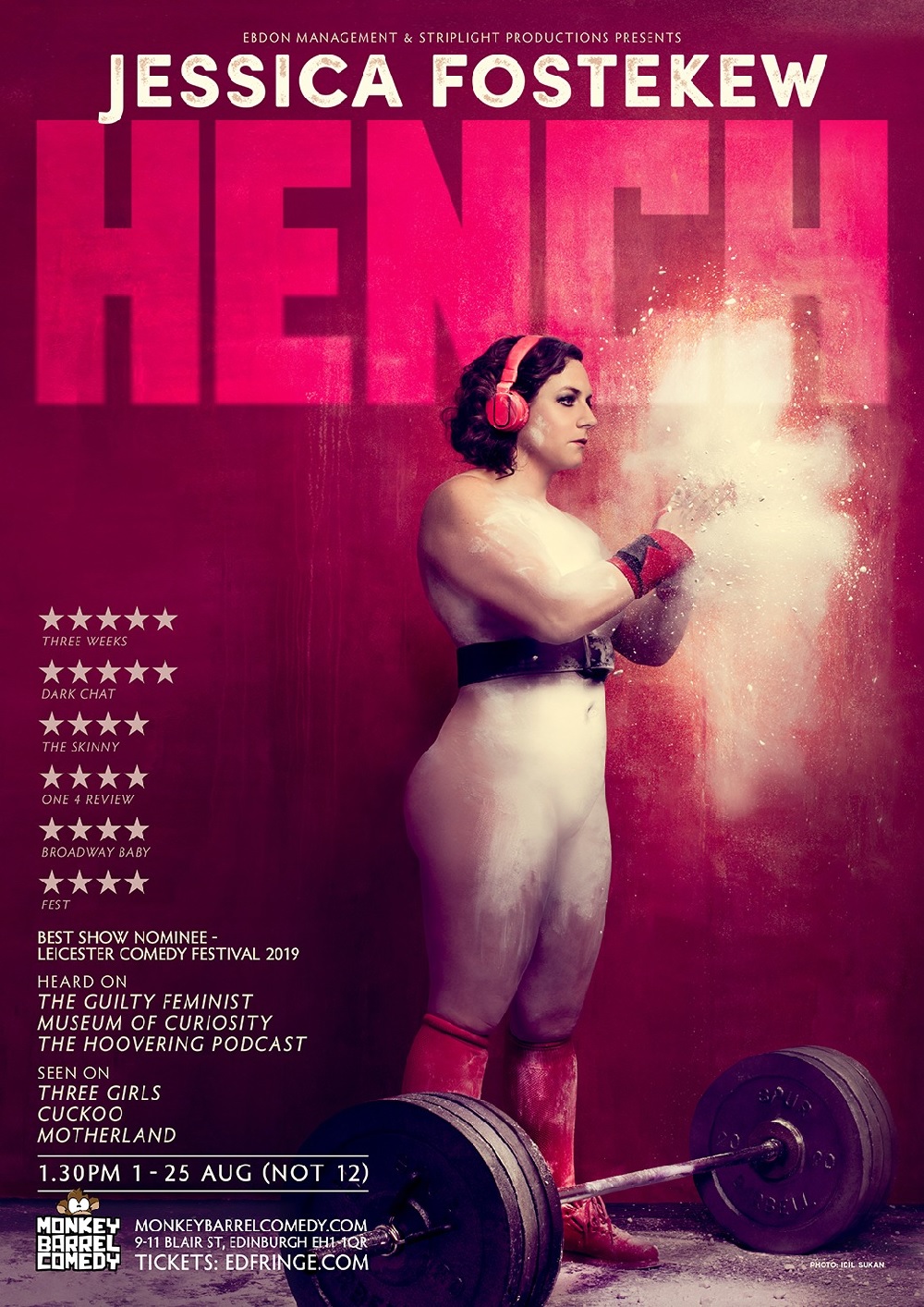 Jessica Fostekew said on winning: "Oh. THIS IS NICE. Thank you. Massive hats off to Idil Sukan my genius photographer and also to Chris Lince for designing a poster that best showed off Idil's incredible work. After Lou Sanders won this a few years ago with an image of her holding an animal, everyone started holding animals in their posters. So fingers crossed everybody will be naked in theirs next year now. Shall we just all do it? Yeah? Yeah."
Audience Award
The Audience Award - based on a public vote - was won by Sofie Hagen's The Bumswing. It was designed by Haiminh Le and photographed by Matt Crockett.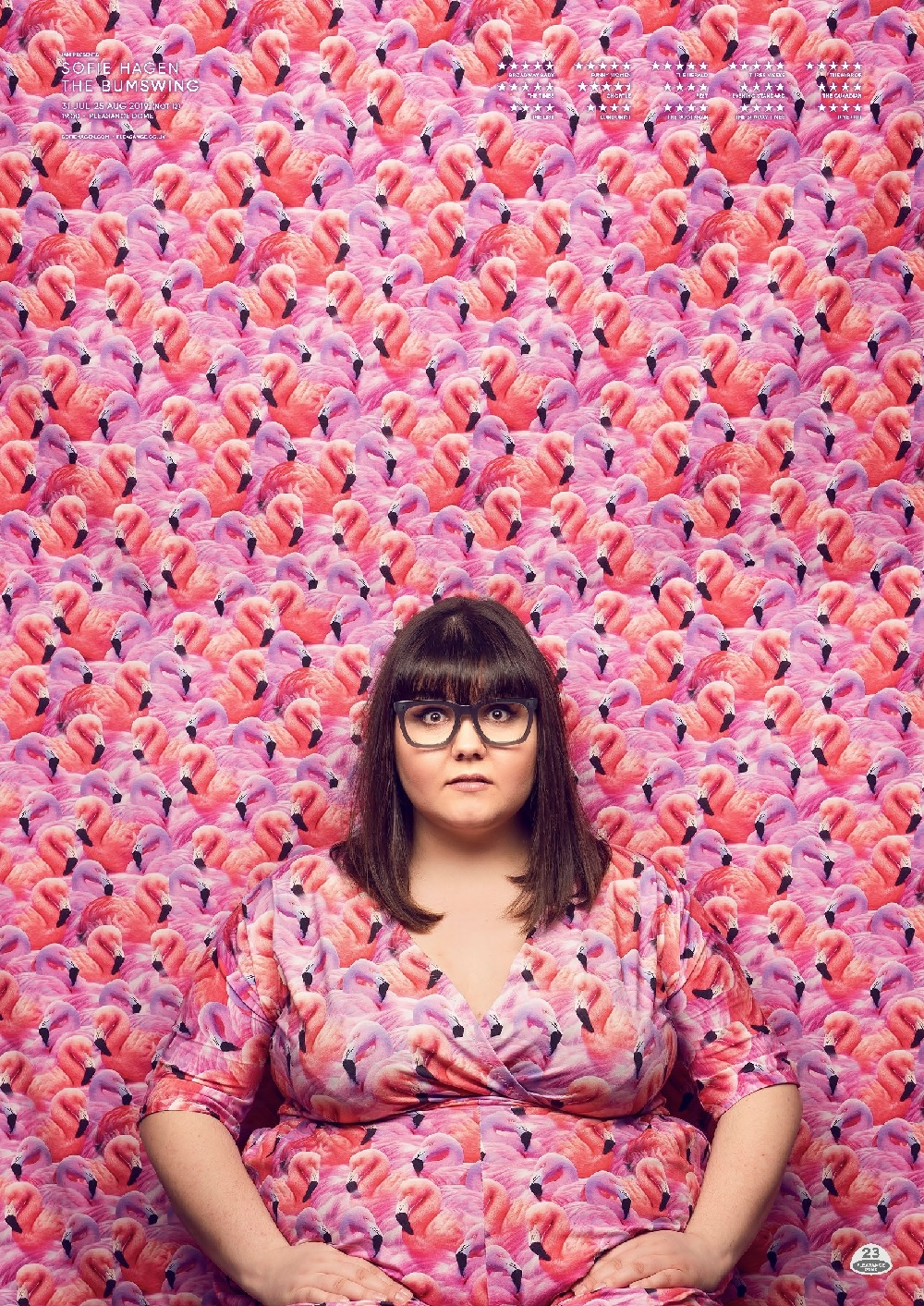 Sofie Hagen comments: "I am lucky to have found people to work with who say 'yes' when I have got a silly idea, like the photographer Matt Crockett, the designer Haiminh Le and the fashion designer Jazmin Lee from Plus Equals who made the jumpsuit in the photo. It's what the Fringe is all about. Deciding to have a poster that people think is a Magic Eye poster so they stand in front of it staring for hours. I'm very happy."
---
The results were announced at a ceremony in Edinburgh tonight, organised by British Comedy Guide.
Awards founder, comedy producer Gina Lyons, comments: "Jess's poster is a striking image with slick design. Her concept perfectly complements what is a hit show on this year's eclectic Fringe. Sofie's artwork is one of the boldest I can remember - a really daring, eye-catching concept that has made an impression across the city.
"We had a 70% female constituency of the most popular in both categories. We have seen a huge increase in ideas, design and execution in since the awards began, and are glad to support designers, photographers and creatives as they work on some amazing concepts from comedians each year.
"Edinburgh blooms with posters every summer and seeing the designs and concepts get better each August makes our judges' job harder than ever. We thank everyone for applying and look forward to seeing the wonderful art on display in 2020."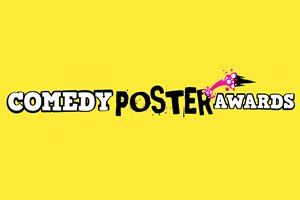 The panel of judges, who voted on the posters independently for the Panel Award, comprised of BBC Comedy Commissioner Sarah Asante; Head of Development for Expectation Entertainment, Howard Cohen; BAFTA-nominated Director Ben Mallaby; Art Director from THIS IS TOMMY Pete Collins; and Senior Content Producer, Accelerated Intelligence, Julia McGill.
Howard Cohen comments: "Congratulations to the amazing Jess, she's clearly on the up and winning this prize only adds to the rise. Major respect to the designer Chris Lince and the comedy photo legend Idil Sukan. Oooh and major shout out to the short-listed Caroline Mabey for her poster - it's a furry triumph!"
Pete Collins says of the poster picked by the panel: "Mixing an image that demands a double-take along with a striking colour palette and considered typography, the Hench poster brings intrigue, braveness and a smile to the mind."
Ben Mallaby adds: "It's a work of art and perfectly complements the show."
Hagen's poster was also in the judges' shortlist for Panel Award, alongside Arnab Chanda: Boy From Earth, Caroline Mabey - Hair Of The Dog, Luke Rollason's Infinite Content and Sophie Duker: Venus.
This was the 5th year of the Comedy Poster Awards. In total, nearly 250 posters were entered into the 2019 contest. They can all be viewed via the Comedy Poster Awards website.
Share this page