Anna Mann 2018 tour
Colin Hoult announces Anna Mann 2018 tour
Colin Hoult is to tour the UK as Anna Mann in 2018
How We Stop the Fascists was one of the best reviewed shows at the Edinburgh Festival in August
The tour will start at the Leicester Comedy Festival in February and end at Wells Comedy Festival in May
Character comedian Colin Hoult has announced a tour for his character Anna Mann.
Following a run at the Edinburgh Festival in August (where it was one of the top reviewed shows) and a recent run at the Soho Theatre, his critically acclaimed show How We Stop the Fascists will now tour between February and May 2018.
His promoters confirm: "Visceral actress Anna Mann offers up her unique talents to save Western society from the recent rise of fascism in How We Stop the Fascists.
"Many moons ago, Anna starred alongside her late husband John 'Smellsy' Smells in a powerful and necessary play, No More War... Please. Satisfied that Liberal society was safe, Anna went on a 30 year jolly, hosting a string of cheese and sex parties and working her way through several marriages. Cut to 2017 and Anna has experienced a political reawakening. She is shocked and furious about the rise of fascist behaviour around the world and plans to single handedly put a stop to it and spank all their bottoms. For who better equipped to take on fascism than an actress with over 30 years' experience of the stage and screen?
"Colin Hoult/Anna Mann in How We Stop The Fascists features a barrage of silly jokes and absurd vignettes. Join the ever courageous, Anna Mann as she prepares for the fight sequence of her career with an armour of sass, an artillery of fun and tanks of biting satire. Having trawled the country for the stories of real people, Anna presents spectacular verbatim theatre featuring anti-PC-brigade wannabe politician Nick Crippin, the voice of experience in pensioner Marjory Crookes, passive aggressive lefty 'Momentum' member Cheryl Glass and ex-squaddie come film-maker, Nottingham's very own Andy Parker."
Explaining further about the concept, the producers joke: "As with his 2016 show, Colin Hoult is taking the chance to talk about something that appalls and saddens him in the best way he knows how, as an ageing actress and her friends. Like many people, he worries about what lies ahead for his young family but doesn't quite have the balls to do anything about it. Thankfully, Anna has enough balls for both of them and offers hilarious insights as well as some hope for the future."
A full list of dates is below.
Hoult recently appeared on The Russell Howard Hour as Anna. Below is the video.
2018 Tour dates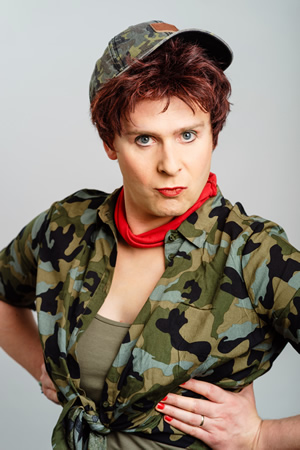 Leicester Comedy Festival (Firebug): 11th February
Brighton (Komedia): 15th February
Richmond (Orange Tree Theatre): 18th February
Bath Comedy Festival (Ring O Bells): 12th April
Cambridge (The Junction): 15th April
Swansea (Cinema & Co): 3rd May
Machynlleth Comedy Festival: 4th May
York (The Basement): 19th May
Glasgow (The Stand): 20th May
Wells Comedy Festival: 27th May
---
For updates, click the button below.
Share this page