Leo Kearse crowned UK Pun Champion 2015
Leo Kearse crowned UK Pun Champion 2015
---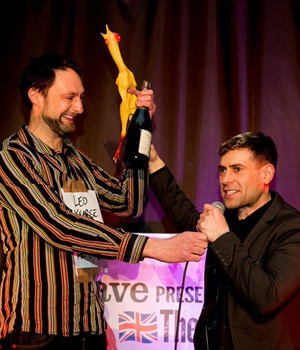 Leo Kearse has won the UK Pun Championships 2015.
The Scottish stand-up was crowned the winner after "out punning" seven other comedians at the final, which took place last night (12th February) at the Leicester Comedy Festival.
Hosted by Lee Nelson, the UK Pun Championships are now in their second year. The format, which takes inspiration from rap battles, sees two comedians taking to the stage and, in each round, delivering five puns in turn on topics pulled out of a bucket. The winner of each round is determined by how loud the audience cheer.
Kearse knocked out last year's winner Darren Walsh in the opening round, in what was deemed to be a particularly close battle.
The two comedians - who are good friends, having gigged together in the Atella The Pun shows - soon despatched with the 5 gags-a-round rule and, much to the delight of the audience, began topping each other's puns in a solid back-and-forward battle.
In all rounds in which Kearse competed - including the final against Rob Thomas - the comedians ignored the host's plan and broke off into multiple back-and-forward puns, riffing off each other's previous jokes.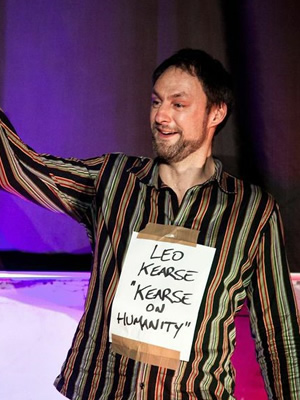 Kearse, who is based in London, has been performing on the circuit for approximately five years. He was previously a Leicester Square Theatre New Act finalist in 2011 and Laughing Horse New Act finalist in 2012.
Writing on his website, he said today: "Last night I won the second annual UK Pun Championships in Leicester, battling through some very tough pun-offs against Tony Cowards, Rob Thomas and reigning champion (and close friend and other half of Atella The Pun) Darren Walsh."
Kearse's gags included:
"Growing up on a farm, my dad was always telling me to use the indoor toilet. But I preferred to go against the grain."
"Marvin Gaye kept a sheep in my vineyard. He'd herd it through the grapevine."
"In Iran, everyone's scared of spiders. But in Iraq-no-phobia."
"I was at hospital last week. I asked the nurse if I could do my own stitches, she said 'suture self'."
The full line-up of finalists involved in the contest was Leo Kearse, Rob Thomas, Martin Croser, Richard Woolford, Richard Pulsford, Rob Coleman, Tony Cowards and Darren Walsh. Biographies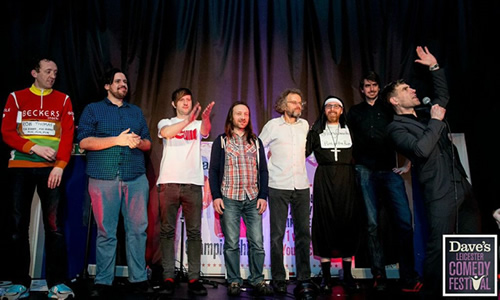 The UK Pun Championships are organised by Dave's Leicester Comedy Festival. Events continue in the city until the 22nd February. Euroversity Challenge - a format that mashes-up the Eurovision Song Contest and University Challenge - is due to take place on Saturday, whilst other highlights include a Normal Wisdom exhibition and hundreds of stand-up shows. To find out more visit www.comedy-festival.co.uk
Below is a video filmed at last night's final. A podcast of the full show will be released by Dave at a later date.
See also:
Share this page