Jason Manford complains about ticket booking fees
Jason Manford complains about ticket booking fees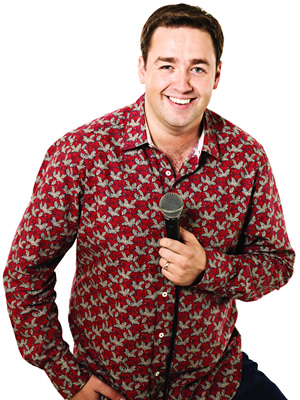 Jason Manford has become the latest high profile comedian to speak out in public against the practice of big venues charging a booking fee for purchasing stand-up tickets.
Last year Sarah Millican announced she was avoiding venues owned and run by Britain's largest theatre operator - the Ambassador Theatre Group (ATG) - because of its high booking fees. Writing on her website in August 2012, she wrote "Some of you will notice that I'm not playing some of the venues I played on my last tour, those venues are owned and run by The Ambassador Theatre Group. In my opinion I don't agree with the extra charges ATG put on top of the face value ticket price to you the customer and a number of other restrictions they have in place so that's why I've avoided their venues this time round."
Now, Manford - who is currently touring through till April 2014 with his show First World Problems - has said he too is going to start avoiding ATG venues for future tours.
Posting on his Facebook profile today, the comedian wrote: "Now usually I pop on here to say 'hey there's tickets left for such and such a gig, buy them'. But I just popped on the Oxford New Theatre website where I am performing next Monday and Tuesday and noticed that ATG (the company that owns it) are charging a whopping £9 booking fee on top of my ticket price of £22.50 (a price I already took £2.50 off from the last tour's £25 because of rip off booking fees).
"Please please please do NOT buy these tickets. These booking agents are parasites of the highest order, over charging you and making it look like it's the performer. I can only apologise for the people already booked, God bless you I will of course put on my best show as I do every night."
He also confirmed his intention to stop working in ATG venues when he tours again, saying: "I just wish I'd have spotted it bloody sooner but all that is left to promoters and such like, but just know that after this tour I will never play an ATG venue again until they lower their preposterous booking charges.
"I mean, you do it all your fucking self! That's what gets me, you log on, you choose your seats, you even print the bastard out at home! What are they charging for?!!? How are they getting nearly half of what I get when I'm the one who spent a year writing and perfecting it, driving to the gig, paying travel, accommodation, tour manager, promoters, agents, advertising, not getting to put my kids to bed 6 nights a week for 10 months! I do my best to never rip anyone off but this makes my blood boil. I'm kicking myself for not noticing it sooner! Argh!"
Ten minutes later Manford added a follow-up Facebook post explaining to his fans how they can try and avoid the booking fee. He wrote: "Right I've just rang the staff at Oxford New Theatre and if you go in to the actual box office the tickets are the regular price of £22.50 (although ATG still manage to put a £1 restoration fee on top of that! cheeky fuckers!). Or the woman said some people send a cheque in and then just pick the tickets up on the night. Anyway, sorry for ranting but it's just so annoying when we (me and you) are all working so hard for our money and then some companies who have a 100% monopoly are ripping us off!"
4pm Update: Manford has also pointed out: "The maddest thing about ATG is they also own the venue! So not only do they take £9 off you but they take 20% off me as well. So they actually make £13.50 off both me and you! And for what exactly?"
ATG manage over 30 theatres in the UK, including the likes of New Victoria Theatre in Woking, Milton Keynes Theatre, Theatre Royal in Brighton, King's Theatre in Glasgow, New Wimbledon Theatre, Bristol Hippodrome, Edinburgh Playhouse, Liverpool Empire Theatre, New Alexandra Theatre in Birmingham, Manchester Palace Theatre and Sunderland Empire.
In February the website ticketing arm of ATG were censured by the Advertising Standards Authority for not making it clear that compulsory booking fees would be added at a later step in the order process. The ASA's Guy Parker said of this: "These pricing practices are simply not fair. They draw us in on a false promise. They make us less likely to shop around for the best deal. Our rulings send a clear signal to advertisers: sort out your pricing so we all get a fair deal."
Other websites allow fans to buy theatre tickets direct and review the prices and booking experiences.
Below is a trailer for Jason Manford's tour:
Share this page