Simon Munnery
It's been just over two years since we started this slot, so that must be about 100 episodes, given that we've probably missed the odd week here and there due to Christmas or earthquakes or whatever. And so, to celebrate the near-anniversary, here's a special edition, with the near-mythical Simon Munnery.
Even if you've somehow managed to avoid Munnery's many and varied exploits over 30 years in the business, you'll know the name: he must be the most-mentioned-by-other-comics comic since Malcolm Hardee. From his early TV days as The League Against Tedium and Alan Parker: Urban Warrior to more recent live happenings continuing that bold movement against the mundane: Simon Munnery sings Søren Kierkegaard; Fylm, Fylm-Maker and Fylm School, and his latest, Renegade Plumber.
That show tours the UK from 28th March, taking in all your major conurbations, then finishes up at the much-loved Machynlleth Comedy Festival in May, which should be bloody marvellous. But now let's head a few decades back to that curiously fertile cradle of subversive comedy, Cambridge University.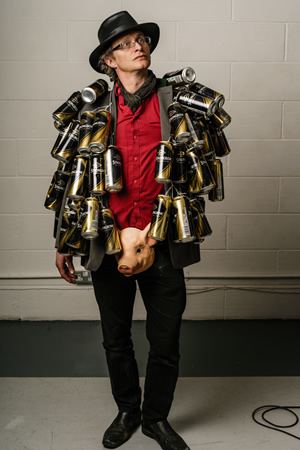 What's the first line you can remember ever doing on a comedy stage?
Well thank you for asking: the first gig I ever did, was at a 'Footlights Smoker' when I was nineteen. I began, in slow, grinding, aggressive deadpan.
"Hello, my name's Matthew.
No it isn't.
I was only pretending.
As a sort of joke.
I chose the name Matthew because it sounds nothing like my real name:
Matthew.
Another joke there. Not as good as the first one.
Actually I chose the name Matthew because it sounds exactly like my real name.
Mark..."
I remember it went well, but mainly that I loved it, the release of laughter, and in an instant the wind changed and I got stuck like that.
Where was that first gig?
It was in the Footlights room in the cellar of the Cambridge Union debating society. My first paid gig came a few months later while still nineteen, at The Royal Oak in Highbury. £25 cash. I was hooked.
Did you do sketches too?
In Footlights I only ever did stand-up - being vehemently against sketchy sketchy sketchiness at that time, apart from on the Sheep Go Bare tour where I was in one sketch where I played a planet. It was awful.
Your favourite gig, ever?
I'd finished my show at The Stand and was having my customary pint at The Lord Bodo over the road, catching the last rays when comedian Scott Agnew comes up the road: there was an all-day benefit for Waverley Care going on down at The Newtown Bar, an act had dropped out and could I fill in? Of course I could. The only thing I resented slightly was having to go downhill: that's my trick for surviving Edinburgh - maintain your height whenever possible.
The bar was jammed, the audience were standing and had been drinking all day - usually a recipe for a disastrously low attention span. But no, they were amazing, the most beautiful, beautiful audience, subtle of ear and warm of laugh. I'd stormed it and was about to finish when I decided, since it was a benefit for Waverley Care, I should end with my Waverley Care joke.
So I did: "Do give as much as you can to Waverley Care, because it's a very good cause - they raise money for people living in Scotland with AIDS: And it's bad enough having AIDS... Presumably they spend the money on antiretrovirals and plane tickets." And in unison, as one, correctly; perfectly; they booed me off. I can always turn a crowd.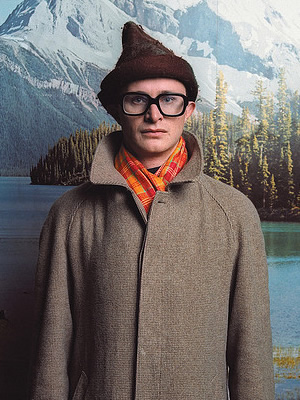 Your worst on-stage experience?
It wasn't quite on-stage. We'd been touring on the National Comedy Network, gig after gig, night after night at colleges all over the land, when we arrived at Liverpool Poly (I think) but the Ents manager who'd booked the gig had quit months ago. Hence there were no posters, no publicity and no venue available.
Result! A night off surely? But no; the new Ents manager insisted on putting on the gig anyway, in the bar, for free, with some really bright hastily erected lights, and where the rugby club were celebrating winning/losing/having penises.
I performed to a wall of noise gaining no laughs, none whatsoever, seemingly no one even paying any attention, until the moment, blinded by the lights, I fell off the beer-crate stage and scraped the skin off both shins simultaneously on a low, sharp-edged metal coffee table. I lay on the floor for an age; in agony, bleeding, listening to the roaring laughs.
What's your best unmade idea for a TV show - and why didn't it happen?
Unfamiliar Kitchen. Six celebrity chefs are blindfolded and released into a kitchen they've never been in before and told to create a feast: The Accidents! The Arguments! The Carnage! ... It didn't happen because I've never suggested it to anyone before now, and because it's not a very good idea.
Who's the most awful bastard you've ever met in the business?
Me, by a long chalk. How did I meet myself? There was some strong acid in the eighties.
The most extreme audience reaction you ever witnessed?
Woody Bop Muddy's Record Graveyard was amazing - and completely unfollowable: there was no point going on after with the thin gruel of jokes, poems and anecdotes.
He used to hammer nails into vinyl records, one after another, having played each one a bit and given the crowd the choice between Nailing and Saving, turning the audience into a baying monster, like a Nuremberg Rally against music. Try following that when you're not Hitler.
What one idea, show or character would you pick as your finest work, if pressed?
Life is unfair, most admit when pressed
Even those doing the pressing sometimes agree
But do we really need a lottery
As well as a justice system?
Oh yes; we must punish the guilty
And reward the randomly chosen.
How do you feel about where your career has gotten to, three decades on?
I think about this a lot, on my way to clean out the toilets at the chicken factory, and my conclusion is that it's due for an upturn.