Simon Brodkin
Is this the real life? Is this just fantasy? It's a fair question when Simon Brodkin is involved, as the character comic and prime prankster has bewildered some serious bigwigs over the years.
They veer from FIFA president Sepp Blatter - Blatter surrounded by Brodkin's lobbed cash is the enduring image of his downfall - to British then-Prime Minister Theresa May, who he presciently handed a P45 to, and US president Donald Trump, who's still hanging in there. Give it time.
As for Brodkin's own creations, you'll probably be aware of his chirpy geezer Lee Nelson, and the dopey footballer Jason Bent, who almost made it onto the plane for the actual England squad's trip to World Cup Brazil 2014, just by turning up in the same suit.
Now, though, Brodkin is breaking away from the stunts and characters, for a while, and doing the old 'this is me' bit. Tonight - Friday 15th - he's doing London's Leicester Square Theatre, then there'll be a full UK tour, as himself.
Why? It "just felt like the right time," says Brodkin. "I've done some characters and a few stunts: time to be me. The show's a proper stand-up show. My take on the world as an irresponsible dad, rubbish ex-doctor, man and Jew."
Right man, right place, right time. Right now, though, let's head to that trendy East London.
First gig?
It was at a free gig in a dodgy bar in Shoreditch, with a never-been-repeated bill of myself, Russell Kane and Simon Amstell. I performed as Lee Nelson and their reaction was a taste of the ten-plus years that followed; most loved it, some hated it and plenty of people thought Lee was for real.
I think I have a video of the gig somewhere. I should dig it out and organise a reunion with Russell and Simon. Maybe charge people this time.
Favourite show, ever?
Pyramid stage, Glastonbury. Rapping with Kanye West. I was uninvited. Didn't last long but a lot of fun. I'm not so sure Kanye enjoyed it to be honest. I thought the double act had potential.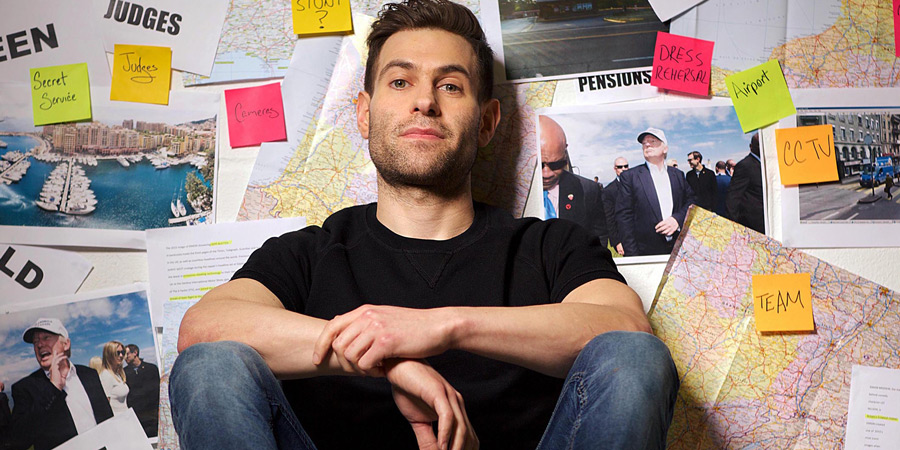 Worst gig?
I was once booked for a gig at the Hackney Empire called Rice 'n' Peas. I hadn't slept the night before having been out for my mate's birthday, and still had a little sambuca kicking about my system, so my head wasn't in the best state to start with.
Once I went on stage things got significantly worse as 1,200 people started booing me. Even a cajoling of the audience by the MC couldn't change their minds. So it was straight home to bed. They still owe me £50. And my dignity.
Which one person influenced your comedy life most significantly?
Can't give you one. My dad is very funny so he kicked things off. Then as a character comic it was Steve Coogan, Sacha Baron Cohen and Ricky Gervais. And now the transition into straight stand-up, Luke Toulson (stand-up, writer, director and all-round comedy aficionado) is being my guide, my Mr Miyagi.
And who's the most disagreeable person you've come across?
Donald Trump can be a bit difficult.
Is there one stunt or character you reckon deserved a bigger response?
I've always had a soft spot for my 'TV chef on a budget' character Geordie Chef, from my sketch show Lee Nelson's Well Funny People. He replaced most ingredients with biscuits. Funny.
What's the key secret to gatecrashing huge public events?
A combination of planning, luck and cahoonas (ovaries work just as well).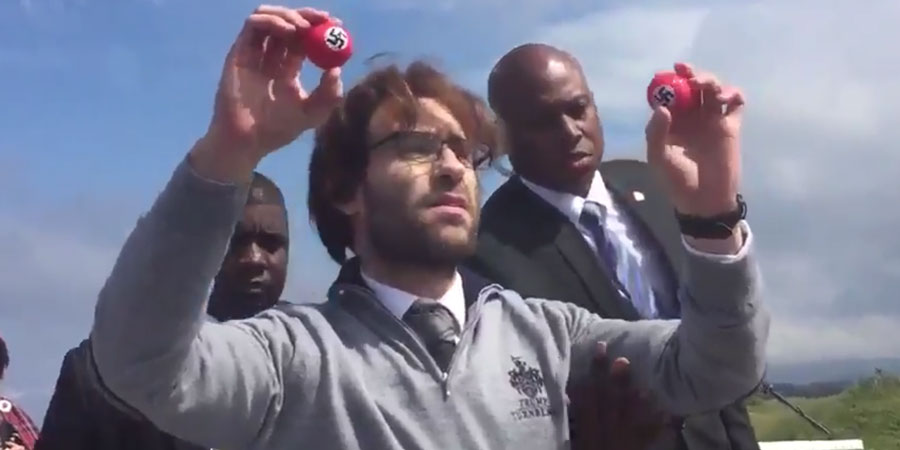 Are there particular reviews, heckles or post-gig reactions that stick in the mind?
It wasn't so much after a gig, but after I surrounded Donald Trump with hundreds of swastika-emblazoned golf balls. He was opening his golf course and I dressed as if I worked on the resort and announced the balls were part of Trump's new golf range.
David Duke, The Grand Wizard of the KKK, didn't enjoy it as much as I thought he might and, rather than giving me any constructive feedback, he wanted me gassed.
How do you feel about where your career is at, right now?
Let me have a quick look at my career chart... Yeah, I'm happy with where I'm at right now.