Sean McLoughlin
You've probably heard about a sitcom called After Life that's been getting a fair bit of coverage over the last week or so? On the cast list is Sean McLoughlin, and he's been in a bunch of Ricky Gervais joints over the years: as a live tour support at some huge arenas; as the most frequent guest on Gervais' Deadly Sirius radio show; if he was a bit older you'd no doubt spot him doing some business at the back of a Seona Dancing video too.
Yep, it's fair to say that McLoughlin is Gervais-approved, but he's got a bunch of huge names on the CV: he's also supported Bill Burr at the Royal Albert Hall, and Doug Stanhope and Katherine Ryan. Which is good going. His debut album is even called Support Act. But now McLoughlin gets a room of his own, again.
"I'm touring an extended version of my 2018 Edinburgh Fringe hour Hail Mary," he says. "It's a pretty traditional stand-up show about aging, technology, love and God and I'd say it contains most of the best jokes I've ever written."
And for the rest of 2019?
"I'm not doing a new show in Edinburgh this year - Hail Mary was my sixth in succession - but my plate is still pretty full with writing work, tour support slots, carrying on with my silly podcast, getting married and hopefully winning a game of Civilization at last."
Fair play. Let's head up north.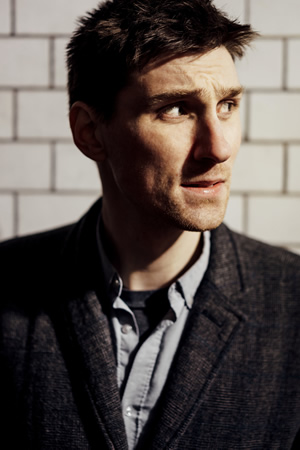 First gig?
It was upstairs at the Dog & Parrot in Newcastle when I was a student there. The pub ran a weekly open mic night every Tuesday (which I think might still be running) and I would have been 19 or 20 years old. I was definitely the youngest person in the room and I imagine the other acts were amazed I had the confidence to tie my own laces let alone attempt stand-up. The gig itself went alright though and it was intoxicating to be part of a world that felt so adult.
Favourite show, ever?
I'm not really a sentimental person but there are a few that feel more special than the others. If I had to pick one it would probably be when I supported Ricky Gervais in Copenhagen in September 2017, three days before my thirtieth birthday.
The venue was the recently-opened Royal Arena and the audience numbered 15,000 which was huge even by the standards of that tour. In all my years I've never played to such an electric crowd and I later found out that this was the first comedy show that took place in the venue, making me technically the first comic to ever play that arena. Pretty cool.
Worst gig?
When I was 22 I did a gig in Portsmouth and died so hard that I immediately ran off the stage and straight out of the front door. I was living in Brighton at the time and had already missed the last train back so I caught one to the plastic wasteland of Littlehampton.
I wasn't daunted by the prospect of waiting around all night for the first train home (as a non-driving new act I'd done this a few times before) but in a bid to get as far from Portsmouth as possible I made the ridiculous decision to walk the 21 miles home along the beach.
Three miles into my trek I was forced to head inland due to strong coastal winds. Four miles in I ran out of cigarettes. Six miles in I tried to hitchhike on a hard shoulder. In the end I gave up and trudged back to Littlehampton just in time for the first train of the day.
Of all the torrid nights I put myself through early on, this one still feels definitive as the mixture of fear, humiliation and total impotence I felt kind of set the tone for the next few years of my life.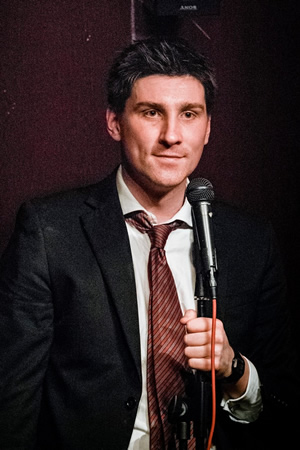 The weirdest live experience?
There are so many angles I could approach this question. I've performed in historic venues to Hollywood stars, international footballers and, at one point, the president of a nation.
I've also had to hide in a venue because a soldier fresh from serving in Afghanistan was apparently waiting to attack me outside, and during one Edinburgh Fringe I had to disrupt a performance of my own show to stop the tech from being punched in the face by an audience member. I suppose every gig has the potential to be weird and hopefully the weirdest are yet to come.
Who's the most disagreeable person you've come across in the business?
There's a guy that books a run of shows in Switzerland who is comfortably the most unpleasant person I've ever met. It's hard to know where to begin in describing a man who is at once ludicrously paranoid, grotesquely ignorant, hopelessly incompetent and as sexist as they come.
He's like a character the Jehovah's Witnesses have created to warn teenagers that if they masturbate too much their hearts will shrink. However I should say that 99% of the people who I've met in this business are fundamentally good eggs and this makes the pricks really stand out.
Is there one routine/gag you loved, that audiences inexplicably didn't?
There is a never-ending conveyor belt of these being written and abandoned at all times. I'm currently doing a routine about how children depict a divorce, which looks set to baffle audiences for the next few weeks at least.
You've done some huge support slots - which can be difficult. Any tips for how to approach them?
For the most part I just go out and do my act. If you trust your material and accept it might be a slow start then you'll probably be fine.
The most memorable review, heckle or post-gig reaction?
Last year I was jet-lagged and did a gig at Sussex University for their freshers week. Afterwards a woman came up to me and said "My name is Roxanna. I am from Mexico. You are a monster." I think she meant it as a compliment.
How do you feel about where your career is at, right now?
No complaints.