Sarah Kendall
One of modern stand-up's finest storytellers, Sarah Kendall has surfed a sensational creative wave in recent years with three shows - Touchdown, A Day in October, and Shaken - that have now earned their rightful place in the audio annals. She's adapted them for Radio 4 as Sarah Kendall: Australian Trilogy.
"The radio show is a trilogy of stories that I've worked up over three Edinburgh festivals," Kendall explains. "It's all about growing up in suburban Australia in the late 1980s and early 1990s. They're comedy but not in the traditional sense; each episode has a sting in the story. I'm really proud of them, I think it's the best work I've ever done (bear in mind I've done some pretty mediocre work)."
That's hard to believe - the 'mediocre' bit - as these shows are fabulous: the full final one, Shaken, does a four-nighter at the Soho Theatre from March 10th. Although as you'll find out below, her triumphant Edinburgh run of it ended in a slightly anti-climactic fashion.
First gig?
It was at Sydney University in 1998, and it was a student stand-up competition. I had pulled out of the competition the previous semester because I was so nervous that I vomited on the way to the gig. I was going to pull out again, but my friend sort of escorted me. It was a very friendly audience of about 200 students, most of whom I kind of knew. I opened strong but it was downhill after that. After that incident, I decided that I'd give it another 20 years and then make up my mind.
Favourite gig, ever?
I always love Old Rope in Oxford Circus. Best place to run in new ideas and hang out with mates afterwards for a beer.
Worst gig?
I'd say that in terms of public humiliation, a Belgian TV show that I did about 15 years ago would be right up there. I was booked to do two 15 minute spots on a stand-up special, and I was dying so badly that I'd chewed through most of my material in the first 15-minute spot. It's amazing how much material you can get through when a room is totally silent and your nerves take over.
So I died on my arse, had used up most of my stuff, and then had to go out again to do the second taping. I can't even remember what I did. Probably fell down, vomited and passed out from embarrassment. No one spoke to me in the green room afterwards.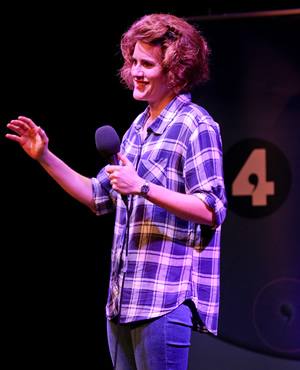 The weirdest gig?
I had a daytime gig in Edinburgh where I was booked to do the comedy slot, but the spot before me was a dance troop from Poland doing a physical movement piece about a concentration camp. It was moving and beautiful and poignant. When they finished the MC walked out and said, "What a devastating piece about a horrific chapter in human history. Well I think we all need a laugh now..."
You can imagine how the rest went.
Who's the most disagreeable you've come across in the business?
There was an agent who physically threatened me at the Edinburgh festival about 10 years ago when he was coked out of his head and I've already given you enough clues.
Is there one routine/gag you loved, that audiences inexplicably didn't?
Yes, I tried to do this bit a few times about how parenting has aged me like one of those awareness campaigns for the effects of crystal meth. Those posters where they line up all the mug shots of the same person over the years and you see how the drug has wasted them. I constantly look like the last mugshot.
I can't understand why people didn't crap themselves laughing at that idea, that's funny, right? Right? Hello?
What's your best insider travel tip, for touring comics?
Take a pillow when you're touring. Most hotel pillows are about as supportive as a thin-crust pizza.
The most memorable review, heckle or post-gig reaction?
I had a nice old lady hang around after my gig last Edinburgh, and I approached her with a big smile on my face, stupidly assuming she liked the show. She then launched into a speech about how much she hated me and my show. It got a bit ugly. And pathetic. Ordinarily I think I would have laughed something like that off, but instead I got all defensive. Edinburgh can make you feel a bit... erm, vulnerable.
How do you feel about where your career is at, right now?
I think I'm in a good zone where I have experience so I know what I'm doing, I know what I like and what I don't like, and I'm permanently exhausted so I ruthlessly prioritise. I wish I'd known 15 years ago what I know now.