Samantha Hannah
If you've taken a wander around NextUp's impressive selection of live stand-up specials recently, you might have noticed Samantha Hannah's name, newly arrived. That show - How To Find Happiness In A Year - had a rather different set-up than most. Rather than packing in as big an audience as possible, she went a bit more minimal, due to recent events.
"I gave up my full-time job at the start of the year to focus on comedy and had taken a part-time job," Hannah explains. "Three days into it I was furloughed and obviously live comedy was cancelled. So I decided to film my 2019 show in my living room. I had one DSRL camera and my friend sent me some lights in an Uber.
"Performing just in front of my boyfriend - it was pretty hard to get any energy in the room. He's seen the show so many times so none of it comes as a surprise and we ended up having to film his part three times. Once, instead of getting him to watch me, I got him to watch videos of people getting hit in the nuts on YouTube to make him laugh, but he kept making pained faces instead.
"Eventually, we got there and honed in on the awkwardness rather than pretend it was something it's not. This is not a substitute for live comedy. I love crowd interaction and improvise quite a lot normally. I was a bit loose when filming this too though; I get distracted easily. For example, when dogs started barking outside my flat or when I remembered that we had juice in our fridge..."
It's all part of the live-inside experience. Time to look back at some gigs with multiple audience members then, for better or worse.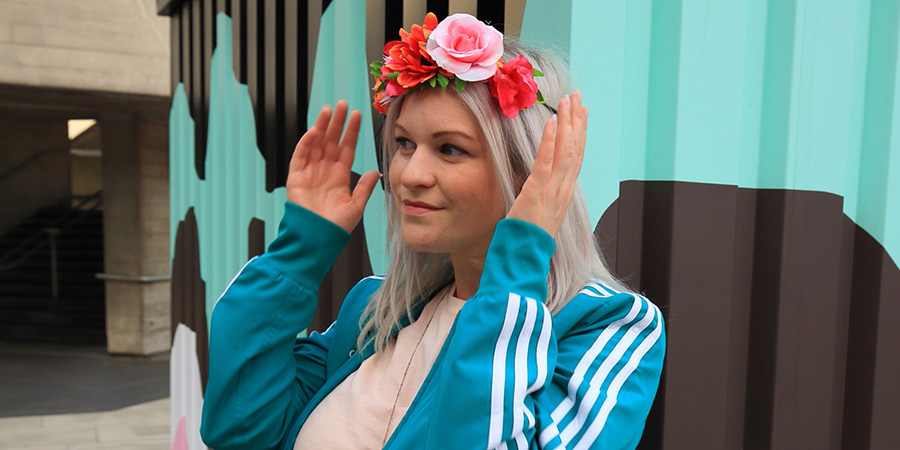 First gig?
I started stand-up in 2009 when I joined Logan Murray's Stand Up and Deliver course. I only signed up because I wanted to find other people to write sketches with. As it was a showcase gig, it was busy and it went fairly well. I'm still in touch with a few people from that course and a couple are still gigging. The video from it is still on YouTube and I can't get it down.
My material was pretty mean back then and it's my first ever gig so not really a representation of my stuff now. I wish I could get that YouTube video down but it's impossible. I've tried! If anyone knows how to do that - let me know.
Favourite show, ever?
I gave up stand-up in 2011 and only returned in 2018. By that point, I'd written my [previous] solo show How To Find A Husband In A Year. I was due to perform it for the first time in Maggie's Chamber in Edinburgh at 11am as part of the Fringe, but as a last-minute replacement. I had no fliers, was not in the brochure and I'd been out the game so long I didn't know if anyone would come.
I'd tweeted that I'd bring sweets for my first audience members and asked them to tweet what they wanted. My friends and family tweeted specific sweets orders but nobody else replied. When I opened the doors, I had all these sweets and there in front of me was my family and close friends. I handed out the sweets and then realised they were at the front of a very long queue. About 80 people had turned up.
I'd met my boyfriend via Tinder 12,000 miles away when I was writing the husband show, and the story had been on the BBC News homepage about a month earlier. I didn't think that would translate into bums on seats, but it evidently did.
Most of the audience were there to see Toby though! Older Scottish ladies seemed to be very impressed by the fact he'd ordered me breakfast from London to New Zealand to help me with my hangover (long story - it's in the lockdown show).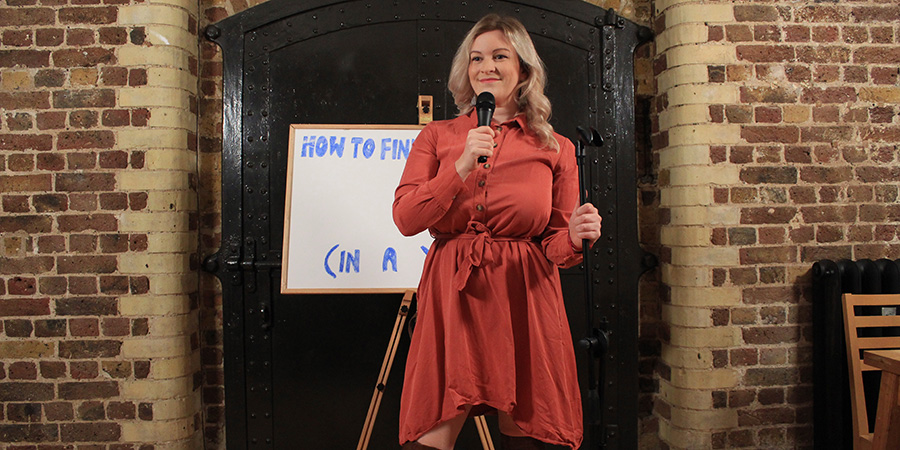 Worst gig?
In 2010 I was on in one of those pubs in Essex where nobody in the pub (who were locals) actually wanted to watch comedy. I was MCing and was still pretty new to the scene. One of the acts ran off stage mid-set because of all the heckling from the punters. I responded by jumping back on stage and calling everyone in the pub a very bad word.
Like, I didn't call them 'a very bad word' - I actually said it. I don't tend to say that bad word anymore. I've mellowed a lot in my old age.
Which one person influenced your comedy life most significantly?
Jessica Hynes. I loved Spaced when I was younger and idolised her. There was just this funny person who was also so damn likeable. I wanted to be her. Um. I still do.
And who's the most disagreeable person you've come across in the business?
Not a person, but there is an infamous Facebook group called The Comedy Collective that I regretfully set up over 10 years ago. Something about it just encourages people to be incredibly disagreeable.
It's now got over 14,000 members and oftentimes is a cesspit. I left it for ages because it would do my head in and it was set up to be a useful tool for people starting out, not a place for folk to tear into each other.
I'm back now though helping to moderate. It made me wonder: if there is an ultimate creator of our world as we know it, maybe they too totally gave up on us all and left the chat? Yes, I did just compare myself to God. I'm okay with that.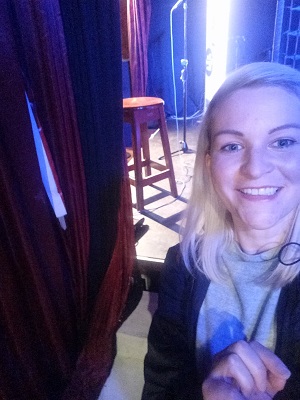 Is there one routine/gag you loved, that audiences inexplicably didn't?
I had this Very Angry Patter Killer bit where I took that famous kids book and made it about a caterpillar that ruins everyone's conversations. As in a 'Patter Killer' - right? From the word 'patter' which is a Scottish word for chat. I re-did the illustrations and everything. It just doesn't really work as a bit, especially down in England.
Although, saying that, once I had a gig where none of my material was working so I decided to whip out that book from my bag and have a go at that instead. And the audience totally went for it. God, it's a bit weird doing comedy, isn't it?
How has your lockdown been, generally and creatively?
It's been alright you know. I'm no longer furloughed and I've got quite a bit done comedy admin-wise. I think we are going to see a lot of snazzy new comedian websites at the end of this. Not mine though, I'm still learning how to make websites. How about you? How's your lockdown been?
Are there particular reviews, heckles or post-gig reactions that stick in the mind?
A man after one of my gigs in Edinburgh (that had gone pretty well) said, "Just a bit of advice. You're great - but you don't need to try so hard". Oh, how little that man knows. I actually have to try really hard, thanks! Trying hard IS MY BRAND.
How do you feel about where your career is at, right now?
I fly under the radar a bit but regardless audiences seem to sniff out my shows and my audiences are always banging, so I'm pretty happy right now. Although sure, I'd love to be in a sitcom, or be in a Spaced reboot, or even just become Jessica Hynes in some kind of Freaky Friday scenario...