Robin Ince
It is - as the fellah from Slade famously yelped - Chriiiistmas, a time of goodwill and puddings and pointless overspending and mulling and, that staple of yuletide scenes, robins.
British comedy's foremost Robin - apologies to Askwith and 'sNest - is back as a festive staple too, having relaunched his splendid Nine Carols event last Christmas. And it's back this year, for four nights at North London's Kings Place, with a more inclusive new name - Nine Lessons and Carols for Curious People - but a traditionally stellar line-up of guests, from scientists to singers, comics to cosmic types.
Robin may well be in your stockings this year too, as it were: he's spent much of the year agonising over a book, I'm a Joke and So Are You: A Comedian's Take on What Makes Us Human. The toil turned out to be worth it, as the reviews have been absolutely splendid.
What else is Robin up to? Oodles, no doubt. As a co-director of the Cosmic Shambles Network he's always bringing clever people together, in an interesting way. Right now the website boasts a recording of his recent book launch event, featuring stand-up from Robin, Josie Long, Grace Petrie, Phillipa Perry and Stewart Lee. A good substitute if 9 Lessons has nil tickets left, by the time you read this.
Right, Robin: let's reminisce.
First gig?
If we don't include the gigs I did using my dad's slippers as clowns' shoes when I was five or six, then it would be when I was eighteen. It was at a friend of my sister's birthday party in a village hall. There will have been no jokes I imagine, just a spotty boy waffling on. My mind has erased the details, but doing this, it allowed me to have another go. Everyone was pleasant and I imagine very bored.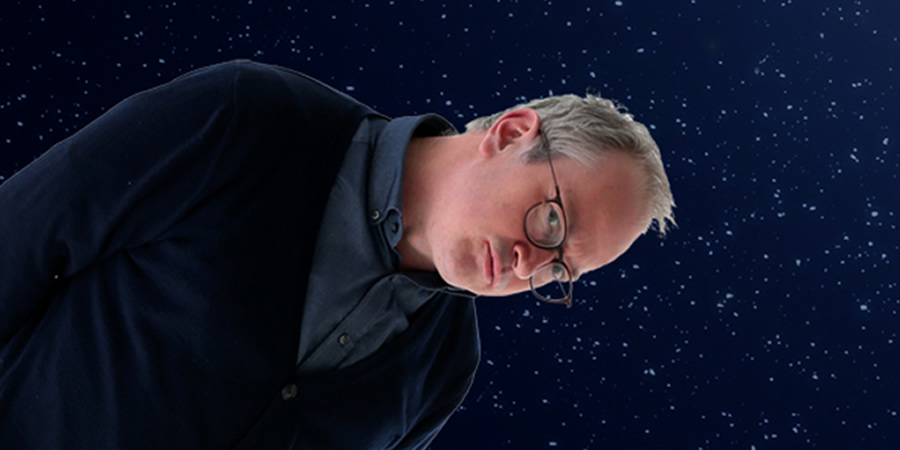 Favourite show, ever?
Failure is burnt into the memory, success drifts off into the ether. It's hard to beat the first time it clicks and looks like it really might work; that was at The White Horse in Belsize Park with a sketch troupe called My Big Bottom.
Coming second in So You Think You're Funny? was an incredible experience and then being told by some of the judges and comics I'd seen on TV that I should have won was hugely exciting, then it all went downhill for a decade. I have also had a couple of gigs at Glastonbury and one at the Reading Festival where everything just fell into place...
Also, a few really stupid, angry and ridiculous gigs with Michael Legge doing our Righteous Ire shows that were a level of utter, utter stupidity in the right way.
Worst gig?
I don't think I have any really great horror stories, just lots of nights with the burning shame of failure. The run of my Edinburgh show - The Award-Winning Robin Ince, Star of The Office, Episode Five, Series One, [first bit] - was the hardest run I had, it nearly destroyed me. I was an emotional wreck and would sometimes take to bursting into tears in back alleys, but almost every good thing that I have done since came out of that Edinburgh experience.
Your most rewarding live experience, as a performer or promoter?
Getting The Cure to be our secret band at the science variety night I put on at Hammersmith Apollo with Brian Cox felt pretty good. I also loved putting together the Book Club and getting to work with brilliant and inventive acts like Joanna Neary and Josie Long and being surprised each night by what they did, and their chutzpah and imagination.
Who's the most disagreeable person you've come across in the business, and why?
A BBC producer and executive who has repeatedly and covertly stymied numerous projects to protect himself.
Is there one routine/gag you loved, that audiences inexplicably didn't?
I am sure it is all quite explicable. I spent ten years trying to find a routine about Eratosthenes, who measured the circumference of the world, and every time I nearly got it - I recall one night at Andrew O'Neill's Troy Club in particular - it would melt away at the last minute. I also had a routine about humane killing of animals by use of heart-breaking ballet that never quite got to where I had hoped.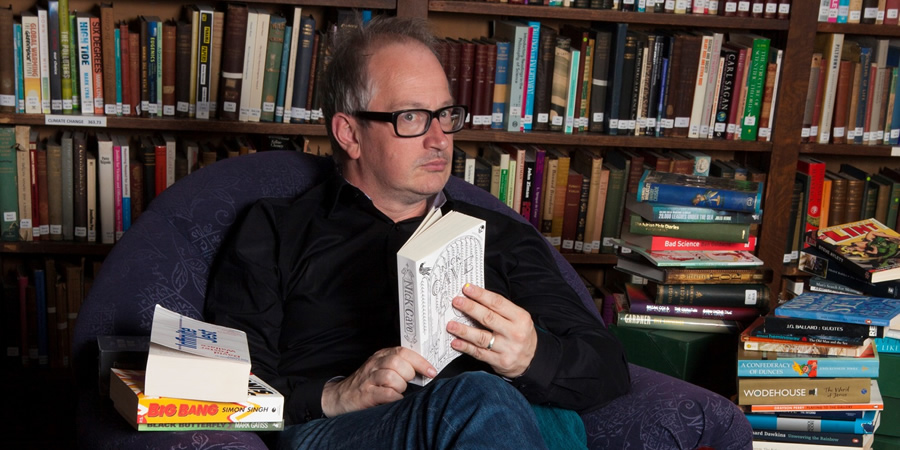 You seemed to find writing the book quite traumatic - what got you through it, and do you have any tips for keeping going?
My settings are binary, delight or fury, and when I can't find what I know I have definitely got in my brain but is hiding from me, it drives me insane, as does the fear of letting people down. I often want to run away. I suppose my advice, which I never take myself, is do less and focus more and stop bloody worrying what everyone thinks of you all the time.
The most memorable review, heckle or post-gig reaction?
The book reviews were really heartening. I try to avoid stand-up reviews as much as possible. I have found the post-gig reaction where someone is prepared to share something personal, perhaps about loss or mental health, an incredible moment of trust between performer and audience. It is good to feel that you have been useful to someone beyond the laughs from the jokes.
How do you feel about where your career is at, right now?
My only wish is that I could sell a few more seats on tour. I'd like to worry slightly less about that sort of thing, but I have no desire to play bigger rooms, just that the rooms I am in are full.
I have had the chance to try out a lot of different things - from writing books and films to standing in the middle of radio telescopes - and I enjoy it. I have fun and I think, every now and again, I have purpose too and that is why I manage not to get too cross about people like the Machiavellian BBC exec, because I still get to have some pretty brilliant adventures.
[Of course, ten minutes after typing this I got a wave of nausea that said, 'you have totally failed and the whole endeavour has been a waste of time, the ups and downs move fast some days, too fast for effective cognitive dissonance to kick in].