Pope Lonergan
What could be more appropriate for this week's FGWG than The Pope's New Year Address. Pope Lonergan that is, from Essex, who co-runs a night in Southend we've discussed here before, called Pints. Details of the next edition, on the 18th, are at the bottom of the page: meanwhile Pope would like to tell us about an intriguingly-themed event he's doing at London's Albany Theatre next Tuesday:
"It's a Pay What You Want night called Pope's Addiction Clinic where acts including Lauren Pattison, Elf Lyons, Rob Mulholland and Olga Koch will be bearing the fruit of confession," he confesses. "It's like Comedy Alcoholics Anonymous. So if they want to tell the audience about the time they shoved a bar of soap up their anus as a form of self-flagellation for accidentally breaking a woodlouse's pregnancy sack... then, fill your boots, mate. Crack on. That's what the nights about."
Pope also runs a podcast on a similar theme - 14 Packets of Horse Stickers: Comedians Talk Addiction - which you can find on that there iTunes. Pope's own lifestyle is relatively pope-like these days, but he's certainly dabbled, as we discover below. Let's follow him back down the Lonergan winding road.
First gig?
I can't remember the date but Michael Wheeler - who co-runs Pints. - corralled me into it. It was just over two years ago. We'd spoken about 'breaking the seal' for years so he signed both of us up for Comedy Virgins at The Cavendish Arms. Full room.
I remember hyperemetic anticipation - I wanted to throw up or poo myself; Frank Skinner calls it "the comedy poo" - prior to getting onstage; kind of like a cleansing ritual - and, once onstage, autoscopic detachment. I was outside of me looking at me. Either that or, because of the acuity of my senses, due to the adrenaline, I was fully inhabiting myself.
It went alright. I got laughs all the way through. I wasn't dissuaded. That came later. But then it got better.
Favourite show, ever?
My Professional Self would opt for the night I performed at Rich Mix's 10th Anniversary for the wonderful guys at Knock2Bag. It was full capacity, first big gig where there was actually a green room. I arrived early.
The rest of the acts - people like Bridget Christie, Nick Helm, Jamie Demetriou, Abandoman, Lazy Susan - were well established. They warmly embraced each other; old friends on the circuit. And then they saw me sitting in the corner. I think they thought "Has someone lost a Little Bloke? There seems to be a Little Bloke loose in the green room."
Thankfully I knew Liam Williams so he could make introductions. Liam's fucking great at introducing people. And Bridget is probably the nicest person in the world. And Nick, actually. And I always thought he'd be intimidating.
My Reckless Self would choose the second night of Pints. At the beginning I really flagged - at one point I left the venue during someone's set and walked to the bus stop; I thought "Michael can just deal with the fallout from this" even though we had a full room that also included my parents - but then I returned and the night was a beautiful shambles.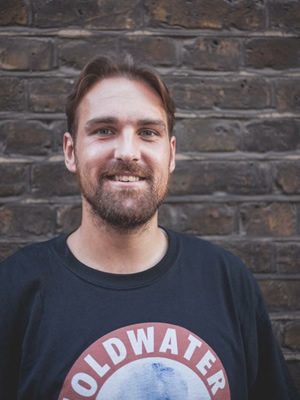 Worst gig?
I won't name the night because I want to perform there again - but the gig where I went into an empty bar prior to performing and did lines of cocaine off the toilet cistern. I had bruxism and a headache. I was lonely. I was sweaty. I rang my best friend Louie prior to going on to ask if I sounded ok. "You just sound like your normal manic self, mate" was his reply.
The weirdest live experience?
The first gig of The Care Home Tour I co-created with Ben Target. The audience consisted of geriatrics with dementia. One of the comedians lightly masturbated a torch and stripped down to a pair of flesh-coloured underwear with cock 'n' balls drawn on the front. And, for that, he will always have a special place in my heart. Also, he was heckled by a blind centenarian. She didn't even see the cock 'n' balls; she just sensed he wasn't for her.
Who's the most disagreeable comic/promoter/agent you've come across in the business?
There's a few. Re promoters: one of the Big Boys scolded me in his office and took the piss out of my three-foot plait. But he was alright really (please hire me). And there's a comic who recently won a big award. I tentatively approached and they put their hand up in my face and said "Talking". Next time, I'll eat your fucking hand.
Is there one routine or gag you loved, that audiences inexplicably didn't?
I used to do a bit about weighing an old lady's poo at work and, during a disciplinary procedure, introducing an argument about Right of Possession Law to see if I could lay claim to ownership of her disembodied poo. Sometimes it went really well, but often there were audience members who were concerned I actually did this.
What's your best insider travel tip, for gigging comics?
Find a wealthy benefactor who will fund your travel. And tell them you're Romesh Ranganathan so it's a good investment.
The most memorable review, heckle or post-gig reaction?
I was berated by a judge who looked and sounded like Helen Mirren. She told me I was a terrible, immoral person. And, to be fair, it was some stellar constructive feedback. It changed the course of that bit of material and it was all the better for it. But, seriously, next time I'll eat your Helen Mirren hair.
How are you feeling about life, career and the world, going into 2018?
I've always worried about imminent annihilation - I used to get my Mum to pick me up from school because I was worried Saddam Hussein was going to drop a bomb in the sea and kill all the sea life - so, with the newly replenished brinkmanship between Donald Trump and Kim Jong Un, I'm glad I'll be given an opportunity to prove that I'm not mad and I was right all along.
Also, drugs: I've knocked them on the head so my bowels are splendid.