Matt Richardson
As former 6music presenter Phill Jupitus told us recently, radio can really mess with your stage time. If you haven't seen Matt Richardson for a while, it's because he's been tied up doing the drivetime show on Virgin Radio. But he's back! Back! With some material that he probably couldn't do on daytime radio.
"My new show is called Slash," he says. "My first show in three years. It's about my life, but I also dramatically read excerpts of Slash Fiction written about me. Slash Fiction is gay erotica, for those that aren't in the know."
Is it? We had no idea (makes mental note to delete browser history). Anyway, Richardson is performing Slash at London's Leicester Square Theatre on 29th November, while still doing the drivetime show. Well, maybe he'll take that night off: doing a drivetime show then a live show, that'd be Virgin on the ridiculous... Virgin on the ridiculous!
Ahem. Time for a whistle-stop tour through Richardson's gigging history.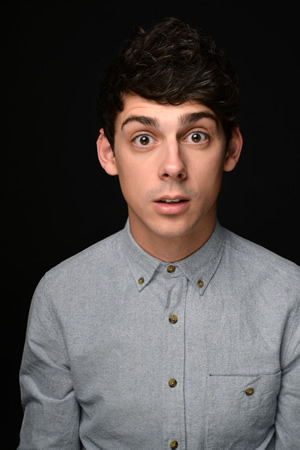 First gig?
My first gig was on 5th November 2009 - eight years strong! It was at Oxford Brookes University. I'd say it was for an audience of 30 or 40.
Out of the other comedians on the bill, I may potentially be the only one still doing comedy. Alex Clissold-Jones MCed: he was also in the So You Think You're Funny? final with myself the following year; Alex Partridge, who went on to set up the banter-filled website UniLAD, Pete Smith and a guy who we all thought was brilliant but it turned out he was just doing Ed Byrne routines.
Favourite show, ever?
When I played my hometown on my last tour. It was a great gig, filled with friends and family. I'm doing it this week and it's sold out again, and needless to say it's the most nervous I've been about a gig in ages.
Worst gig?
There have been dozens of really horrific ones. The one that comes to mind is hosting the Literary Tent at Latitude a few years ago. Eight hours of MCing a tent that do not want comedy, with 30 minute gaps between the speakers. I didn't really know what to do. It's probably the kind of gig that someone who is brilliant at warm-up should do - which I am not good at. Vivienne Westwood was an hour late. I'll never forgive her for that.
The weirdest live experience?
Back in February I was doing Top Secret Comedy in Covent Garden. I'd never actually performed there before and was really excited. The gig was going amazingly - I was so chuffed. About three minutes before the end of my set someone threw their prosthetic arm at me. I picked it up and thought it was a sex aid for people who - ahem - like a lot of stuff in them.
I asked who it belonged to and a guy put his stump up and said "Me, I think you're shit." I replied "Surely it looks like I needed a hand?" and I've considered myself the greatest comedian of all time ever since that excellent comeback.
Who's the most disagreeable person you've come across in the business?
I'm sure every comic reading knows exactly who are the cranky guys. Everyone is mostly lovely - there are a handful who you dread seeing in a dressing room, but it doesn't ruin the great fun of the lovely ones.
Promoters are mostly people who love comedy and are doing it for the love - as I don't think it's going to make anyone a millionaire putting on gigs. My only bugbear is some of them take three months to pay, which is confusing and annoying sometimes when you have rent to pay!
Is there one routine/gag you loved, that audiences inexplicably didn't?
Loads. I've actually got a joke in my current show that doesn't get a laugh ever - but I really enjoy it. But it's only a single joke. I have a routine I'm still messing around with to try and make work about my dad and the cats who poo in his garden. I think it's hilarious but that's probably because I know my dad.
What's your best insider travel tip, for gigging comics?
Book your train tickets in advance. It cost me £350 to get to Newcastle two weeks ago because I left it late. What an idiot. I was so mad at myself. Oh, and fly to Edinburgh, don't get the train - that's full of young theatre groups breaking into song - and BA from London City is £40 each way.
The most memorable review, heckle or post-gig reaction?
In Edinburgh this year I had a really tough gig one night - it was full and I was hoping it'd be great, but they were hard work and I never quite cracked it.
About six weeks later James Buckley came up to me at an event and apologised on behalf of his friend who was heckling. He never mentioned enjoying the gig and it was really awkward. One of my favourite show's actors thinks I'm bad at comedy. That keeps me up at night.
How do you feel about where your career is at, right now?
I'm really chuffed. I'd taken my foot off the gas with stand-up whilst doing Virgin Radio and TV presenting. However, I've now thrown myself back into it and am feeling great. I'm the best I've ever been at stand-up and the radio is still great.
I'm back hosting my bonkers show on [TV channel] W in February, too: Celebrity Haunted Mansion. Christine Lampard and I put Celebs in a Haunted Mansion - it's really quite something!