Joseph Morpurgo
We're rapidly approaching the turn of the year, which is always a time for reflection, unless you - quite reasonably - treat dates as a completely arbitrary abstract concept. Anyway, one of 2017's best shows was Hammerhead, by the ever envelope-pushing Joseph Morpurgo, which returns to the Soho Theatre from the 2nd January. It takes the whole actor/audience dynamic in a bold new direction - but we'll let Morpurgo explain it.
"Hammerhead is an adaptation of a very old horror story - Mary Shelley's Frankenstein - told in a new way," he says, "with added blood (fake), sweat (copious), and tears (on a good night). It is the work of many generations, many lifetimes."
Morpurgo has much experience of comedic period dramas, as a member of the popular improv troupe Austentatious, but this flips the Frankenstein format in a fabulously novel fashion. Now it's time for us to travel back just a few short years, to Morpurgo's not-so-acclaimed early days.
First gig?
It was in a crypt-like student bar; I recall that Ivo Graham was headlining and was precociously brilliant. I was precociously shite.
Favourite show, ever?
Can I plagiarise Kerry Godliman's answer and say Always Be Comedy in Kennington? That's an inordinately fun gig. I've also had a couple of shows where the stars aligned at The Invisible Dot's old venue in Kings Cross (R.I.P.)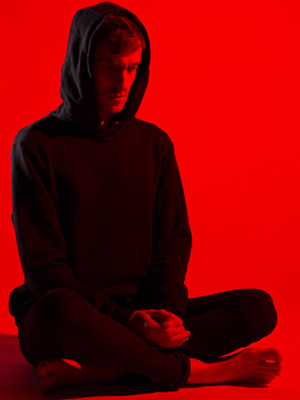 Worst gig?
Austentatious got booked to play at a charity fundraising event in a suburban house on 7th July 2013. I remember the date, because it's when Andy Murray won the 2013 Wimbledon Championships, becoming the first British player to win a Wimbledon senior singles title since Virginia Wade in 1977, and the first British man to win the Men's Singles Championship since Fred Perry, 77 years previously.
Everyone at the event was watching the match - and, as the final set approached, the host abruptly turned off the television and strong-armed her guests onto the garden patio to watch us do a shambling improv show. We floundered on as cheers detonated from nearby houses; and we finished just too late for the guests to at least see Murray raise his trophy. The audience's resentment was pungent.
Any interesting experiences doing this show in Edinburgh?
I was a de facto teetotal this year, so it was interesting experiencing the year without a nagging undercurrent of hangover. I appreciate this is not what this question is angling for.
Who's the most disagreeable person you've come across in the business?
Snitches get stitches.
Is there one routine/gag/idea you loved, that audiences inexplicably didn't?
I've tried on two separate shows to employ a picket line outside the show, handing out protest leaflets and waving placards ("Mor-purg-NO!" etc). It never works. If this ever crops up in a future show, we'll all know that I've succumbed to sheer creative death.
What's your best tip for any comics influenced by your splendidly elaborate shows?
Under no circumstances hire an ersatz picket line.
The most memorable review, heckle or post-gig reaction?
I'm honoured to say that one of my reviews was nominated for FringePig's illustrious Ham Fist Award.
How do you feel about where your career is at, right now?
At this point in his career, Stevie Wonder had released 19 albums. Which puts everything in dreadful perspective.