Jenny Éclair interview
Surely Britain's finest cake-related wordsmith since Rudyard Kipling (well, he was born in India and she was born in Malaysia, but let's not split hairs), Jenny Éclair is currently touring the UK with the show How To Be A Middle Aged Woman, which is fairly self-explanatory. And on 21st November she brings it to the Royal Festival Hall. Fancy!
Both Eclair and Kipling were poets, too, although that was mostly in her early days on stage. So let's start there.
First gig?
In London, in a pub in Wimbledon in 1981/82. I was a punk poet, and there was a very old woman on the bill singing about hats, and a mime act called 'The Great Smell of Brut'.
Favourite show, ever?
There have been some glorious gigs - both solo and with The Grumpies [the Grumpy Old Women TV show has become a worldwide live phenom, with varying casts]. Weirdly the most memorable gig was in Iceland watching three Icelandic women perform their first Grumpy show - the audience was dressed to the nines even though the snow was thigh-high.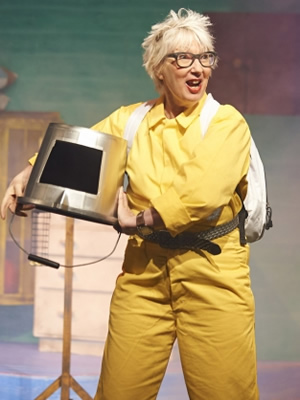 Worst gig?
Oh too many, all the shame and self-loathing, I still have beat-myself-up nights. I last had a spectacular stage death at a cheese corporate down Park Lane; I still flinch when I drive past the hotel.
Who's the most disagreeable person you've come across in the business?
It's not usually the talent that's knobbish - it's the people in charge.
The weirdest gig?
Any gig performed with jet lag is weird.
Is there one routine/gag you loved, that audiences inexplicably didn't?
Yup - there's some stuff about disguising fat by wearing an electric guitar which never really landed but still makes me laugh.
What's your best insider travel tip, for touring comics?
Take a small jar of mayonnaise with you.
The most memorable review, heckle or post-gig reaction?
I got a lovely email from a woman the other day whose father had died the day before she came to see the show and she'd been in two minds whether to come. She wrote to say that laughing had been a huge release - I felt good about that.
How do you feel about where your career is at, right now?
I'm ticking over but I could do with a nice sit-down afternoon telly show - a quiz of some sort. The knees have had it.
'How To Be A Middle Aged Woman' is touring now, visit www.jennyeclair.com for tickets.