Iain Stirling
We were going to make a hilarious Brexit-related joke about how 'at least this is one Sterling that's on the up', but it's spelled differently so looks rubbish written down. Still, you get the gist: Iain Stirling has won acclaim for three very different sides of his performing talents in recent months.
He garnered high-profile praise for his knowing narration of ITV2's Love Island last summer, won Best Presenter at the Children's BAFTAS in November (yes, there are Children's BAFTAS) for his CBBC panel show The Dog Ate My Homework, while his upwardly-mobile stand-up career is a different kettle of comedy fish altogether. As the Edinburghian explains of his latest show, Onwards!...
"It's about millennials and the role they play in today's society, why they are largely ignored politically yet seem indifferent to this fact, how we deal with an ever-changing world and how we find our place within it."
Stirling stuff, indeed, and it's touring from early February. But now let's journey back in time.
First Gig...
My first ever gig was at my favourite club to this day, The Stand in Edinburgh. It was a Monday evening, at a night called 'Red Raw' which is a place where newer acts and mentally unstable people go on stage and talk to folk for 5-10 minutes.
The place was full, as that night always is, and if memory serves me correctly I managed about three minutes. I don't remember being on stage but I do remember the total buzz afterwards. Don't think I slept for a week.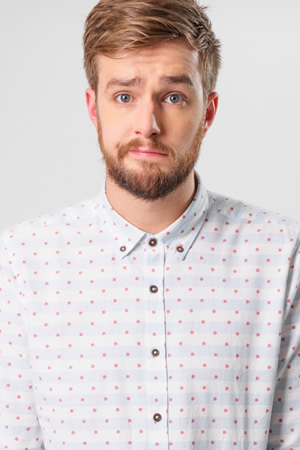 Favourite gig, ever?
The first time I played The Stand comedy club with my own show. Having my name on that chalk board outside was mind blowing. I remember my mum calling me, in genuine amazement, from outside to tell me "there are actually people queuing up."
Worst gig.
I did a corporate gig for the army once. It turned out they were having their Christmas early as the troops were going to be away for actual Christmas. For the record, I have no issue with the troops, they were well within their rights to do whatever they like on their last day of freedom.
My issue is with the dude that booked ME for the gig, especially after telling the troops that he had actually booked Al Murray. There is a longer story here but basically the gig ended seven minutes into my set with a large ginger man on top of me, while 300 squaddies screamed "F##k the boy".
The weirdest gig?
Reading The Gruffalo, to no one, in a massive supermarket. The context does nothing but ruin that sentence.
Who's the most disagreeable person you've come across in the business?
I've worked in normal jobs, Television and Comedy and, by far, Comedy involves the lowest dick-to-person ratio of them all. I've met some Grade A tools in my time on TV but I am currently applying for a mortgage so would rather not say.
Sally from a shoe shop I once worked in used to laugh really loudly when she read text messages, which was a real issue for me.
Is there one routine/gag you loved, that audiences inexplicably didn't?
I have something about Hinduism (I'm obsessed with the religion, it's amazing) and preview the bit every year for my Edinburgh show. It never really lands and doesn't make the show. But one day, Ganesh willing, it will!
What's your best insider travel tip, for touring comics?
On long journeys at the weekends, you can get really cheap first class upgrades which, if you eat enough complimentary sandwiches, becomes a real financial investment.
The most memorable review, heckle or post-gig reaction?
A builder once told me I was terrible at my job. He had lost a finger by firing a nail gun at it, not realising it had nails in it.
How do you feel about where your career is at, right now?
I feel my career is at the same place every comedian's career is at. I'm doing relatively well, but I struggle to put my success into any sort of context so I'm constantly trying to get to a level that will fulfil me, fully aware of the fact that that level doesn't exist... Also I still rent.