Harriet Kemsley
Weddings can be ludicrously expensive undertakings, so it's always handy when a TV company commissions a 'reality sitcom' about them beforehand. That should cover the cake, if nothing else.
Harriet Kemsley's nuptials with fellow comic Bobby Mair are the subject of a new show on Viceland, Bobby & Harriet Get Married, starting August 2nd. The couple-to-be and producer/poet/pal Stu Richards came up with it "after me and Bobby got engaged," Kemsley tells FGWG. "The series follows us as we plan our wedding. I play Harriet who is a petty idiotic control freak comedian and Bobby plays an angry narcissist comedian. It's been a real stretch."
And that novel format?
"We're calling it a 'reality sitcom' because it's our real names, our real friends and our real wedding but every episode is heavily plotted and filled with jokes. We shot a four-minute taster around Crystal Palace and six weeks before our wedding the wonderful people at Viceland commissioned it. It's been the most insane few months of my life."
Those insane months have also provided fertile comedy compost for her next Edinburgh Fringe hour, which kicks off the day after the TV venture. Busy week.
"My new show is called Bad At Doing," Kemsley explains, "and it's about the craziness of the last few months: my absurd allergies (I'm vegetarian and allergic to raw fruit, vegetables and nuts) and getting diagnosed with dyspraxia. It's basically dyslexia but for the body and means I now have an excellent excuse for being an absolute mess."
Excuses are always good. But now it's time for cold, hard comedy facts.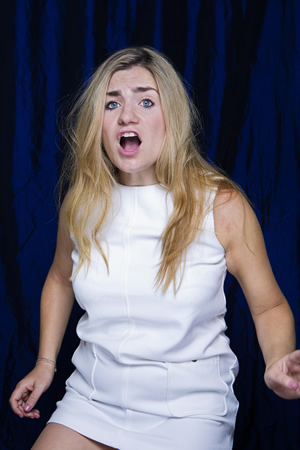 First gig?
It was a Laughing Horse gig in Mayfair. I was so nervous I couldn't speak for days and I didn't tell anyone I knew that I was doing it, instead I made up all these elaborate lies to my housemate about where I was going. It was my secret night life. I felt like a spy.
Favourite show, ever?
I won the gong show at The Comedy Store and it was amazing. When they like you there it's incredible. People were chanting my name...
Worst Gig?
...I went back to the Comedy Store to do my next spot and they put me straight on at midnight at the Saturday night show and it was an absolute disaster. I found myself waving my arms and shouting 'CAN EVERYONE JUST CALM DOWN.'
The weirdest gig experience?
I did a gig in my hotel room for the Leicester Comedy Festival once. There was a slightly creepy vibe as everyone sat on my bed.
Who's the most disagreeable person you've come across in the business?
Me and Sean McLoughlin and Joel Dommett got in a fight with some American comics when we were in Norway because a couple of the Americans said that women weren't funny. We'd been drinking something called Hiroshimas which did not help ease the tension. We had dinner with them the next day though when the Hiroshimas had worn off and they were really nice. Lovely people, terrible views.
Is there one routine/gag you loved, that audiences inexplicably didn't?
I used to have a great bit about accidentally killing an owl that I loved but the audience did not.
What's your best insider travel tip, for gigging comics?
When you're feeling low and get chucked out of your hotel at 11am and have to wait for a gig that evening, buy an afternoon pass at a spa and sleep by a pool.
The most memorable review, heckle or post-gig reaction?
I had a disastrous gig during my first solo show with almost every important industry person in the audience. The Guardian review simply said 'Oh Dear.'
How do you feel about where your career is at, right now?
It's good. I feel I'm getting better and better at stand-up and getting to write and perform in our own TV show is literally a dream.