Dr Phil Hammond
Dr Phil Hammond has a uniquely impressive list of credits: Have I Got News For You, Private Eye, lots of books, radio, live shows - and work with innumerable patients during a 30-year career in the NHS.
He's hoping to continue working for the NHS too, hence Dr Phil's Health Revolution, which is rallying the medical troops across the country as we speak, including a show at this year's Hertford Comedy Festival.
We at First Gig, Worst Gig are blissfully, weirdly impartial, of course, so we've left him to explain it.
"The show covers topics I am passionate about: living well, staying sane, dying with dignity and saving the NHS," says the good doctor. "It doesn't sound like comedy, but somehow it is."
"In the first half, I ponder what we can do to sort our own shit out. I look back on my 55 years and consider how I have apparently managed to remain sane in a family with a strong history of depression and suicide. Am I lucky, ignorant or just yet to be diagnosed? Can you prevent at least some mental illness by being kind to your mind?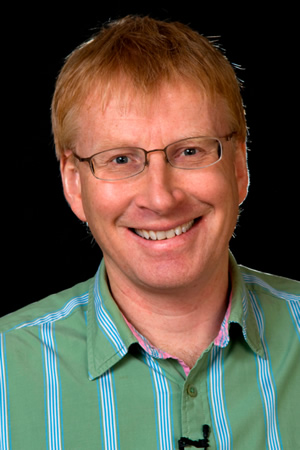 "I delve into the dark basement of the Hammond family history and consider deaths in my doctoring, friends and family - some too soon, others too drawn out - and ponder the case for both resisting and assisting suicide. Is it possible not to kill yourself before your time, yet die gently when your time comes? Laugh, think about sanity and plan your exit.
"In the second half, I set about saving the NHS (again). Our most prized asset is being ideologically and incompetently destroyed. The continuous political disruptions of the last 30 years are themselves a leading cause of death, as a public service for the sick is being reduced to a business opportunity to trap the elderly and worried well.
"The NHS was built on love but is now run on fear, and the stressed-out staff are often sicker than the patients. Services are being starved of funds, run down and sold off. Waiting times for the mentally ill are sadistically long. The government has placed a Do Not Resuscitate order on our NHS and social care services without telling us. But it's not too late to remove it.
"Enough of top down reform, It's time for a bidet revolution. From the bottom up. Life is for living, not medicalising. Live well, with a minimum of medical interference. Treat illness, don't create it. Put evidence and empathy before politics. Ditch the market, cherish the carers, support the staff, fund the frontline, avoid the harm, stop the waste, kill the fear, tell the truth, inspire, collaborate, recover, laugh, love, shout and reclaim our NHS. Are you in?"
Crikey. And now, back to our regular programming...
First gig?
I did an open mic slot at the Watershed in Bristol in December 1989. Arnold Brown was top of the bill, so there was a full house. His opening line was brilliant; 'Not too much applause... that's how fascism started.' I told dark tales of being an over-worked junior doctor, and Arnold was very kind and supportive.
He liked my gag about starving junior doctors ('the reason we draw the curtains around a patient's bed when they've died is so the doctor can raid the fruit bowl without anybody noticing.' ) He gave me the confidence to keep going.
Favourite gig, ever?
Speaking at the NHS demonstration in London early this year. Getting thousands of passionate, committed people to sing 'Born in the NHS' at full throttle.
Worst gig?
Doing a charity gig very early in my career for an American organization called 'Christian Mercy Ships'. I was in a double act called Struck Off and Die with Tony Gardner, and we only did shocking medical humour. The only laughs came from Stephen Fry (doing the charity auction). He laughed even more loudly when someone apologised for 'the offensive nature of the cabaret' and asked us to leave.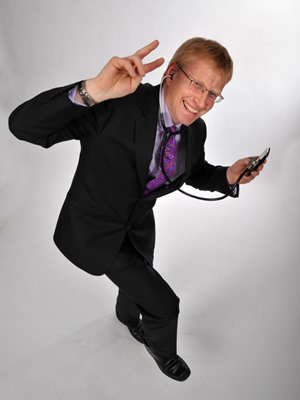 The weirdest gig?
A woman in Canterbury chucking me a (bottled) urine sample and asking if I could check if she had an infection. I had a dipstick in my doctor's bag and was able to confirm she probably did. And a GP in the audience had a prescription pad, so she left with a prescription for antibiotics.
Who's the most disagreeable person you've come across in the comedy business - or the medical business?
In 1993, as Struck Off and Die, we got a review that read 'what makes this double act soar above the ordinary is the genuine comic talent of Dr Tony Gardner.' This made Tony very disagreeable for a long time, but I have recently forgiven him.
What's your advice for comics juggling two (or more) careers?
Don't give up the day job unless you're certain you want to burn that bridge. I toyed with doing full-time comedy but I'm glad I persuaded myself out of it. I love being a doctor, and I need the material. I'm lucky enough to do lots of jobs part-time (medicine, comedy, broadcasting, journalism and writing). I'm a jack of all trades and master of none, never outstanding but never bored.
The most memorable review, heckle or post-gig reaction?
I've got kinder as I've got older, talk about some fairly heavy topics and a few people have cried during my current tour, which is a first and absolutely not the job of a comedian - but it's very memorable. The skill is to try to lift people up again after you've taken them down.
Comedy or medicine - which career would you suggest a young Dr Phil-alike went into?
They go together beautifully. Laughter is the best medicine, unless you have syphilis, in which case it's penicillin. Come to my show and you might get all three.