Chris Chopping
To Newport, South Wales, and the home-cum-set of comedian Chris Chopping, whose new project we spotted via a late-night tweet from the always Wales-aware Cardiff Comedy Hub. The once-busy stand-up is making the best of being stuck indoors.
"I'm pretty lucky in lockdown because I live with my girlfriend Ellie who is not only the best company, but a great collaborator!" he says. "We both get frustrated with some of the stuff that's been happening, so it's been great to be able to channel those frustrations into something creative."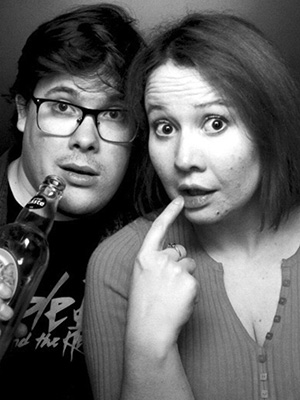 Indeed, they've hit on a winning video format, which does what comedy can often do best: discussing complicated stuff about the current situation in an accessible and entertaining fashion, from lockdown-ease confusion to NHS mythologizing. We're not sure how close-to-home the on-screen versions are - Chris makes a naively cheery video which Ellie then knowledgeably hijacks - but they certainly look convincing.
"I do have a newfound creative respect for people who make topical stuff," says Chopping, "because it took a lot of time and effort to write, film and edit quickly, but hopefully we'll be doing more. We've also been doing a daily vlog together about lockdown life which veers in tone between serious and silly, personal and political. I sometimes think we're like a lo-fi Phillip and Holly..."
Now there's an image. Actually Chris and Ellie's films are genuinely thought-provoking, if you like having your thoughts provoked. As for regular comedy, Chopping is also a team captain on the live-streamed panel show Four's A Crowd (created by comedians Drew Taylor and Simon Emmanuel) and he's on the Beeb this very night, Friday May 22, on BBC Wales' Stand-Up Sesh, which should then pop up on iPlayer. More on that below.
Now though, tell us how Drones helped launch your comedy career, Chris...
First gig?
My first ever gig was almost exactly ten years ago at Drones Comedy Club, which is a legendary new material gig in South Wales. Loads of acts have started out there.
It was run by Dan Thomas and Clint Edwards at the time. My friend Nick took me to watch one week and introduced me to Dan, who asked when I wanted a spot. I said I wasn't sure so he said, "I'm putting you down for two weeks from now, if I don't book you in you'll put it off and never do it." He was probably right.
I was very nervous and didn't tell anyone I was doing it except Nick who was my ride, his girlfriend and another girl they knew. I didn't know what to do with my hands so I took the wine I'd been holding on with me and I ended up drinking wine onstage at every gig for years.
The gig went ok I think, though it probably wasn't as good as I remember it. The room was full and my jokes got laughs. It was an addictive feeling but if it had gone the other way I might never have tried again..
Favourite show, ever?
I was very proud of my second Edinburgh hour, Chris Chopping's Lonely Hearts Club Band. It was a very personal show that I worked very hard on and I couldn't wait to perform it every day. Then my time slot and room got moved twice because of venues pulling out last minute. I was listed at two different times and rooms in two different Fringe guides and both of them were wrong.
When I actually arrived in the city and saw my room I was pretty dejected. It appeared to be a reclaimed stationary cupboard and had room for 13 in the audience (15 at a push, if you don't mind keeping secrets from a fire marshal).
But it turned out really great, despite having no real profile. Such a small room saw me filling it everyday and often turning people away. Being crammed in a tiny room full of people gave the show a really fun, intimate quality. I loved that run in the end.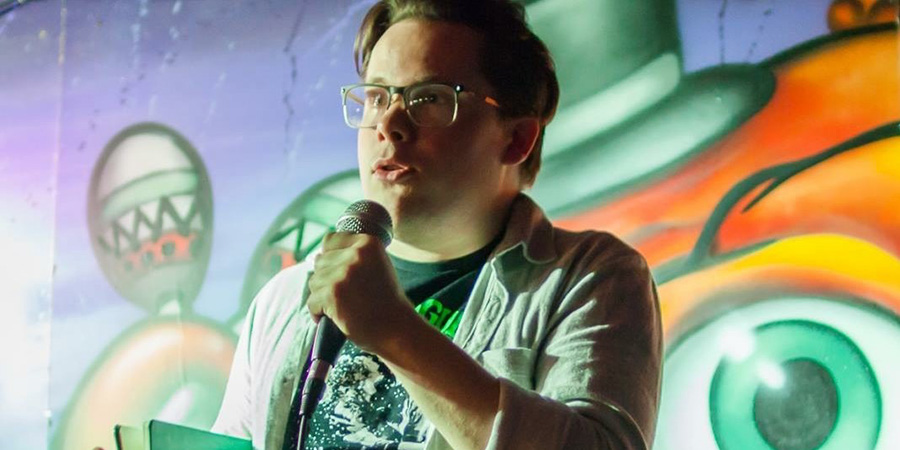 Worst gig?
I was booked with two other comedians to perform a 'comedy hour' in the cabaret tent at a small musical festival. It was on at 9pm, but when we turned up there was a sea of small children sat at the front. We warned people upfront, "this is a grown-up comedy hour and it might not be suitable for children. You're welcome to stay but we won't be offended if you leave." Everybody stayed.
During my set I could see some people smiling and laughing but all you could hear aside from my voice was the pounding dance music from the next tent so there was no atmosphere. No one could hear anyone else laughing. I got heckled by a man in a dragon suit that my stuff wasn't suitable for kids, which I felt, quite strongly, we had already covered.
The three of us were all quite new so we were stretching ourselves just to fill an hour, there was no way we could piece together a family-friendly set. We all struggled and left demoralised but we were booked for the following night as well, so we spent the entire next day talking about how we could approach things differently this time.
We turned up 15 minutes before our set to be told we had been cancelled because there had been too many complaints. We were promised that next year they were going to run a whole comedy stage and we could curate it. Years later we've yet to be invited back, but I'm sure the call's coming any day now...
Which one person influenced your comedy life most significantly?
When I started out I met a guy called Geraint Evans who was also new to comedy. He asked me to be in a double act which was hugely flattering. The double act didn't really go anywhere but we became good friends and even lived together for a bit.
We had a bit of a friendly rivalry, trying to write better material or seeing who could do the most gigs. Plus we both saw the value in travelling around as much as possible. To get anywhere in comedy you really need to push yourself, so I can't overstate how crucial he was in spurring me on. He got what he wanted out of comedy and moved on but if not for him I'd probably not still be doing it.
And who's the most disagreeable person you've come across in the business?
There's this one guy who is really notorious for cheating on his girlfriend and being a creep around women. I'm probably safe to say this without repercussion because that description fits about a dozen people.
The guy I'm thinking of used to always say obnoxious, sexist or homophobic stuff 'ironically'. I remember Bobby Mair saying to him once, "The thing is, there's not much difference between saying things ironically and just saying them."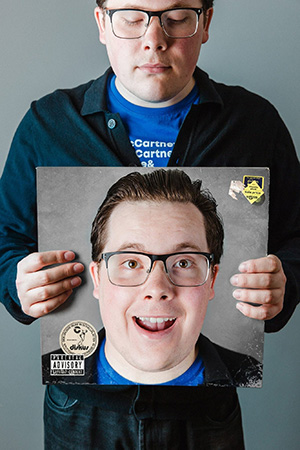 Is there one routine/gag you loved, that audiences inexplicably didn't?
I once had a routine about being approached on the street late at night by a man claiming to be a vampire. I thought it was funny but audiences never went for it. I think they thought I was making it up but it actually happened. The trouble is, if you didn't know it was a true story it probably sounded really contrived.
Comedy can be great for getting important ideas across - any particular comics/routines that have made you think?
Harriet Kemsley did a brilliant show a couple of years back about the #metoo movement and her own personal experiences. It had some pretty personal and dark stuff in it but managed somehow to also be joyously silly and funny.
Steffan Alun writes really warm, inclusive shows, and his hour about realising he was bisexual in his thirties was one of the best things I saw last year, and full of positive messages.
Are there particular reviews, heckles or post-gig reactions that stick in the mind?
The first review I ever got in Edinburgh focused mainly on my looks, in particular my "Horrible shoulder length hair and nasty weak moustache." I was gutted. I've made sure I always shave before gigs ever since.
How do you feel about where your career is at, right now?
Later this month [tonight in fact] some stand-up I filmed last year with BBC Wales is going out on TV and iPlayer, on a show hosted by the immensely talented Ignacio Lopez. He also filmed and edited one of my Edinburgh shows for me and it looks fantastic, so I'm hoping to get that out in some form soon.
Until recently I had a pretty full diary of live work too...