Ari Eldjárn
It's a nice land, Iceland, full of interesting creative folk who pretty much all know each other - well, in Reykjavik anyway - which all helps foster fruitful collaborations. To be honest we're mainly talking about Iceland's freakishly fertile music scene (FG's latest favourites are Vök, which translates as 'little hole in the ice'), but Icelandic comedy has now burst forth too, in the shape of Ari Eldjárn.
Co-founder of the Mið-Ísland collective (more of which below), Eldjárn is bringing his solo stuff to Soho soon. On Thursday March 15th he's on a splendid bill at the Soho Theatre Alternative Gala, an annual party that raises funds for that fine institution's work with young people and emerging artists: also appearing are Bridget Christie, Tim Key, Rose Matafeo and Dina Martina - plus there's free plonk, nibbles and an afterparty. Nice.
Also that week, Ari is performing his own hour, which we'll let him plug himself.
"The show is called Pardon My Icelandic and it had a sold-out run at the Edinburgh Fringe (which was a relief)," he tells us. "It's the first time I've done a solo show in the UK and it was a lot of fun to put it together because English is my second language and almost all of the material was translated from Icelandic which I saw as a kind of challenge, hence the title. Some of the subject matter is unique to the Nordic countries but I try to make it as accessible as possible to international audiences so no prior knowledge of my home turf is required!"
Top geyser - as they say in Iceland. Now, let's head north.
First gig?
The first gig I ever did was May 7th of 2009 at a small bar in Reykjavík called Karamba which no longer exists, sadly. My friends Bergur Ebbi and Dóri DNA decided to try stand-up more or less on a whim, invited me and my friend Jóhann Alfreð to join and we filled the room. It was probably something like 80 people but it was so jam-packed that it seemed like more.
We then formed the stand-up group Mið-Ísland (Central-Iceland) which is still going strong and we now put on around 80 shows every year.
Favourite show, ever?
That first gig because it went so well and I don't think I would have continued at all had I corpsed it! Also my first show at the Fringe was particularly enjoyable as it was almost an out-of-body experience to be finally doing a full show in English.
Worst gig?
I was once booked to do a gig indoors for college students. When I arrived it turned out that the gig was outdoors and the audience was six-eight year old children. I had no choice but to use my material which relied heavily on stuff like financial puns and impersonations of Icelandic TV personalities from the '80s. The parents got all the jokes but just stared in horror as the children threw candy at me and occasionally shouted "what's your name?"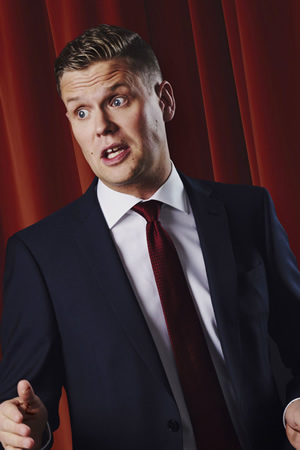 Do comedy shows work differently in Iceland - are they mostly in Icelandic or English?
Yes, 90% of my work is in Icelandic which is a harsh language derived from Old Norse, spoken by 340,000 people. It's a fun language to do comedy in because it has a lot of rolling r's and the nouns have a lot of syllables and I tend to speak very fast, which in of itself can make for a good comedic effect.
The comedy scene itself is still quite new in Iceland and an actual comedy industry similar to the one in the UK doesn't really exist there, so most of the shows that are available are either self-produced or corporate gigs. The current wave of stand-up in Iceland started in 2009 and has been growing ever since.
Who's the most disagreeable person you've come across in the business?
A certain bar owner who is notorious for never paying his bills springs to mind. I'd say his name but Iceland is a very small country!
Is there one bit of material that works great in Iceland, but not here?
Yes, none of my material about the Icelandic singer/songwriter Bubbi Morthens works in English, which is a shame as my impression of him is possibly the single most impressive skill I have, and is actually what jump-started my career originally. I have a Morrissey impression I sometimes use in the UK to compensate but it's nowhere near as accurate. I encourage everyone in the UK to look up Bubbi Morthens' music on Spotify and to use Google Translate for the lyrics. Well worth the time.
The most memorable review, heckle or post-gig reaction?
I once did my aforementioned impression of Bubbi Morthens on National TV where I had the man himself next to me while I phoned his manager from his mobile phone to tell him that I (Bubbi Morthens) was sick and had to cancel two sold-out shows. The prank worked really well and the clip went insanely viral in Iceland.
In the following week I was in a bar with some friends when all of a sudden some huge stranger walked up to me, put his arms around me, lifted me high into the air and then exited the bar holding me! Terrified I asked him where we were going as he took me to a nearby alley where he pretty much cornered me.
He then proceeded to show me his own impression of the famous Icelandic singer and asked me what I thought of it. He sounded nothing like him but I sang his praises until he let me go. Never before have I been so amused and scared at the same time!
Any travel tips, for jet-setting comics?
Being a former flight attendant my main advice is that flights pass much faster if I constantly get up and go into the galley where the flight attendants have their quarters to tell them that I am a former flight attendant. This helps me pass the time, although it probably really slows down their time. Also, an iPad with a binge-worthy TV series really works wonders.
How do you feel about where your career is at, right now?
At home the question I get asked the most about my career is: "what are you going to do for a living when this is over?" I never have a good answer because I don't really have a plan B. So I am extremely happy to be able to do it full time because I don't think I would be doing that well if I had another job to keep me occupied.
And at the moment I am feeling extra happy about being able to branch out in Britain because I grew up in England as a child and have always had a massive fondness both for the English language and English humour.