Lynn Ruth Miller interview
Here we catch-up with Lynn Ruth Miller, a comedy performer in her 80s, who is well-known on the UK comedy circuit.
How long have you been performing comedy?
I started comedy when I was 70 years-old, in San Francisco.
I am a professional journalist and I took a class at The San Francisco School of Stand-up Comedy in 2003 with the intention of writing a story about it. Instead, I discovered I had a knack for telling my own jokes and that jump-started me into a career I didn't even know existed.
I had no idea comedy was a vocation and I had never seen a comedy show live before. Once I was introduced to the concept, however, I embraced it and began going to open mics, mostly because at 70 years of age, what else was there to do? I was single; I had no children; no partner; and suddenly I had a new purpose in life.
What brought you to the UK?
I have been coming to the Edinburgh Festival, first as a punter and then as a reviewer, since 1988. Once I started comedy it was only natural that I would bring a show to the festival and I did that at C Venues in 2005.
After doing several one-woman shows at succeeding festivals, I managed to win an award for my cabaret Granny's Gone Wild. The producer of that show was Bill Smith from Brighton. He then hired me to be a presenter on his new TV programme, Brighton Lights. He promised me a proper visa, a living wage, a good place to live and (in his words) "a happy life."
I arrived here in April 2014 to do my winning show at Soho Theatre and stayed to host the TV show for Bill. I sold my San Francisco house, packed up everything I could and relocated thinking I would have a delightful new adventure and a very exciting future. It did not work out that way.
I was not given a visa; Bill immediately cut my wages by £100 a month as soon as I arrived but he did not settle me into that flat that was supposed to be a lovely place for me to live. Instead he put me above a fish and chips place with windows that didn't shut, questionable heating and (when I moved in), no hot water. This was fixed. However, by December of that year Bill decided he preferred having a student from the university host his programmes as an intern and thus save the £900 he was paying me, so he fired me.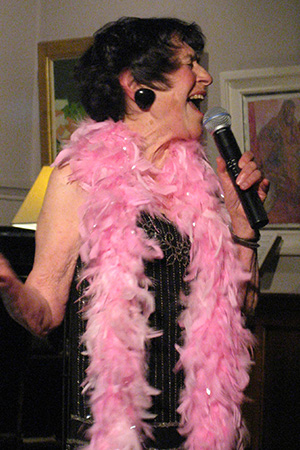 I decided that, since I had nowhere to go anymore, I would find a way to stay here in the UK. So far, I have managed and I am an established part of the UK comedy scene with a place to live while I am here; although I am still an United States Citizen with my permanent address in Burlingame, California.
In terms of staying here, we understand you've recently been having some visa issues?
When Bill did not come through with a visa - I wrote, called, begged and cajoled everyone I knew for help in finding a way to stay here. It wasn't until that August that Hartley Kemp (the owner of C Venues in Edinburgh) called Jon Keyes (an established promoter who runs Paramount International Comedy Management) and convinced him to sponsor me. Jon had ignored my previous calls and letters, as had everyone else I was told to contact. This time Hartley convinced him to take a chance. I continued working with Jon for the next six years and he has been lovely to me. However, last July, he was disqualified as a sponsor by the Home Office and could no longer sponsor overseas entertainers.
Once again, I was calling, begging, cajoling and stressing out because I have worked very hard to make a place for myself in London and the UK and it looked like I would have to find another place to live. Finally, Jon found someone (and he never told me who this was) to give me a Tier 5 visa for a year, but the whole thing fell through one week before we were to finalise it. I was in the United States performing at the time. I came back here as a tourist and continued searching for help when Mick Perrin, a qualified international sponsor and promoter, came to my aid. We had all the arrangements made at last for me to once again get a Tier 5 visa with his company. I was to leave for Amsterdam end of March to validate it... and then came the pandemic.
Now, thanks to Bob Slayer and Shirley Cheung, who also sponsor overseas workers occasionally, I will be fine at the end of this month. I was unable to travel because of the virus before then, and you must leave the country to re-enter as a qualified entertainer.
You've been described as 'the new Joan Rivers' a few times, we've noticed. What do you think of that label?
I do not think it is accurate. I am not as sharp or as acid as Joan Rivers although I admire her comedy very, very much.
My comedy is very personal and it resonates with everyone because it addresses the one thing everyone fears: aging. The only similarity between Joan Rivers and me is that I do a lot of short, snappy jokes. However, now that we are doing comedy online I tend to do more stories instead of one or two liners.
The comedy circuit is predominantly filled with comedians under 30. What's it like mixing with them in green rooms?
I feel no age difference when I am with other comedians in the green room although, very often at my level, we are all just clustered in the back of the venue... no luxury of a green room!
All comedians share the same goals (making an audience laugh); we have travelled the same circuit; and have faced the same hurdles. We are in it together.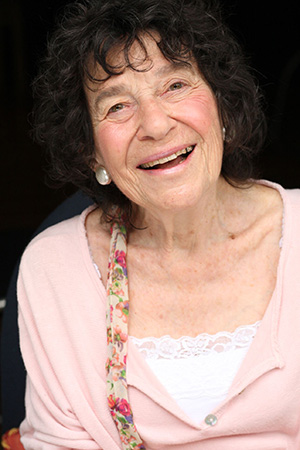 Is the comedy industry 'ageist'?
Yes. The comedy industry is very ageist and that prejudice (because that is what it is) is silent. I am ignored rather than confronted with rejection. No matter how well I do with an audience (and audiences are never ageist at all. They just want to laugh and be entertained.) I am never elevated to a headline position in London, except in the very small clubs.
The larger clubs will not even give me a chance to be in their shows, even when I repeatedly send them top quality videos. In San Francisco I had trouble getting in the line-up even when I was not paid. I used to think it was because I simply wasn't sharp enough, until I started travelling. Once people saw me in other countries, I became an automatic headliner. I'm talking about Amsterdam, Cologne, Frankfurt, Dublin, Hanoi, Saigon, Jakarta, Singapore, Stockholm, Bangkok, Phnom Penh, Kuala Lumpur, Berlin, and San Francisco (now). Once I established myself on this side of the pond, my hometown decided I was good enough for them. I headline in their clubs as well now.
From your 80+ years on this Earth, you've presumably accumulated lots of wisdom. What are your top tips for the younger generations?
Believe in yourself.
Don't be afraid to try anything.
There is no such thing as failure. Everything we do prepares us for the next step in our lives.
Do not try to be like anyone else. Be yourself. That should be your ultimate goal.
Do not compare your progress with someone else's because that person isn't you. We all have our own unique path and that is a good thing.
Do not be afraid to stop anything that isn't making you happy and that includes doing comedy, your work or your relationship. The only person who can make you happy is you.
Don't blame anyone else. If you are in a bad situation, do something about it. The only thing that traps you is your own attitude.
What's next for you? Presumably you're waiting for lockdown to be over?
My philosophy is very British. I just get on with it. My life is full right now, even in lockdown. I am doing comedy online, and that is a totally different skill than the stand-up I do in front of an audience.
My memoir Getting The Last Laugh will be added to Amazon at the end of July. I am going to teach a course at Angel [The Bill Murray pub in London] in August on how to write a novel, a memoir or a blog.
I have been invited back to Helsinki, Stockholm, Jakarta , Bangkok, Singapore and Ghent and Dublin. Life moves on. As long as I am alive, I intend to live it.