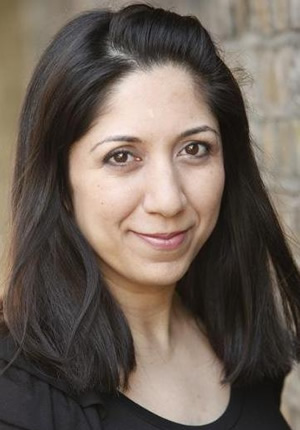 Yasmeen Khan writes about interfaith comedy, and MUJU - the Muslim-Jewish comedy collective...
"It's a nice idea, but isn't it all a bit preaching to the converted?" Asks the journalist I'm discussing MUJU with. "No, most of them were born Muslim or Jewish, they didn't convert." He doesn't get the gag - granted it's not much of one - but more importantly, he doesn't get the concept. Having explained that MUJU is a Muslim-Jewish comedy collective, I paint a picture of what our audience looks like: head-scarf wearing Muslims sat next to skull-cap wearing Jewish people, all of them laughing. And yes, some of them are open-minded, arts-loving lefties who favour integration and dialogue between communities. Many of them, however, are ordinarily non comedy-going people who would never have found themselves in an arts environment typically inhabited by the Guardian-reading middle class, let alone in the company of the other community.
Culture is of course a rich comedic seam to tap; current TV darlings Stephen K Amos and Andi Osho both use their Nigerian heritage in their acts to great effect, while Omid Djalili and Shappi Khorsandi both feature aspects of their Iranian backgrounds on stage. Like culture, the world of politics feeds the comedy beast without even trying. But combine culture, politics and comedy with not only one but two religions and suddenly two phrases are bandied around - on the one hand it's worthy, on the other, cutting-edge.
Cutting-edge and worthy should not be seen as polar opposites; the very nature of an interfaith Muslim and Jewish group means the two are ever present. For MUJU, worthy is not a dirty word and neither does it equate to unfunny. In our new comedy sketch show, Extreme Prevention Goes Global, we look at the Prevent agenda, the Labour government's strategy to try to combat terrorism. We also look at other examples of extreme behaviour - among them an ex-extremist who can't shut up about his past and two urban Muslim school girls who try to out-do each other with their piousness, without knowing what any of it means. We're not afraid to hold-up a sometimes uncomfortable mirror to either the Muslim or Jewish communities to reflect the characters that merit exploration and exposure.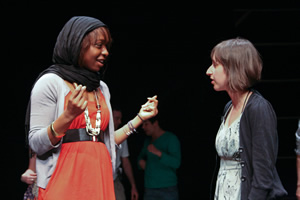 Many comics struggle to get the right balance in using their culture or ethnicity in their acts. Comedian Ahir Shah once told me that he didn't want to be defined by his ethnicity but that he felt he needed to address it with the audience before he could move on. Others, like Sajeela Kershi - a stand-up and also my comedic other half in sketch duo Asian Provocateurs, feels that you're damned either way; critics will pounce on you for not mentioning your background, just as much as they will if your set is based on it.
The practices of the religions themselves are never a target for MUJU; the culture surrounding them, the perceptions about them and some of the people within them are much more interesting. From the experiences I've had with MUJU, there is often a palpable sense of relief, both within and without the Muslim and Jewish communities, to be able to find humour in tough topics like the middle east and extremism and begin to explore them through humour. There are recent mainstream examples of this, from the gentler identity comedy of David Baddiel's film, The Infidel, to Chris Morris' suicide bomber satire, Four Lions. Exploring issues through comedy is one way of deconstructing or understanding them. This is something that MUJU bears witness to in some of the comedy workshops we do, be it on a campus in a 'problem' area, or at a women's group.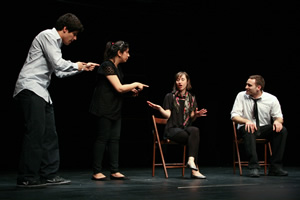 If Peter Kay's sell out tours and Michael McIntyre's DVD sales are anything to go by, the comedy industry is enjoying success like never before. I'm not with the legion who deride these kind of comics as 'safe'; as a northerner I can't fail to identify with Kay's pinsharp observations and as a performer I envy McIntyre's ability to turn the ordinary into sparkling characterisations and stories. In an environment of huge names and 'accessible' comedy, however, laughs of the interfaith kind struggle to be heard. I'm pretty certain that there is no other show where the kinds of characters in Extreme Prevention can be seen but I just need to get us a great PR campaign that doesn't involve burqa-clad dancing women (it's been done) but that somehow says: Muslims and Jews in a room doing comedy about extremism - what's not to like. I'm thinking of getting the whole troupe lustrous hair extensions, soft focus photography and topping it all with a borrowed slogan... MUJU: because we're worthy.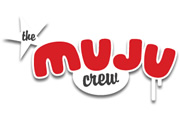 To find out more about MUJU's Extreme Prevention Goes Global see www.muju.org.uk
Yasmeen Khan is a broadcaster, performer and public relations consultant.
www.yasmeenkhan.co.uk @yasmeenkhan1