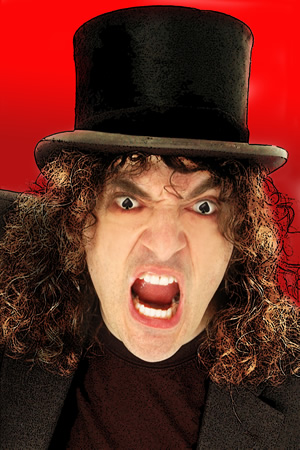 Jerry Sadowitz has a tour coming up, so we thought we'd send him a few interview questions by email. Below, un-edited, is Jerry's response...
Hi Jerry. For those that haven't yet seen you perform, could we ask you to describe your style of comedy...
I have been doing comedy since 1984. If people havent seen me by now then they probably have no desire to see me at all. so no point in describing anything.
You started off as a magician with comic banter, but are now perhaps more often labelled a comedian first; a stand-up who can do magic. How did that transition occur? And was it deliberate, or not of your doing?
what a boring question. i honestly switched off half way through.
Your slight-of-hand skills are revered. Is it something you have to keep practising, or once you've got 'it', is that it 'learned'?
This is a really stupid question. Would you ask the same thing of a musician? By the way, it's sleight of hand, not slight of hand... just in case you interview another magician in the future. or even D****o. In which case, here's how you spell "chancer" "fraudulent" and "delusional".
You're about to tour your show 'Comedian, Magician, Bawbag!' around the country. What can people expect?
comedy and magic from a bawbag.
You don't strike us as the sort of person who particularly wants to engage with the media or a person who likes the media, so is talking to us to tell people about this tour a necessary evil? Or have we mis-read your feelings?
nothing gets past you, does it?! No wonder you're an editor... smart as a whip!!
You've just finished a successful run of the show in London. Ahead of this you got a lot of publicity when a 1987 recording of you talking about Jimmy Savile surfaced. You then appeared as a Savile like character in a video to promote the show... yet later said in an interview you didn't want to talk about the Savile topic as "it doesn't interest me"... but surely the video suggests it does?
PLEASE tell me you have a better question than this. The country's falling apart.
Your tour publicity labels you 'The World's Most Offensive Comedian'. Would you say that label is accurate - if so, do you feel pressure to continue to live up to that image with the material you write and deliver? If you don't think it's accurate, why is it being used?
Yes.
No.
Unapplicable.
You've said in the past "I've got a lot of ideas that I'd love to do for telly, but they never see the light of day." Would you agree that it is this self-perpetuated 'offensive' label - and the reaction to The Pall Bearer's Revue show you did have on TV - that has kept a distance between you and the commissioners?
No. Television is class driven and favours the ruling class, the middle class, homosexuals, paedophiles and those who are promoted by one of those groups. In retrospect, I got The Pallbearer's Revue through a ruling class promoter and his ruling class producer friend at the BBC. At the time I was naive enough to believe I got it through talent.
As for the commissioning editors themselves, they are unequivical plonkers who know very little about anything at all. Their faces go completely blank when you present them with an original idea so I stopped submitting anything to them a long time ago. Worse, many of them are now women which means the art of comedy will be completely lost within the next five years.
In the case of The Pallbearer's Revue, the commissioning editor Alan Yentob did not even read the scripts and he went into panic mode by the intense and original mixture of what he saw. This is the same trivial minded wannabe intellectual who makes programs about 'ground breaking Art'. Sadly for me, he was in line for promotion at the time to become BBC controller and my programme was something that he interpreted as a threat to that promotion. so... he created a whole story of me being difficult to work with; the record number of complaints; the negative continuity announcement etc. He further announced that "Jerry would never appear on the BBC ever again" and all of this BEFORE the first show was aired.
He pulled all promotion of the series and did his best to liquidate my name from BBC comedy history. He has long since realised his mistake i'm sure, but most of my career is the story of people saving their incompetent and/ or criminal faces by playing the "Jerry is difficult" card. Nobody is going to stand up to Yentob, and people like him are taught at private school that "apologising is a sign of weakness" so... that continues to end any possibility of my return to the BBC.
Interestingly, if someone like Chris Morris, or even a complete chancer like Charlie Brooker attempt something "controversial" they will be backed to the hilt by their channels because they are of the same class as the public school boys who run them.
We think it fair to say that a notable number of people who have seen you perform over the years have been offended by your act [i.e. the walkouts]. Do you have a message for these people?
If they've walked out of my show, then they're hardly going to be reading this article, are they? And at least they came to a show... i'm sure you haven't.
You don't want your audience to agree with what you're saying [this assumption based on what you said in a Guardian interview]... but would you accept that some people who do see you are agreeing with some of the 'hateful' things you do say? Are you therefore earning some money by 'pandering to various prejudices'?
That's right, I built my entire career researching what the public wants, and then spoon feeding and pandering to them. What a fucking moron you are.
This question may appear to be coming out of the blue, but we guess you'll probably spot where we're coming from: What are you real views on women?
I did not spot where you're coming from. Did you??
Asking a comedian what his REAL views are on the topics he covers on stage, is like asking a magician how his tricks are REALLY done. A time wasting, boring, stupid, unhelpful exercise. And please try to specify WHICH women... otherwise you are comng across as GENERALISING and SEXIST.
Frankie Boyle is also labelled as being an 'offensive comedian'. In 2011 you told The Guardian that you "find Frankie Boyle offensive". What separates your comedy from his comedy then?
You're a complete and utter twat.
Thank you for submitting to our grilling, Jerry. To finish on a light note, can we ask you: what has been the happiest day of your life, and what did the day involve?
Of all the stupid questions so far, This one is particularly annoying, and irrelevant and when I meet you, I propose to write it down on cardboard and nail it to your face.
---
In hindsight, we particularly regret including that last question in the email now. Nevertheless, we'd like to thank Jerry for his time.
Jerry's website is: www.jerrysadowitz.com
EDIT: The dates this interview was promoting have now passed, but he continues to tour in 2014: Dates