Frisky & Mannish interview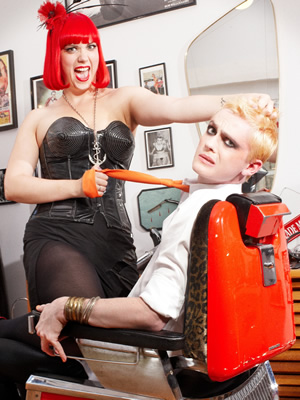 Frisky & Mannish - aka Laura Corcoran and Matthew Jones - tell us more about their double-act...
Hi Laura and Matthew. How did you meet?
We were both studying literature degrees at Oxford University, but found each other in the ethnic-scarf-wearing, Pinter-spouting, cider-drinking Thespian community. We did a production of Guys & Dolls together, and then decided to start putting on our own shows, working together as all combinations of actor/director/musical director. Finally our good friend, Rose Heiney, asked us to help her write comic songs for the Oxford Revue, and that was the catalyst for us getting involved in musical comedy.
So, what was your first show like?
Our first show was on the Battersea Barge, March 5th 2008. We'd been asked by a friend to do ten minutes of anything for a Music Hall themed night. While looking through the usual standard fayre, we came across a book of the last twenty years of pop. We picked it up, and started doing the pop songs, but in different styles. It was far more fun than singing Moon River, so we asked if we could try some out. She said, she didn't quite know what to expect, so she'd put us on last, after the auction. By midnight, everyone was hammered and barely paying attention, and we went out as very arch, Victoriana-style characters called Lady Fitz-Frisky and Miss Maevia Mannish (a name we'd found randomly in a book the day before). We started, and we could see the penny drop gradually around the room that the aria we were performing was, in fact, Papa Don't Preach. As we went through the set, the response got bigger and bigger, and by the end the place erupted. We were offered our first paid gig that night.
How would you describe each other in one sentence?
Laura: I would describe Matthew as an embarrassingly talented perfectionist. Or do I mean, embarrassing, talented perfectionist? Either works.
Matthew: Laura Corcoran is a unique hybrid: a diva-belting songstress, a naturally shrewd businesswoman, and a Mancunian. I don't know why I bother, really.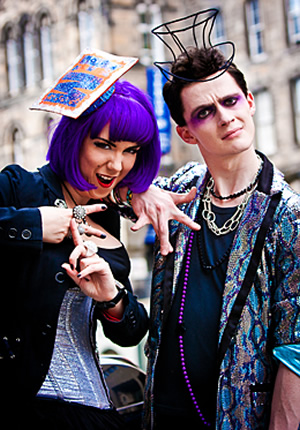 If you weren't performing, what would you be doing?
Laura: It's always been something of a given that I'd end up on the stage - my Dad's an actor/director, my brother is Asst MD on Chicago, even my Great-Grandma was a Tiller Girl! That said, I do have a good degree, so maybe I'd have done the sensible thing and got a proper job. I quite fancy being a barrister. Not enough to do a law conversion course or anything, but y'know, good wigs.
Matthew: If I weren't performing onstage, I'd still be performing somewhere, unbidden, unnecessarily, irritating people in supermarkets and libraries. If I couldn't do that either, I don't know what I'd do, I'm afraid, and I'd rather not contemplate it. I'd be absolutely fine, of course - I'm lucky enough to have two wonderful parents who gave me all the opportunities to grow into a successful professional man. It's not their fault I'd rather be in a travelling gypsy band.
Tell us about your time spent on the burlesque scene...
The first place we found an audience for what we do was in the gloriously welcoming, but democratic, world of burlesque and neo-cabaret. When you just couldn't take any more boobs, that's when we'd come in. The backstage areas were both infinitely more glamorous and more graphic than any other in showbusiness. A fond memory is backstage at the Slipper Room in New York, when one girl was shaving her bikini line, while another was on the toilet (with no door) peeing and applying glitter simultaneously, both talking loudly about recipes for pork.
Wow. Who are your comedy heroes and/or inspiration?
Laura: When girls my age were obsessing about Craig David and Matt Damon, my friends and I were obsessed with Eddie Izzard and The League of Gentlemen. But musically, I've always loved funny songs that are also amazingly performed - mainly Tenacious D. That's been a big influence on how we perform, as we try to musically fulfil the songs as much as we possibly can while serving the jokes the best way possible.
Matthew: I don't have one hero, just many favourites. Aristophanes and Woody Allen, Julia Davis and Julian Barratt, Married to the Mob and Muriel's Wedding, Robin Williams in Mrs. Doubtfire and Christina Applegate in Anchorman, Dawn French, Jack Black, Tracey Ullman, Marc Wootton, The Two Ronnies and Flanders & Swann, and Lisa Kudrow. Inspiration-wise, I think the funniest musical jokes I've heard are all in The Simpsons. I bow to Alf Clausen.
What inspires your alter-egos Frisky & Mannish?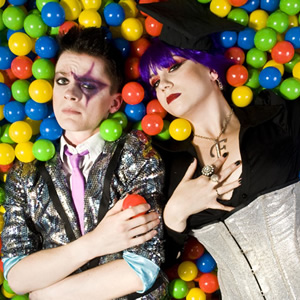 Laura: Frisky is definitely a natural extension of the brasher and sillier sides of my own personality, but she's ended up being much more dominant, authoritative and sometimes patronising than I am in life! Matthew may disagree with that... She developed to serve a purpose really - it was the only way I was going to get on stage to sing these odd ideas for songs that we had to start with. I'd just finished training in musical theatre at the Royal Academy of Music when we started, and so I was very focused on acting rather than being myself on stage. Back then there's no way I could've got up to perform just as Laura, but now more of my own personality is creeping back into Frisky.
Matthew: Mannish has been through a few metamorphoses since we started. To begin with, as I had little multi-tasking experience of simultaneous singing/piano-playing/comic timing/reacting, Mannish was a vocally-limited character - Laura took the bulk of the speaking so I could focus on perfecting the music. Quickly, I got so used to doing everything at the same time - like driving a car - that I became frustrated with his silent weirdness, so I started pushing him towards sarcastic interjections and eccentric outbursts. And I love gurning, so he does a lot of that now. The character changes to suit what we feel we need. At predominantly-male comedy nights, I'll steer away from excessive camp and go down more of a Steve Coogan route, whereas at gay clubs I'll mince as if my life depended on it. I like doing both equally.
Do you have any pre-gig rituals?
Laura: The hour before the show is sacred for me. I absolutely hate being rushed getting ready, so I like to have plenty of time. A vocal warm up is an absolute necessity, the singing is fairly athletic so I have to respect my voice enormously. But there are so many variables before we perform - what the backstage is like (if there even is a backstage!), how I'm feeling that day, what costume/wig/hat etc I've gone for, how long we're doing, if we know anyone in the audience etc. We have to be eminently adaptable! But because of the variables there are little things that I always do the same - like the routine for my make up. Always the same.
Matthew: I like changing it up, depending on what's happened in the day. If I'm stressed out, I'll want quiet time just before the show, getting ready pretty much in silence. If I've not had to do much before the gig, I'll want to get revved up (as if for a night out) so I'll ask Laura if we can put on Telephone and if she can let me do Beyonce's bit. I also experiment with the make-up a lot. On our Australian tour, I did a different shape/design over my left eye every night. Routine is not something I crave - if anything, it's something I avoid. Sometimes you can try to do everything right in your preparation, and it still just doesn't come together onstage. Sometimes, you get pushed into the wings before you've even got your pants on, and it's the best ten minutes you'll ever do.
What are your hobbies/specialist subjects?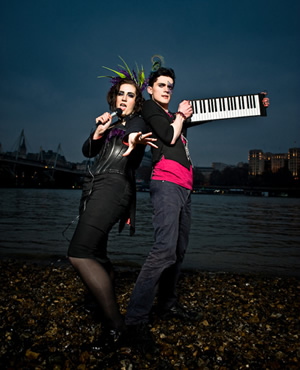 Laura: I used to love riding horses! My mum was a mounted police woman (no, seriously), so as well as a theatrical upbringing, I also had a very horsey childhood. I was just as happy stacking a muck-heap as dancing on a stage. But I haven't ridden in too long - it's quite site-specific, as well as pricey, and we don't get much time off for such indulgences!
Matthew: I studied Classics at university, so I can read Greek. And I'm a Latin American dancer - I've been learning since I was four. The samba's my favourite. If I went on Mastermind, my specialist subject would be acting awards history. It's so embarrassing, it's O.C.D. - you can name any award, year and category and I can tell you the winner, maybe the nominees. Oscar, 1948, Best Supporting Actor, Walter Huston in The Treasure of the Sierra Madre - I didn't even look that up.
Where would we be likely to find you on your day off?
Laura: On my sofa, under a duvet, probably watching Hairspray or Dreamgirls. I probably would've had a bit too much to drink the night before (as I can't drink if I'm performing the next day). I think a job that takes you all over the place makes you crave home-times. And I really am so lazy deep down.
Matthew: Every day feels like a "day on" when you consider yourself a writer and artist. I always feel bad if I find myself spending two hours watching Scrubs instead of penning an original screenplay. Even if it's a Sunday, I try and do something creative every day, and I routinely fail.
Which living person do you most admire and why?
Laura: As an artist, I most admire Kate Bush. I am totally blown away by people who are absolutely fearless, and simply are the way they have to be. She really typifies that for me, and you can feel her influence in so many contemporary female artists.
Matthew: I agree. Except I would take out 'female', as I can think of quite a few men who pay homage to her too. Johnny Rotten of the Sex Pistols called her a "true original." Big Boi of OutKast called her his "dream collaboration." She transcends gender.
What were your childhood ambitions?
Laura: My mum was the first woman to be a mounted police officer in Manchester, and so for a long time I had an obsession with becoming the first woman to do something. I went through lots of things - astronaut, chemist, train driver, etc - but I was constantly thwarted. Even by the late 1980s, women had done most jobs. So I gave up trying to be original, and for a few years was determined to work with horses, but by 11 had resigned myself to a life on the stage.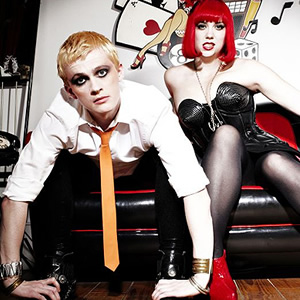 Matthew: I can't remember. Unlike Laura, I'm sure they were all very short-term and small-scale, like "I want to be able to climb across the monkey bars without touching the floor..." The first big ambition I remember was wanting to get into the National Youth Music Theatre when I was 14. I didn't make it in first time round, but I went back again and really went for it, and got in. That was, and still remains, the best audition I've ever done. I may have peaked too soon.
What is your guiltiest pleasure?
Laura: Bad food. I just love food more than is ok, and I can't lie, I love junk food. On a night off, ordering in a pizza or getting fried chicken from the place downstairs to demolish from under a duvet = heaven. And I do feel horribly guilty after, naturally.
Matthew: Rihanna. Actually, that's not even a guilty pleasure, that's just a pleasure. In all senses of the word.
Wat is your most prized possession?
Laura: I have a beautiful vintage dress that I bought from The Girl Can't Help It, for more money than I had at the time, and it's the only valuable thing I own. It's completely stunning, but sadly I can't wear it at the moment because it clashes horribly with my hair! But it's a lifetime dress, so I'm sure it'll have its moments down the line.
Matthew: It's very unusual of me to come home after a show and want to sit down behind my piano and play, but I just know that if I didn't have it, I'd miss it. It's very pretty, and it sings to me.
Which character from literature/film/TV programme do you most relate to?
Laura: An unfortunate by-product of my degree is the ability to spot similarities and trends in almost anything, so I find something to relate to in practically every character I love. "Oh my god, I am so Cathy from Wuthering Heights - I used to doodle in Bibles TOO!!", etc etc.
Matthew: Jeff Bridges in The Fabulous Baker Boys. Absolutely. That's me.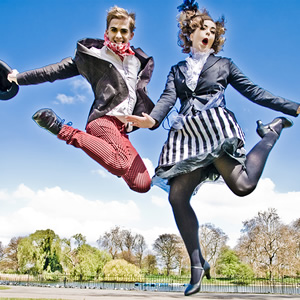 What are your favourite Bands, Artists, Films, Books and food?
Laura: Kate Bush, Lady Gaga, Professor Green, Rihanna, Elbow, Girls Aloud, Pussycat Dolls, Hot Hot Heat, Tinie Tempah; Waterhouse, Chagall, Warhol, vintage theatre posters, and my favourite exhibition ever was Anish Kapoor's 2010 exhibition at the Royal Academy. Blew my tiny mind; Film wise I love Hairspray, Dreamgirls, South Park, Singing in the Rain, Sweeney Todd, Anchorman, Mean Girls, Bring It On, and my favourite novels are Tender Is The Night, Wuthering Heights, The End Of The Affair, Roxana, Astrophil and Stella. Food wise I love... EVERYTHING, except liquorice, dill and celery.
Matthew: Kate Bush, Michael Jackson, Joni Mitchell, Don McLean, Erykah Badu, Peter Gabriel, Stevie Wonder, Lauryn Hill, Roisin Murphy, Rufus Wainwright, The Magnetic Fields... and Amy Winehouse. I'm not an art fan, although I did used to work at the National Portrait Gallery. I like portraiture. The Fabulous Baker Boys, as I said, is my favourite film. It's my life, and Michelle Pfeiffer is my dream woman. Books: The Days of Judy B, by our great friend Rose Heiney, and The Hungry Ghosts, by my drama teacher and mentor Anne Berry. As for food, you can never have enough cheddar and chutney, but I never order pizza in restaurants, and there's a limit to my tolerance for mint-flavoured things.
What's the highlight of your career so far?
It would be a toss up between a couple of things - going to the Sydney Opera House and calling it 'work' was pretty unbelievable. It was our first ever Australian performance, and we ran the show there for two weeks. It's definitely a time we'll never forget. Similarly, performing our Christmas shows at the Lyric Theatre, Shaftesbury Avenue are completely amazing. The last one included an Inbetweener, and we get the chance to book our favourite acts, which makes the whole night both fun and quite special. To be honest, any time we open a paper and see a picture or a mention, we feel very warm in our regions.
So, what can audiences expect from The College Years, the show you are touring?
The College Years is an intellectual examination of the great artistic works that have shaped the cultural landscape of modern music. So we'll, of course, be covering Peter Andre, Florence and the Machine, Busted and Brandy and Monica. There's not a moment to stop for breath, we'll have you singing, dancing and screaming before the night is through.
To find out more about Frisky & Mannish, and locate their tour visit www.friskyandmannish.co.uk