Interview with The Comedy Store's Don Ward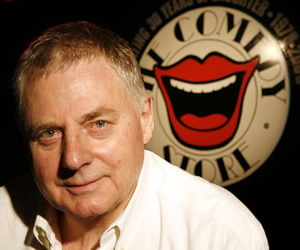 The Comedy Store - which has helped discover the likes of Paul Merton, Jack Dee, Michael McIntyre, Alan Carr, Jason Manford and Sarah Millican - still remains the most famous comedy venue in the country.
Next month, for the first time in its 32-year history, the London venue will be altering the start times of its Friday and Saturday shows as it looks to cater for the increasing demand for its weekend performances. Later in May, its sister venue in Manchester will also be changing its door times.
With both Comedy Store venues winning at the Chortle awards, it seems like a good time for British Comedy Guide to put some questions to Don Ward (pictured), the legendary founder and CEO of The Comedy Store...
Hi Don. Congratulations on the awards...
Yes, a double win there for us. London and Manchester. Manchester's title is grander actually - best comedy venue in the whole of the North.
Why do you think The Comedy Store is so popular with audiences?
The Comedy Store venues are noted for top quality comedy. We book the crème de la crème of acts. Even superstars sometimes call in to break in new material. You can get the likes of Robin Williams, Eddie Izzard and Michael McIntyre just popping in.
How much notice do the superstars give you, or do they literally turn up at the door?
I might get two or three days notice, or I might only know on the morning. Either way, there's never anything put outside. We don't tell anyone.
Surely you ought to brag about such big headliners in the listings?
The surprise element is the quality element. If I was to stick outside "Special surprise unable-to-name guest star appearing tonight", the audience would be forewarned, so the excitement wouldn't be there...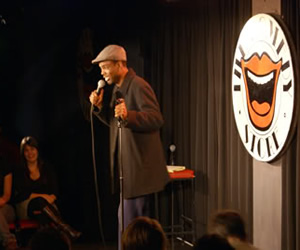 What I want is for the audience to enjoy my show and then add: "Oh, by the way, ladies and gentlemen, don't get up and go yet because we've got someone in town who's just going to do a short set; he hasn't done stand-up for a long time, try and be kind and welcome him to the stage"... this is the kind of preamble we do we do by the way. And then out through those curtains at the side comes, say, Chris Rock and you can hear the audience go 'ohh'. It's that lovely moment where an audience is thrilled and excited because, not only have they just seen a fantastic show, they've now got a big bonus extra they weren't expecting.
The hair goes up on the back of your neck, you know, and I'm just so proud to be able to do this. Bringing pleasure to people first of all is the greatest thing. I think to put a smile on someone's face and then multiply that by 400 in London, and 500 in Manchester, is brilliant.
You make it sound easy, but it must be high pressure at times?
I've got to be a smart businessman, yes, because we're living in a competitive world where, if you look around The Comedy Store in London for example, it's almost like a noose going round my neck. They do comedy in Bar Rumba; there's comedy in The Comedy Pub down the road; there's the comedy in The Thistle Hotel next door; there's comedy in Tiger Tiger; there's comedy at the Leicester Square Theatre; there's comedy in Sound; there's comedy in Storm... but The Comedy Store is still working at 95% capacity. I think it does say a lot. People trust the brand and they know they're always going to get quality here, whereas it can be hit and miss in some of those places I've just mentioned.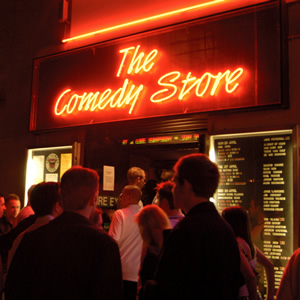 You're still very hands on, but surely the business is established enough now you could be relaxing on a beach instead of spending your days in a basement organising shows, staff, accounts etc?
Not really, because I'd find sitting on a beach hard work. I'd be sitting there thinking 'Is this it?'. Running the business doesn't feel like work, I can honestly and truly say to you.
The Comedy Store will be 32 years-old next month which is extraordinary, isn't it? From the very first person I auditioned from the very first night, I could tell you who was on the bill. I could almost tell you some of the jokes that were on the bill. I can honestly say from day one I enjoyed it. I've enjoyed every day. I'm looking forward to tonight's show as we talk!
That's absolutely fantastic...
And it's not work. I mean, Christ Almighty, you come in and each night there's laughter. It's amazing that, isn't it? I'm well up in my 60s now, you know. Hello, 70. It won't be long now, but I still feel 50.
We have posters in the club with medical quotations from eminent psychiatrists explaining the value of humour and the feel-good feeling. Ten minutes of laughter is worth, you know, 15 miles of rowing, or something. Put a singer up there, put a band up there, put a juggler up there, put a magician up there. Are you going to feel as good? No, it doesn't give you that feeling. It doesn't give you that buzz. If you have an audience sitting there and someone suddenly comes up with a topical funny joke...Tuesday night for example, The Cutting Edge night when they've got the week's news to play with, it's terrific. There's no other business like it.
So my business is my hobby and my hobby is my business.
To go back to your original question, I think the reason the Store is as strong and popular as it is, is because I care. If you've got a Governor who is quite happy to just look at the bottom line and then fuck off to Vegas or the South of France or somewhere like that, then little things will start to crumble around the edges, you know? It won't be quite as sharp because the boss doesn't care. So I always care what's going on.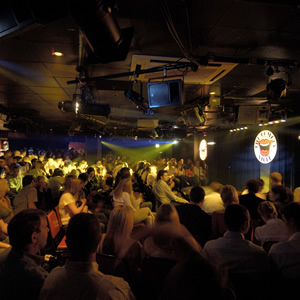 You're known for giving feedback to acts, which sometimes can be very honest indeed...
As an act, playing at The Store is a way of being accepted, because they can go around and say "I'm a Store act". No-one challenges it - you're a quality performer. If you can get a weekend here or in Manchester, you've made it. There're loads of places where you can get weekends, you can't get them here unless you're the best. It is a seal of quality I have to maintain.
There has been the odd trembling lip after someone has done their ten minutes and it hasn't gone quite so well. I mean, as a performer, you walk down there and it's like a rabbit in the headlights because you get 400 people sitting there going 'okay, now make me laugh'. The guy before you was fantastic so, you know, whilst you might be doing okay elsewhere, I'm going to let you know if you're not up to the standard here.
I usually say something like 'So, how do you think it went?', and the response will be 'Oh, it went very well.' I'll then say: 'Really? On a scale of let's say one to ten, how do you think it went?', and they'll say, 'Oh, about eight'... so I'll reply: 'Well, then I must have been looking at someone else because I didn't see an eight up there. I saw someone do a five or six, five heading towards six, with potential'. My job is not to destroy them. My job is to be a realist and tell them the truth because I never feed anyone bullshit. If I am, I'm not doing my job. I've got to tell them the truth. We all learn by mistakes so, you know, we've got to try and say, 'well, look, that's wrong, improve this, put a couple in there, you've got no energy, give us some more energy, etcetera'.
So, how do you choose who to book to perform at The Comedy Store?
First of all, they've got to possess funny bones. If they haven't got funny bones, we're going to have a long haul here. There are a lot of comedians on the circuit that haven't got funny bones, that will keep on trying, and trying, and trying. They will get work in the smaller places but they're never going to crack it here because of that indefinable something - funny bones.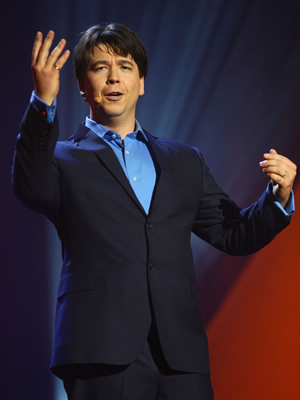 Michael McIntyre's got funny bones. You can think of all the people who've got funny bones, and then you can think of loads of people who you think 'You're getting away with that; you've got some funny jokes... but told by someone else they'd be really funny jokes.' You know what I mean? I think it would be indelicate of me to name names here.
So what I have is The Gong Show in London and Manchester. When someone thinks 'I want to become a comedian and I want to do it now', we give them that opportunity to do it now. Don't wait a month, year or something like that - put your hand up and get on that stage. I can't be fairer than that to go to grassroots, can I? Through The Gong Show we kind of sift through the talent. As you know, we do a 'joke off' at the end, and the two who are in the joke off will get a crack at doing five minutes on a Thursday...
Now, going from The Gong Show on the Monday where you've got an audience with a certain attitude - almost sometimes a forgiving attitude - to a serious audience on the Thursday is shock time. So we've got to nurse them through those five minutes and then, if they get a little bit better, we bring them on to do 'a ten'. Acts often say 'I can do ten, no problem'. Five to ten... you're going to hit the wall around about seven minutes and, if you're not funny, that wall will expose you.
So the best do a few tens and, when they're really banging on the door with their ten - when they can start to rock the room - that's the moment I'll say 'okay, now we'll do a 20'. Invariably, it'll be on a Thursday because I've got my management team with me. The four of us will sit down and gradually nurse them on... after saying to them, 'Look, you've got to get us into a position where I don't book Sean Meo or Paul Tonkinson or Micky Flanagan or Hal Cruttenden and we drop one of those to put you in'... and they go, 'oh, fuck'. It doesn't half make them stand up on their toes and think.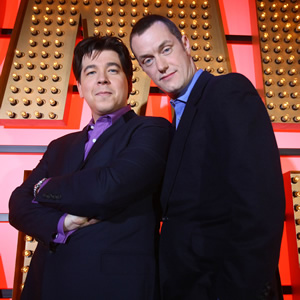 Some of the best performers at The Comedy Store you don't see on mainstream terrestrial TV that often. Why is that?
As far as Paul Tonkinson is concerned (pictured right, with Michael McIntyre) that surely will be rectified soon. He's one of our stable so to speak - he's a Comedy Store Management performer.
Sean Meo I think is a fantastic talent. He's so funny. It's a crime that he doesn't do more but I mean that's up to his management team and television people to sort that one out. I don't manage him and he's not part of our agency so I think it would be indelicate of me to sort of say any more on that, but I would like to see more of Meo.
I guess perhaps some of them may choose not to do too much TV because, you know, it does eat up material?
I don't think that's the situation. I think most acts would love to do some more television. Radio too... for example, I think Sean would do some great radio.
Following the success of the London and Manchester venues... you're now opening a Comedy Store in India. For many that was a surprise move, but it seems to be a success already, so congratulations. How much of a risk was it?
Thank you. When the Store was coming up to 20 years of age, everyone was saying, 'you don't venture out of London; Jongleurs go everywhere but you stay in the safety of London'... and I thought, 'Yes, you're quite right'. So I then went to Manchester. I looked at Birmingham. I looked at Sheffield. I looked at several cities and I just fell in love with Manchester. It's such a terrific city. I found this site and, on our 20th anniversary, we opened in Manchester.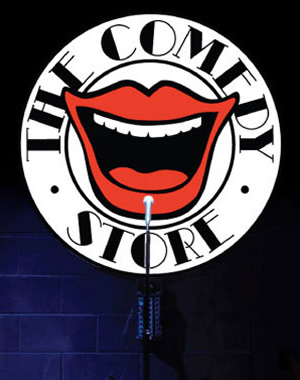 So when it got to about 30 years of The Comedy Store, I thought I wanted to do something totally different. Everyone was beginning to look out of London. Not South but they were looking kind of North and upwards, you know, and people were saying 'why don't you go to Glasgow, Don; why don't you go to Edinburgh and why don't you go to Sheffield', and I thought, hold on, what's over there? I've gone right round India. India is an emerging market and they all speak English. So I went to India, met up with an entrepreneur, Amar Agarwal, who is in steel and concrete and banking and also has various shops and things... because you can't do anything in India without a partner. You can't have more than 50% of a company. We created a joint venture and I went over to where he's based, New Delhi...
I said, 'Oh, Delhi, I can't feel it; why don't we look at some other cities; what about Mumbai?' I went to Mumbai and because there's Bollywood there, because it's a film city, it has a certain buzz. It has the commercial side of London but it has the friendly side of Manchester. I thought 'I like this city'. So we found a site and we opened last June. It's been running solidly ever since and doing tremendous business. I've got two other floors: a night lounge and a restaurant. I'm happy to say we work with about 70/75% capacity in the 300-seater.
There are 1.3 billion people in India and I'm working on the basis that only 10% of them listened at school and understand English. That's 130 million. That's twice the population of the UK. I mean the city we're in... Mumbai and Greater Mumbai, there's 28 million people. Well, I'm only looking at 10% of that, which is 2.8 million... but that's still a lot of people!
Indeed, very nice. One last thing Don, who are the up-and-coming comedians you've spotted that you think audiences should keep an eye out for?
Jack Whitehall has gone through now. I think he's very good. Tom Wrigglesworth was an unrecognised talent, but has been spotted now. Tom Stade, the Canadian, is very, very, good. Andi Osho: she's coming through. Imran Yusuf too, and Doc Brown.
Oh, also some guy called Michael McIntyre. Watch out for him, I think he'll be big one day. Ha ha.
From Friday 6th May 2011, the Friday and Saturday night shows at the London Comedy Store will now start at 7:30pm and 11pm. Manchester will move to 7pm and 9:30pm show times from Saturday 21st May. Audiences are advised to book in advance as most nights sell out.
To find out more about The Comedy Store visit: www.thecomedystore.co.uk