Imran Yusuf interview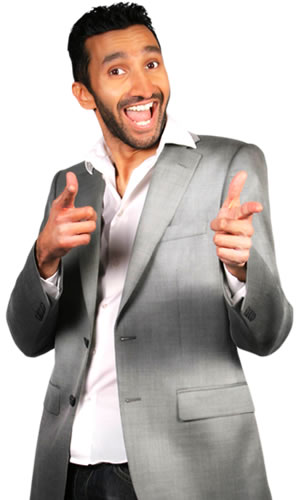 Arguably the biggest breakout success of last year's Edinburgh Fringe, Imran Yusuf became the first performer to be shortlisted for an Edinburgh Comedy Award while performing on one of the Fringe's two offshoot free festivals (and, as I discovered, you don't want to mention the wrong one, as there's a bit of 'beef' between the PBH and the Laughing Horse).
Yusuf's Best Newcomer nomination made a few headlines, and a subsequent set on Michael McIntyre's Comedy Roadshow brought him into several million homes. From there it was onto his own national tour, big-time trips abroad and an upcoming TV vehicle; quite a turnaround from his days as a struggling comic and depressed video games tester. He still can't talk to chicks though.
We catch up with him during the first week of his first full-ticketed, not-free Edinburgh run...
You've been pretty busy since last year's success - were you always going to do Edinburgh again this year?
I started working on the material for this year's show while I was at the festival last year. I was doing my solo show but in the little open spots I had - I did 101 gigs in 25 days last year - I used that opportunity to start testing out new stuff in preparation for this year. It takes a long time to build a whole hour. In a year it's not impossible, it's just not easy.
Is it very different this year, having been on the Free Fringe last year...?
Free Festival - sorry, I must distinguish, it's the Laughing Horse Free Festival. I've come from the Laughing Horse School of Kung Fu: basically as I started out as a comedian it was their gigs that made me get better and go where I wanna go. I'm keeping it real about where I come from.
Your new show is sometimes like watching a self-help seminar...
When you start off in comedy you're told that you've got to talk about what you know about, subjects that we all have passion for, and the ones I have passion for do colour my comedy. They're somewhat philosophical but I'm just trying to have a good time, make people laugh, and I want my comedy to be for everybody, I don't care what walk of life you come from, how light you are, how dark you are.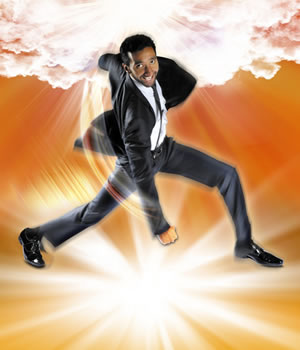 You do seem incredibly self-assured: were you surprised how well you did last year, or was it all part of the grand plan?
When I'm on stage I'm incredibly confident, when I'm on stage I'm bulletproof. I grew up being terrified of girls, but onstage I've got no fear of rejection. Onstage I fear no man, I fear nothing, and often when I've been on stage I can be a bit cocky, I can be a bit flirty with some of the girls in the front row, but then after the show if they come and talk to me I completely back down and whimper away because it's quite intimidating!
You should carry a mic at all times...
I should! If I've got a microphone, that's like my superpower, it's like Superman's cape.
Is the Fringe proving a lot more expensive for you this year?
When I was on the free festival, I made money! It's an investment though. As a stand-up comedian you've got to get out there and do gigs for free, for years, and then you start getting little bits of money. It's the same as getting an education.
I notice you're wearing a 'Freedom to Assemble' t-shirt today, and you talk about the Arab Spring in your new show. What's your take on our own recent uprisings?
It's a shame that when people protest peacefully, the authorities come along and beat the crap out of them, and when people go looting, the authorities don't go beat the crap out of them: we need to reverse that. I can't believe this is happening in London. Sometimes I think we need to draft in King Jong Il, just for a weekend, let him deal with it. We'll turn a blind eye and we'll all get back to normal.
Did things change massively after that Michael McIntyre appearance?
Michael McIntyre, he gave me the opportunity to phenomenally change my career, and that was really the turning point. Getting on Michael McIntyre's Comedy Roadshow and performing to five million people, that really changed everything.
More than the Best Newcomer nomination?
Best Newcomer was amazing, but the industry then knew who I was [already]. I got on Michael McIntyre way before the nomination, and it was confirmed just before I came up to Edinburgh - in fact, that's why the reviewers and panel and all that came to see me, because it was like 'who's this Imran Yusuf guy who's gonna be on Michael McIntyre's Comedy Roadshow, maybe we should go and watch him?' And it just happened that I had a decent show at the ready. Michael McIntyre himself, he struggled when he started, persevered and look at him now.
It's quite a turnaround. He's become a bit of a kingmaker, comedy-wise.
For him to share the love and give opportunities to newcomers like myself, it makes all the difference. The last time I met him, I met him at a gig and he started doing some of my material back at me, because he liked it so much. That was a massive compliment.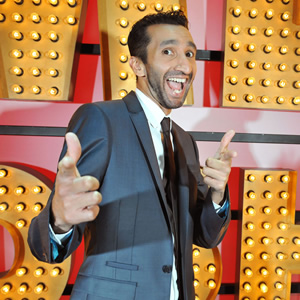 He probably sees a kindred spirit there. You're both ten-year overnight successes.
I've gone from struggling to break into some of the clubs to playing the Comedy Store. When I was a kid I said 'I wanna play the Comedy Store, that's what I really wanna do' and now I'm playing the Comedy Store across the world. Well, England and Mumbai.
Did I read that you're doing a BBC pilot?
Yes, after Edinburgh I'll be filming for the rest of the year, I'm doing a BBC3 pilot, The Imran Yusuf Show, which I'm very excited about, it's a dream come true for me. I'm working with some very exciting people, got some really awesome ideas, you may even see some celebrity cameos.
You've done a bit of US telly too?
I've just come back from Montreal, me and Terry Alderton - my hero! - we did a thing for BBC America, so we're gonna be out there on American TV, hopefully that'll open doors. Would be great to get on Letterman. And ultimately make that movie with Jackie Chan. That's the dream.
I could see you as the face of video games on TV...
I'd love to do that, I still play games, I'm a hardcore gamer. The dream is, I want to make my career, make my success in stand-up comedy then start my own development studio, hire all my mates, then I'll come in every six months and make sure they're doing everything I want them to do. Because I do miss being in the video games business, I made fantastic friends there, and it's what I love - video games are awesome. All the time I used to get chucked out of class for talking about video games and chatting rubbish, I'm now making a living out of it. The teachers were wrong.
Imran Yusuf's Edinburgh Fringe show 'Bring the Thunder' is at the Pleasance Courtyard Below at 7pm until August 28. Listing