Dan Wright interview
You may well recognise Dan Wright, even if you can't quite put your finger on it. The tall ginger comic and long-time partner Steve Marsh have popped up in various TV guises over the years, most notably Big Cook, Little Cook, the slightly surreal kids show in which Wright played an action figure-sized chef. Seminal stuff. No, honestly.
Now he's branched out with his first solo Edinburgh show, Michael Jackson Touched Me, in which he fesses up about his unhealthy obsession with the late singer. No manufactured-for-the-Fringe affair, this: Wright was a full-blown fanatic who followed the King of Pop around Europe, attended a wallet-sapping number of concerts and would angrily confront anyone who mocked the great man, even when Jacko was well into the 'wacko' stage.
This few weeks could just be the turning point...
How did the new Fringe show come about?
I started doing stand-up on my own two and a half years ago. Steve and I were just doing stand-up together very sporadically, not very often at all, and I kind of wanted to do my own thing, so this is my first show. I've always wanted to do it, and you think 'do I have a story to tell?' It just became apparent that this was the thing to do.
You followed Michael round Europe, even when he was well past his peak?
I used to go up to London to see him after that, even when he wasn't performing, he was doing a press conference or a speech at some awards ceremony. I saw him at the World Music Awards in 2006, he turned up and was originally supposed to do Thriller, and in the end just came on with a load of kids and did We Are The World, and it was rubbish. There were so many fans who went 'that's it' - but you never really let it go.
I remember a kid at my school who used to hit people if they slagged off Whitney Houston...
You know what it is, when you've followed someone for so long you start to study the court cases and get on such a high horse that there's an injustice there, it almost becomes like they're a member of your family. I actually mention in the show that it almost became like a faith - not that I was following everything he said, but I believed in him and his cause, so to speak.
People often say to me 'it's just a pop star, leave it.' It's funny the Michael Jackson thing, it has brought me a lot of anxiety in my life, I've always felt this responsibility to support him and spread the word. But the actual joy I've got from being a fan has far outweighed that.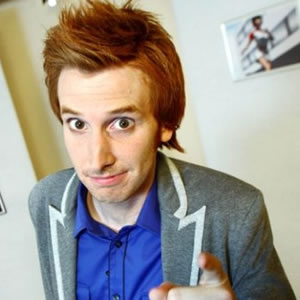 But do people think you're a bit of a loon?
One of the reasons I wanted to do this show... I like to think I'm a relatively normal bloke but with an irrational obsession. Because a lot of Michael Jackson fans, whenever they're on the TV, they come across as a bit weird. Not quite right in the head, missing something in their lives. I don't really think in my case that was true - I got this obsession and it just grew and grew.
Guys do get obsessed about things...
Guys do it with football. The amount of arguments you can have in a pub regarding football, you're so far away from influencing that game, the emotion you put into it is incredible really. Sometimes you live your dreams through them. Even up to about the age of 21, I would have loved to have been him.
He did like to come across as quite deity-like.
I don't know if you remember the ad for HIStory, but it was Michael Jackson with this army behind him, and there were real big complaints that it seemed quite Nazi. And I'm sure he wasn't trying that but he definitely did believe that he was this big figure. But then if you've had all that adulation since you were nine, you would I suppose.
But I would say, this show is more about me. Anyone who's ever obsessed about anything will be able to relate to it. It's not a show for the fans, saying how good Michael Jackson is, it's a show about how obsession can change your behaviour. For me it got to a point where defending him became more important that just enjoying him, and that's when it can start to get a bit unhealthy.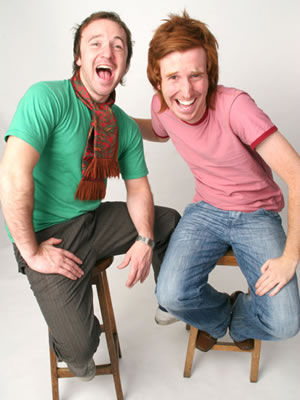 Onto your career generally then: how did you get into comedy?
When I left university I started doing a double act with Steve, we were doing that for about two and a half years, before we got Big Cook, Little Cook. They were looking for a double act, we went along and we never thought it would become a big show for kids but it's taken off massively, which has been good, and since then I've done a lot of other kids stuff. I'm quite happy doing that.
I've just finished a three month job doing a sketch show for CBBC called FIT, which is made by the guys who did Horrible Histories, the same producers and director as that, which has been great fun to film. It's great, an adult show that I think anyone would enjoy.
It was quite odd seeing the cooks pop up in adult places...
After Big Cook, Little Cook I did quite a lot of presenting work. We did these break bumpers for Soccer AM, and the cricket as well. I did a show last year for Channel 5 called Sex Lessons - it's a lot better than it sounds - it was a comedy clip show about the history of sex education in schools, how it gets taught in video form around the world. It's a shame, because it sounds like a crap show but it was actually quite educational, funny but with an intelligence to it.
Before we finish, I should probably confess to being a Big Cook, Little Cook watcher myself. Did it have a cult following? Hungover students?
It's funny, you do gigs at universities and a lot of them have seen it and you think 'why have you seen it, you haven't got any kids?' but for some reason they love it in the mornings. I do talk about the show when I'm doing circuit gigs, and sometimes parents can't believe it [that I'm doing stand-up now], it takes them a little while to digest it.
It's a double edged sword really, it opened quite a lot of doors, and it's worth joking about. I played a little character flying on a spoon - there's quite a lot of comedy in that.
'Dan Wright: Michael Jackson Touched Me' is on at the Gilded Balloon at 9:30pm until the 26th.