Cally Beaton interview
If an absolutely quintessential Circuit Training interviewee exists, that person might just be Cally Beaton.
This slot initially began as a forum for varied comics to vent their development-hell stories, at length, but Beaton has a unique foot in both camps. By day she's a senior vice president at Viacom, the company behind Paramount Pictures, MTV and, notably, Comedy Central, a channel she's been heavily involved with over the years. By night - but also by day during her current working holiday at the Edinburgh Fringe - Beaton is a highly-rated, relatively new stand-up.
How she got from one extreme to the other is quite a story - some seriously A-list US comedy stars make cameos along the way - and that journey is a big part of her debut Edinburgh hour, Super Cally Fragile Lipstick. The title sounds silly, but actually this venture into vulnerability may well change the way we view super-successful people, and, indeed, ourselves.
I called Cally a few weeks before the Fringe, and encountered a novel quandary right away.
I wasn't sure whether to ask for Cally or Caroline, depending on whether you were at work or not. Am I right in thinking that you actively decided to have two identities, to differentiate between your on-stage and off-stage lives?
I kept the two deliberately separate, not least because my day job is in the business of TV and comedy. I didn't in any way want my little black book from my day job to advance me in my night job, because I've seen enough of comedy to know that you really get the opportunities when you're ready for them.
There's absolutely no point in getting the great and good of telly to come and see you and give you chances if you're not ready to make a go of them when you get them. And also, with the humility of knowing how hard stand up is now, I've just got to go out and put the hours in like everyone else.
But this Edinburgh show is you opening up about your other career?
It's more debunking the 'having it all' woman myth. It's about looking at being in my 40s, having a successful career having brought up kids on my own, doing comedy now, and what the truth is behind that image that we're all fed.
The show title sounds quite relevant - there's a serious message in there.
Super vs fragile is really at the heart of it. I've spent my whole corporate life being the opposite of vulnerable and you iron that out of yourself. I ended up being the youngest member of the board at Carlton TV [part of ITV] when they bought the production company I ran. Suddenly I was in that environment of predominantly older men, and having to cope with a language I wasn't used to.
It was really funny when I came to stand-up, two and a half years ago, I could give the illusion of being more experienced than I was because I'm so used to controlling a room and having a microphone. But on the other hand I had to unlearn a lot of my corporate habits, because as you'll know, if you're relentlessly high status or schoolmarmy, that's of no appeal at all. You're never going to do alright in club sets, or an Edinburgh show either.
Slick can be a bit of a dirty word in British comedy.
I kind of had to get more authentic, and funnier, dive feet-first into a pool of vulnerability that I'd spent my entire adult life avoiding. As a corporate heavy-hitter and a single mum, it's 'I can do this, there's no chink in the armour'. But suddenly unless there is a chink in the armour, this isn't funny.
So that's why this show does matter to me. I'm quite excited that I'm living this thing I'm talking about.
It's certainly interesting to hear a high-flyer talk about being vulnerable - it's quite heartening for indecisive types like me.
I hope there are women and men who'll come and see this show and think 'ok, it's not about you being smug, climbing up the slippery slope of corporate power,' it's actually a much more honest look at being flawed, what it takes to do that, what actually constitutes success.
I hope it's a show that's thought provoking, and looks at this 'success' idea that we set up for women nowadays, that's a really high pressure one.
So how did you find yourself on the board at Viacom?
I think like everybody it's a bit of an accident how we end up doing what we do. I always wanted to perform when I was younger, I studied drama at Goldsmiths and was hellbent on becoming a presenter/actor, and it was really through a lack of self-esteem as a 21 year-old graduate that I ended up falling into the career that was ultimately much more about the business side of television.
People who know me might say I'm ambitious, but it was probably more a lack of self-confidence that propelled me to do incredibly well, because there was no slack: if I didn't pedal really hard I'd get found out. People do say 'if you're driven, what is it you're driving out?'
That's good.
I think that's a really interesting point. I've spent my whole life throwing myself out of planes or running marathons or having a high-flying career, pushed myself to the nth degree, and that might seem to the outside world to be synonymous with huge confidence and a huge sense of self-worth, but it's absolutely the opposite.
And I've always known that, but didn't realise that other people wouldn't know that, because you're conveying something quite different.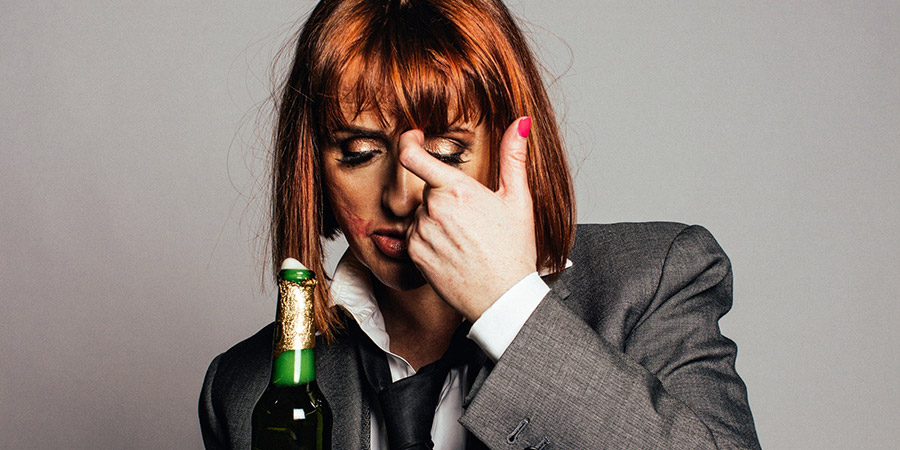 It clearly worked from a career point of view - how did you manage it?
I ended up riding the format wave, when formats became big business: Big Brother and all that, in around 2000. I'd been living in Holland for a few years working for one of the biggest format producers and distributors over there, then when I came back to the UK I ended up working for the production company Action Time, which got bought by Carlton Television.
I went from working in a production company and looking at how we got our shows created around the world, then suddenly I was at Carlton, in an environment that was a bit more like commodities trading at board level: 'what's the margin, how are you turning a profit, what are you going to show for gross next year?'
It's a big departure from that initial career dream.
Completely different, it's a bit like going out to buy a pair of trousers and coming back with three pairs of shoes. I would look around at the view from my day job, thinking 'this isn't the view I thought there'd be'.
And that's not to say that I haven't massively enjoyed what I do, and still do. It's not been the wrong fit, it's been quite a good fit, but I've always done other things. I left ITV about 15 years ago, to set up my own company, Road Trip Media.
Then the big transatlantic opportunity arose?
The recession hit in 2008, I was doing some consultancy for Viacom at the time, and this job came up. My son had recently been diagnosed with autism, things were quite complicated on the home front, so I went into doing this senior VP role at Viacom 10 years ago, thinking I'll probably do it for a year or two.
I've never done it full time, I've done it four days a week to also do my other stuff. So when I started doing comedy, it ate up the time when I would've been doing consultancy/training work. I'm 48 now, and didn't try stand-up until I was 45, and I'd always wanted to do it - maybe I thought I'd missed the boat, starting 20 years later than most people.
That's one lovely thing about comedy though, you can start at any age really. So why did you start?
It was actually through meeting and hanging out with some A-list people, including comedians - I would do their introductions on stage, in nightclubs or wherever.
And increasingly I realised, if you're introducing Kevin Hart or Joan Rivers or Amy Poehler at a cocktail event, albeit a glossy one in Cannes - everyone's drunk, everyone just wants to see the main act, they don't care about corporate messaging. You've somehow got to hold the stage and the attention of the room for a few minutes.
I think I kind of learned to do a sort of open five [minutes], before I'd ever done one. And a few of those comedians said to me 'have you done stand up? You should try it' - which probably made me think 'it's not completely stupid to be trying this,' and made me get a bit more gung-ho about having a go.
Would you have needed to do stand-up if you'd carried on doing your own thing, rather than taking the Viacom job?
That's a really interesting question, I've never thought of it like that. I'll never know for sure, but probably the Viacom job [and comedy], they're mutually beneficial. What I've learned to do at Viacom, that's a platform where I've held some big rooms, I was used to public speaking.
Similarly, stand-up has massively upped my game as a corporate speaker. Panel appearances, speeches and talks: it takes a lot for me to find a corporate engagement frightening now, because you've got scripts, autocues, huge teams of people helping you.
But stand-up, particularly at my level, is really raw. I've got to get the room set up, make sure the music works, if there's a technical problem I'm probably going to have to be a large part of the solution. So there is a relationship between the two of them.
I don't know if it would've been stand-up I'd have done. I suspect I would've wanted to do more writing, something clearly creative.
Would you be at the Fringe anyway right now, in your other capacity?
I've often been up to the TV festival, and been in the orbit of comedians and comedy for a long time; I've worked for Comedy Central on and off for a couple of decades, and that's a large part of what I do now. It's a connected world, because I've worked in telly so long, lots of boyfriends and partners have worked in telly, and in comedy. I've been up and down to Edinburgh with numerous different hats on.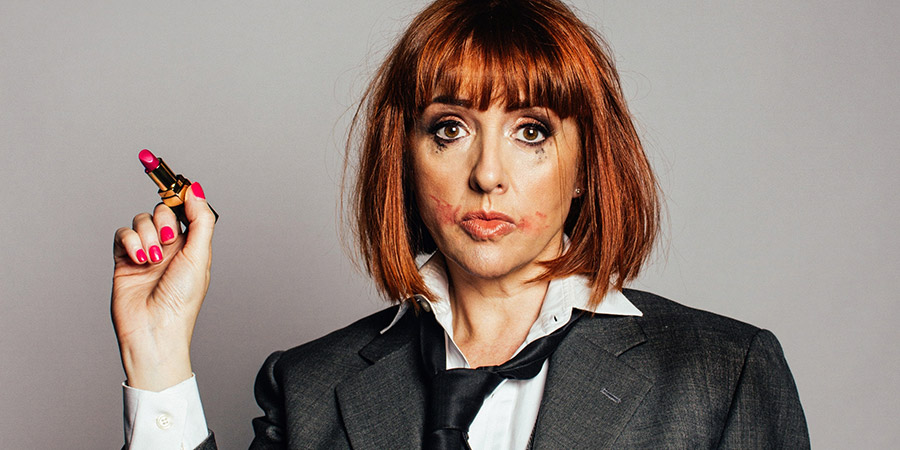 With your Viacom hat on, you'd be exactly the sort of person most comics would kill to get into their shows.
Yeah, I keep it separate - I work mostly in content pipeline, and most of the content I'm responsible for comes from the States, not over here, which makes it a slightly cleaner set-up. Although as a performer I do some stuff in the States as well.
As a performer I've always kept my powder very dry, you can't afford to blur those lines even once really, in case it tarnishes your reputation, or your relationships, so I'm probably overly cautious about that.
It means that there are certain things that I wouldn't engage in or do - I get asked now and again, will I be a judge for a 'new talent' competition, and obviously I can't do that, now that I am 'new talent' myself.
That's true.
Generally it runs on fairly clear tracks, you know instinctively what you should and shouldn't do. So it works fine, and work know what I do, I don't pull any punches there.
Have you done the full three weeks in Edinburgh before?
Last year I did a double header, we sold out the whole thing. I'd taken a sabbatical from work, but I can't take a sabbatical every year, so this year I'm going up for two and a half weeks of holiday.
I bet if you're in the company of comedy contemporaries, you throw that 'I mostly work with US stuff' line in early on?
Yeah I do. I've got a bit of a nose for it, if I think someone's booking me because they know who I am by day. I don't want anyone doing me a favour, and I don't want to be doing any favours.
What it does mean, if people in the industry say 'oh you must know who are the good new comedians?', is I'm more than happy to big up people who I've seen that are great.
It'll be interesting to see what critical reaction you'll get, whether people will be harder on you because you're already high-status somewhere else.
It can give people a bit of a sour taste, if they doubt the authenticity of what's happening. I did The Museum Of Curiosity on Radio 4 a few months ago, then did QI after that, because it's the same team. A lot of the subject matter on Museum Of Curiosity was about the combination of my night and day job, and what enabled me to be a panellist on QI and be competent was because I'd done so many years of that type of thing, albeit not QI and not on telly.
Panel shows and industry panels must have some similarities I suppose.
The bar is very low when you're on a corporate panel. You can be hilarious really easily because they've seen sod-all that's hilarious all day. As soon as you say something with a whiff of funny the place erupts.
Obviously that's not the case on QI, but in terms of realising that perhaps the two skills aren't too separate - I'd probably have been terrified to do a panel show like that if I'd just done comedy for two and a half years and nothing much else.
There is a sort of merging of what I'm able to do because of it, but I don't want in any way to exploit that. I feel like I've earned my stripes more than some people might think.
Also, in the other job, you must have more insight now into how new comics feel?
Yeah and how hard it is, how vulnerable you are. You're at the whim of so many different factors.
One thing that's come as a bit of a shock with comedy, there isn't a clear linear path between working hard and succeeding - you can work really hard and you'll still bomb on occasion. And the right opportunities might just not come your way, it might take 10, 15 years and you're not earning any money until they do. It makes you feel actually really humble.
So how have the previews been going?
I think people find it really interesting to hear a story about what might look like success but where there are many flaws associated with that. Especially in the world we're in now, which seems to be open season for blaggers, politically and in the world of celebrity. It seems to be striking a chord.
The type of show it is couldn't be more of a risk for someone like me, who's been very polished and together and seamless in the public eye my whole life. But I've no doubt I won't regret having done it.