Andy Parsons interview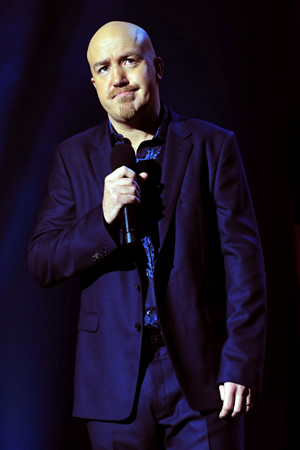 It's probably good that Mock the Week has been on hiatus over the last few weeks, given that one of the big media stories has been, er, Mock the Week. If they'd had to sit there and make jokes about their own show's coverage it's quite likely that the whole cast would have been sucked into a big comedic black hole. (Like the awkward editions of Have I Got News For You just before Angus Deayton got the boot, or the last knockings of Ellen, after she came out, when they kept making nudge-nudge references to lesbianism and forgot to write any decent jokes...)
Anyway, in the short term it hasn't done the regulars any harm. "In terms of us on tour - me, Frankie, Russell, Dara - the ticket sales are great," admits Andy Parsons, who, let's face it, owes more to the show than most. He'd been hovering between comedy's equivalent of League One and the Championship for well over a decade - notably as one half of a relatively successful duo with Henry Naylor - until HIGNFY's younger sibling gave his topical talents a regular televisual airing.
Now the man with the beard like a well-groomed lady's Brazilian has his debut DVD out - Britain's Got Idiots Live. Below we chew the fat about a couple of contentious issues currently troubling the comedy scene. Topical material, it seems, might be the way forward after all.
Your first live DVD - is there a part of you thinking, 'bugger, can't do those gags any more' then?
I think that's a positive thing. It's good to move on, otherwise you get little crutches, and it's nice always to take the crutches away and find some new crutches. Same with TV, that material's gone, especially if it appears on the internet in same form or other. Often people will think 'ooh, I'll go and see blahdy-blah, I'll just see what's on the internet', and if they've watched it just before they come out and see you and your five opening jokes are the ones they've just heard, it's a dampening experience.
That's the difference between pop stars and comedians. No-one ever went to a Michael Jackson gig and booed the opening bars of Billie Jean...
I think that's the difference between jokes and routines. If it's a joke then you're probably right, but if it's a routine that builds, then people do want to see that live because it's a little segment that they really enjoy. Probably the secret is to not have individual jokes on their own. Like sketches, people do want to see them again and again.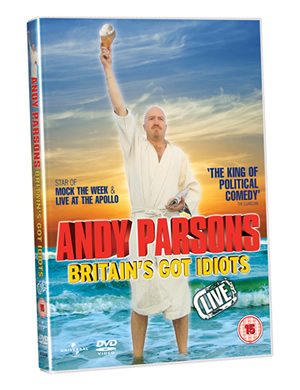 What did you make of the recent plagiarism controversy - Gary Delaney and Mickey Flanagan both taking action to protect their material?

You can understand why people get upset by it, but also it's something that's hard to police. From my point of view, I write topical comedy, and nobody can second-guess what the news is going to be next week. So if I write some new jokes on the news, these things take months to disseminate, for people to steal.
How do you go about writing a tour show then? Isn't it all out of date after a while?
The show's always evolving - there's a skeleton to it, but within that there are little segments you can slot stuff into. And so when some of those get used up or become un-topical you throw in the new stuff, so there's always a contemporary feel to it.
Mock the Week happened in the middle of the tour, so all the stuff on Mock the Week I just dropped and put in new stuff in place of it. When you've done a joke on TV you can always tell the ones people know.
There's been a huge fuss about Frankie Boyle's Rebecca Adlington joke on Mock the Week - what did you make of it?
Well, who was moaning? Essentially they'd only had a couple of complaints as I understood it, they then decided that they ought to take some action, but then you question, who are the BBC Trust? They've been elected by the government haven't they? And they're supposed to be representative of the public, and if they were really representatives of the public why don't they get the public to elect them?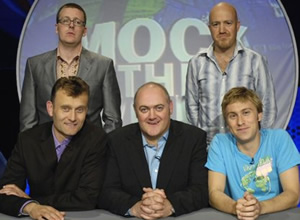 The other ridiculous thing as far as I could make out was that she apparently - Rebecca Adlington - hadn't even seen the comments when they originally came out, it was only everybody else reprinting them after the event that they'd actually come to her attention. It just seems to have completely backfired from that sense.
Are you worried that Mock the Week will be reigned in now?
Well, I believe that the Director General, Mr Mark Thompson, has said that he wants Mock the Week to be edgy, so let's hope, the next series, they take him up on that.
Your MySpace profile says 'I know, I'm surprised as well' - are you a bit amazed to be this famous?
There was always a lot going on, always bits and pieces, and obviously with getting a regular slot on a popular show it puts you [in the position] of being able to play bigger venues, DVDs, that sort of stuff. People see you in that then they'll offer you something else, then the people who saw you doing the original thing saw that other thing and will offer you something else...
Do you have other irons in the fire?
Mock the Week starts at the beginning of January, and in between I have a second series of The Lost Weblog of Scrooby Trevithick for Radio 4, which I've been neglecting to write and am now halfway through and need to finish by Christmas. That'll be out in the New Year, the exact dates to be confirmed, but it's 'Q1' so it'll be spring.
For every idea that gets commissioned there'll be a couple of others that die on the vine. So it's always good to have stuff ongoing.

Britain's Got Idiots Live is out now and here's an outtake clip from the DVD...